Newsletters
Is it open season? - Kol Ami newsletter 10-11-2022
10/11/2022 05:10:06 PM
| | |
| --- | --- |
| Author | |
| Date Added | |
| Automatically create summary | |
| Summary | |
Kol Ami Newsletter: October 11, 2022


Click for Kol Ami Calendar of Events

Worship Events
of the Week

Shabbat/Sukkot
We are back in the Manheim Park Community Garden for Shabbat/Sukkot at 6 p.m. this Friday, October 14. We'll enjoy the beautiful rituals of Sukkot, along with a short service, and just be in the garden. Note the earlier start time to be in the garden while we still have daylight.

Simchat Torah
We wrap our flurry of holiday celebrations with Simchat Torah at Rabbi Doug and Fay's home Sunday, October 16,
at 6 p.m. We conclude the reading of the Torah with the end of Deuteronomy and begin again with Genesis. Our president, Wynne Begun, has generously offered to make vegetarian enchiladas and/or cabbage rolls. (Stuffed dishes are appropriate for the holiday — see her article in this week's newsletter.) Drinks will be provided as well. Please RSVP, so we know how much food to make, to rabbidoug@kolamikc.org.

Community Event

Queer Jews and the Holocaust — a Zoom Presentation
The Midwest Center for Holocaust Education, in partnership with Kol Ami, presents "People Without History Are Dust: Queer Jews in the Holocaust," a talk via Zoom at 2 p.m. Wednesday, October 12, by Anna Hájková, a professor at the University of Warwick. She examines the history of relationships, sexual barter and sexual violence during the Holocaust. Click here to register for the Zoom event.


Upcoming Kol
Ami Event

Cooking-Event Kickoff 
When: Sunday,
November 6 
Time: 3-5 p.m. 
Where: Olive Tree Test Kitchen (7044 W. 105th St., Overland Park) 

Join us as Kol Ami launches our food events with a demo/hands-on opportunity with the chef from Baba's Pantry (just named one of the top 10 best new restaurants of 2022 by Bon Appétit magazine). Space will be limited. Details and signup information to come soon. 

Yahrzeit This Week
October 17
Richard Esten – husband of Ellen Karp

We Wish
Mi Shebeirach
A Complete Healing of Mind, Body and Spirit to:

Berny Burke
Tim Bruning
Robert Clinton
Ken Davidson
Marvin Lee Denton
The Rev. Kendyl Gibbons
John Hoven
Judy Krugman
Michah ben Sarah
Randal Strong-Wallace

If you would like a name to continue to be listed or if you have a
new name to include, please send an email to healing@kolamikc.org. 




Rabbi's Week in Review




In this week's news:

Kanye West tweets out a virulent anti-Semitic tweet, a lengthy public attack on Jews, saying in part, "I'm going death con 3 on Jewish People."

Indiana Attorney General Todd Rokita defends the attack, asserting that it is hypocritical to speak out against Kanye's hate-filled anti-Semitism, and referring to Kanye's tweet as "independent thinking."

Defending against this sort of ... Click here to read the rest of Rabbi Doug's blog post.

This Week's Torah Portion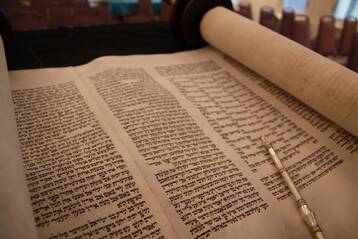 During Sukkot, there are special Torah readings for each day. Most are from Parashat Pinchas (Bamidbar/Numbers 29:12-29:28). These short readings for each day cover the various sacrifices required for observing our major festivals.

For this coming Shabbat/Sukkot, we read from Parashat Ki Tissa (Shemot/Exodus 33:12-34:26). We read in this Torah portion about G-d's attributes, some of the commandments required of us, and Moses' special relationship with G-d. 

Weekly Feature



Kol Ami celebrates Sukkot at Manheim Garden.

Stuffed Foods Are Traditional at Sukkot
By Wynne Begun
 
Jews customarily eat stuffed foods during Sukkot. While the reason is not clear, it has something to do with celebrating the harvest and the bounty of available vegetables this time of the year. 
 
One of the most common foods served during Sukkot is stuffed cabbage. This dish is also often served during Simchat Torah but is good anytime! The traditional preparation uses lean beef, but many recipes are meat-free.

One hint that I picked up along the way: Rather than boiling the cabbage (to tenderize the leaves), freeze the head of cabbage overnight and defrost it when you are ready to make the dish. Voila! Cabbage leaves are soft and pliable — and can be used to wrap the filling.

Click here for the recipe for stuffed cabbage.
And click here for the recipe for vegetarian stuffed cabbage.

Another recipe that is great during Sukkot is a stuffed tomato, which can serve as a vegetarian main course or a hearty side dish. The following recipe calls for the spice fenugreek, which I do not happen to have in my pantry. I found that a good substitute is mustard seed, curry powder or fennel seed.
For the recipe, click here.

Sukkot often is the last hurrah for us to get out and enjoy the beautiful weather. Whether you have a sukkah in your backyard, plan to eat outside, eat stuffed foods and have a Chag Sameach!
 
(Recipes reprinted from My Jewish Learning – the Nosher.)  
 
 


Our mailing address is:
Congregation Kol Ami
4501 Walnut Street
℅ All Souls Unitarian Universalist Church
Kansas City, MO 64111
Sun, November 27 2022
3 Kislev 5783
Sign Up For Our Newsletter
Sun, November 27 2022 3 Kislev 5783