Newsletters
"In a New Light" - Kol Ami newsletter 4-26-2022
04/26/2022 07:05:07 PM
| | |
| --- | --- |
| Author | |
| Date Added | |
| Automatically create summary | |
| Summary | |
Kol Ami Newsletter: April 26, 2022
Rabbi's Week in Review




After the Passover celebration, I am still in a Pesach frame of mind. While always ready to get back to my everyday diet by the end of the holiday, I am still holding on to the Passover message of rebirth — the opportunity to take the everyday and see it through new eyes, to create anew.

I am looking with new eyes at a couple of upcoming events that impact our Congregation Kol Ami family..... Click here to read the rest of Rabbi Doug's blog post.

This Week's Torah Portion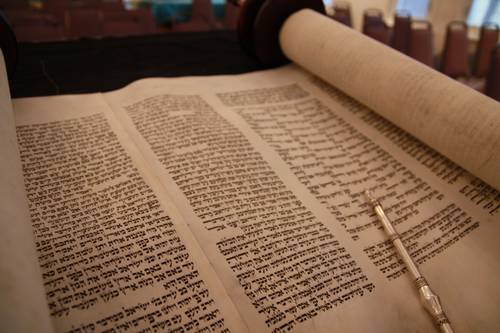 This week's Torah portion is Parashat Kedoshim (Vayikra/Leviticus 19:1-20:27).  Parashat Kedoshim, also known as the Holiness Code, commands us to be holy as G-d is holy. This begs the question as to what it means to be holy. How are we to emulate G-d in our daily conduct? The Torah portion goes on to enumerate a number of mitzvot, commandments, most of which address our interpersonal relationships. So in our relationship with G-d and in our striving to emulate G-d, an essential element is how we treat one another. The mitzvot of the Holiness Code lead us to be people of compassion, like the G-d of compassion to whom we pray.

Worship Event of the Week

We gather virtually this Friday, April 29, at 6:45 p.m. on Zoom, to make Shabbos with Shabbat blessings and a little bit of Torah conversation. This is always a great time for our Kol Ami family to connect and to celebrate Shabbat comfortably in our own homes by doing blessings together. For the Zoom link, click here.

Weekly Feature

Counting the Omer — or the 49 Days From Passover to Shavuot
By Ellen Karp



Omer counter, with handblown-glass wheat sheaves, by Fay Balk

The period after Passover in ancient times marked the beginning of the barley harvest, when Jews took the first sheaves to the Temple to thank G-d. The word "omer" literally means "sheaf," and it refers to those early offerings. The holiday of Shavuot not only became a celebration of this agricultural bounty but also a commemoration of the giving of the Torah.

The omer period thematically links Passover and Shavuot. While Passover celebrates the liberation of the Jewish people from slavery in Egypt, Shavuot marks the culmination of the process of liberation, when the Jews became an independent community with their own laws and standards. Counting up to Shavuot reminds us of the process of moving from a slave mentality to a more liberated one.**

I am struck with the many meanings of counting when we count the omer:
 
• Counting as in "everyone counts" — On Shavuot, we received Torah as a community and thus became a people. We live in connection with others. Democracy and our civil society depend on that. 
 
• Counting as in  "keeping track of" — Numbering each day and week over a period of seven weeks and 49 days. I personally appreciate this ritualistic daily reminder to count and keep track of the movement of time. 

• Counting as in "make it count" — The interim between the Exodus and our receiving Torah is generally treated as a time for mourning practices, and for solemnity and introspection, so as to be more intentional as we live our days. 
​​​​​​​ 
• Counting as in "you can count on me" — I find I am extravagantly appreciative of all the folks who ride alongside me as our days and weeks unspool. They promise a journey forward together — and no one traveling solo.

**(From "How to Count the Omer," by Rabbi Jill Jacobs, myjewishlearning.com)

Kol Ami Event

May 6 Shabbat With Special Musical Guest
By Wynne Begun
 
The Kol Ami community comes together May 6 for an in-person Friday-night Shabbat service, beginning at 6:45 p.m. We honor the first anniversary of Ga'avah, which is led by our very own Brad Ordo, and we have invited Ga'avah members to join us in a meaningful Shabbat service and Oneg.
 
Our special musical guest is Carol Steinel, a veteran of the original "No on 8/Hate" campaign while living in Oregon, where she was an activist, PAC organizer, singer, composer, poet and stand-up comedian. Her music reflects the marginalized experiences she has had as a member of the LGBTQ+ community, and the causes she has fought for through her music and her stand-up. An accomplished pianist and guitarist, she now lives in Emporia, Kansas, and we look forward to having her join us.
 
Please bring proof of vaccination. The service will not be livestreamed but will be available on YouTube Saturday morning. Masks are always encouraged but not required at this time.
 
We hope to see you May 6.
We Wish Mi Shebeirach
A Complete Healing of Mind, Body and Spirit to:


Tim Bruning
Robert Clinton
Jennifer Dake
Barb Dalton
Dennis Dalton
Robert Dalton
Renee Dietchman
Marzena Hanek
Michah ben Sarah
Eddie Yeong

If you would like a name to continue to be listed or if you have a
new name to include, please send an email to healing@kolamikc.org.  



{{shulcloud_footer_left}}
{{shulcloud_footer_right}}
Wed, October 5 2022
10 Tishrei 5783
Sign Up For Our Newsletter
Wed, October 5 2022 10 Tishrei 5783