Newsletters
"Make a Choice" - Kol Ami newsletter 5-25-2022
05/25/2022 07:01:50 AM
| | |
| --- | --- |
| Author | |
| Date Added | |
| Automatically create summary | |
| Summary | |
Kol Ami Newsletter: May 25, 2022
Rabbi's Week in Review




There are and will be many events in response to the threat to reproductive rights established in Roe vs. Wade 50 years ago. For Kansas residents, an initiative on the ballot August 2 would amend the Kansas Constitution. If this initiative passes, the Kansas Legislature would have the ability to take away the right to an abortion.

A number of states are poised to take away that right if, as expected, Roe vs. Wade is officially ... Click here to read the rest of Rabbi Doug's blog post.

This Week's Torah Portion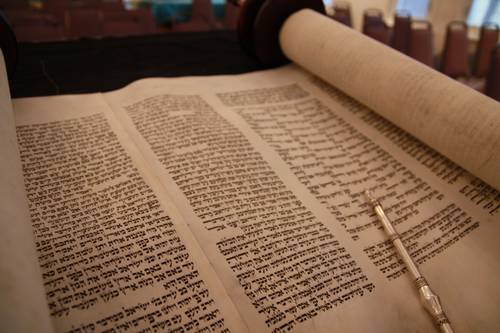 This week's Torah portion is Parashat Bamidbar (Bamidbar/Numbers 1:1-4:20). This first Torah portion in the Book of Bamidbar embarks us on our 40-year journey through the wilderness. It is in the wilderness where we receive Torah, enter into a covenant with G-d and become G-d's partner in repairing the world. It is often when we are most challenged that we do our best learning.

Events of the Week

Zoom Shabbat Blessings
Join us for Shabbat Blessings and a little Torah at 6:45 p.m. Friday, May 27. It is always a joy to bring in Shabbat together on Zoom with our Kol Ami family as we celebrate in our own homes. Click here.

Jewish Meditation with Lara Steinel 
Meditation helps focus more of one's mind on the present moment. In a virtual session at 2:15 p.m. Sunday, May 29, participants learn and practice the basics of Jewish meditation, with a focus on what Torah and sages say of serenity. The session begins with a short introduction by Rabbi Doug Alpert. For the Zoom link, click here.

Feedback

Tell Us What You Think
Which parts of our weekly newsletter do (or don't) work for you? Please click here to take our quick, short survey and let us know your preferences. Thank you!

Weekly Feature

A Brief Hiatus and the Year in Review
By Wynne Begun
 
We are fast approaching summer. Some of us may leave on trips postponed for two years or take much-needed time off. We at the Kol Ami newsletter have decided to suspend publication June 14-July 5, but we plan to be back July 12. Please take our newsletter survey to let us know what you like or don't like about what you've been reading so far! (See "Feedback" above.)
 
Through the isolation of COVID-19, we were able to remain strong as a community.

• Erica Clinton coordinated monthly family programming. Our kids learned about Judaism through activities and family worship. Erica and her team sowed seeds of a meaningful Judaism in the hearts and minds of our youngest members.

• Lara Steinel kept our music program alive and helped produce our livestream services. Through her organization and experience, she enabled us to continue connecting via media. We could not have done it without her. 

• We observed the High Holy Days through both livestream and in-person services. Because of livestreaming, more participants were able to be present. The celebration of the Jewish New Year and our Days of Awe were moving and especially contemplative due to the leadership of Rabbi Doug and the participation of our musicians. Mayor Quinton Lucas spoke on Rosh Hashanah morning and was extremely well-received due to his personal message. 

• We celebrated the 10th anniversary of our beloved rabbi and were able to enhance the Rabbi's Discretionary Fund through your generosity. Thank-you to Julia Patterson for helping plan and coordinate the event. It was a special evening for all who were able to attend.

• We had an in-person, catered second-night seder at the Simpson House for members this year that was masterfully organized by Ray Berger. It was beautiful, delicious and spiritually fulfilling — another special evening.
 
As we take our short newsletter break next month, please think about what Kol Ami means to you. It is a community in which many of us find joy and meaning as well as solace through our personal connections, our worship, our social-justice focus, and our welcoming of diverse members and friends. We look forward to the year ahead.

Upcoming Event
​​​​​​​
Jazz Shabbat 
Jazz trumpeter Stan Kessler is our musical guest for our erev Shabbat service at All Souls, 6:45 p.m. Friday, June 3. An oneg follows the service.

Yahrzeit This Week
May 25
Sylvia Begun, mother of Wynne Begun

We Wish Mi Shebeirach
A Complete Healing of Mind, Body and Spirit to:

Tim Bruning
Sarah Curry
Robert Clinton
Jennifer Dake
Barb Dalton
Dennis Dalton
Robert Dalton
Renee Dietchman
Marzena Hanek
Michah ben Sarah
Dan Steinel
Eddie Yeong

If you would like a name to continue to be listed or if you have a
new name to include, please send an email to healing@kolamikc.org.  



{{shulcloud_footer_left}}
{{shulcloud_footer_right}}
Tue, May 30 2023
10 Sivan 5783
Sign Up For Our Newsletter
Tue, May 30 2023 10 Sivan 5783