Newsletters
"Our Communal Experience" - Kol Ami newsletter 7-19-2022
07/19/2022 06:15:06 PM
| | |
| --- | --- |
| Author | |
| Date Added | |
| Automatically create summary | |
| Summary | |
Kol Ami Newsletter: July 19, 2022
Worship Events
of the Week

This Saturday, July 23, we celebrate Shabbat at the home of Fay and Rabbi Doug. Beginning at 9:30 a.m., we continue our study of "Why We Pray What We Pray," followed by a service at 10:30 a.m., and a Kiddush brunch afterward. For in-person attendance, RSVP is required to  rabbidoug@kolamikc.org. A Zoom option is also available. Click here.

Also, we continue our brief weekday-morning worship and study via Zoom, 8-8:15 a.m. Monday-Friday.
Click here.

Kol Ami Event 

Jewish Meditation
with Lara Steinel
Meditation helps focus more of one's mind on the present moment. In a virtual session at 2:15 p.m. Sunday, July 24, participants learn and practice the basics of Jewish meditation. The session begins with a short introduction by Rabbi Doug Alpert. For the Zoom link, click here.

Yahrzeits
This Week

July 21
Herman Weisman, grandfather of Ellen Karp

July 22
Ben Milgrim, father of Robert Milgrim

We Wish Mi Shebeirach

A Complete Healing of Mind, Body and Spirit to:

Tim Bruning
Robert Clinton
Renee Dietchman
The Rev. Kendyl Gibbons
Marzena Hanek
Michah ben Sarah
Eddie Yeong

If you would like a name to continue to be listed or if you have a new name to include, please send an email to  healing@kolamikc.org. 
Rabbi's Week in Review




As we at Congregation Kol Ami continue the important work of pursuing justice and strengthening marginalized communities outside our synagogue community (our work with Migrant Farmworkers Assistance Fund, Martin Luther King Jr. School and Manheim Garden, as well as such issues as reproductive rights and voting rights), we also continue our focus of strengthening our internal community. In order to do all we can for others, we must be a ...  Click here to read the rest of Rabbi Doug's blog post.

This Week's Torah Portion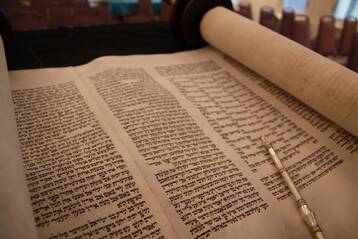 This week's Torah portion is Parashat Matot (Bamidbar/Numbers 30:2-32:42), about two of the tribes seeking Moses' permission to settle outside the Land of Israel. Moses initially denies the request. The two tribes pledge to support and defend the other tribes as they enter the land. This provides a lesson in the importance of Jews in the Diaspora and the crucial role we play in the future of the Jewish people.

Weekly Feature

Member Spotlight: the Pabsts — Lara and Ben, and Harry, Norah and Rhys
By Wynne Begun




WB: What do you enjoy doing as a family? 
LP and BP: We love outdoor activities, particularly going to Colorado to ski. It's our happy place. We love hiking with the kids; they complain about it but seem happy afterward. It might just be the endorphins talking, but it always turns out to be a fun time.

What are your careers? 
Lara is an attorney, managing partner of Krigel & Krigel, P.C. Ben is an English teacher at Shawnee Mission Northwest. 

What drew you to Kol Ami? 
Ben was raised Catholic, and we didn't feel like we completely fit where Lara grew up going to synagogue. Rabbi Doug's — and the congregation's — focus on social justice really spoke to us. We love the inclusive culture here at Kol Ami. We also appreciate Rabbi Doug and Fay's warmth and intelligence. Lara and Fay have known each other for many years through their work with JFS.

Tell us about the preparation for your daughter Norah's bat mitzvah. 
Norah was able to ask hard questions. She and Rabbi Doug had great conversations about Judaism and lessons from the Torah. We really appreciated all the work Lara Steinel put into making our event a success. She is so thoughtful and detail-oriented! We really felt supported by the congregation and appreciated your willingness to be flexible to our needs to accommodate Lara's large family.

What were your favorite moments from Norah's bat mitzvah? 
It was such a beautiful service all around. Being surrounded by our family and friends — we felt so supported throughout. We could feel the love our community had for us and Norah. We were also so happy for, and proud of, Norah, that she was able to enjoy the moment because of all her hard work leading up to it.


Our mailing address is:
Congregation Kol Ami
4501 Walnut Street
℅ All Souls Unitarian Universalist Church
Kansas City, MO 64111
Fri, August 12 2022
15 Av 5782
Sign Up For Our Newsletter
Fri, August 12 2022 15 Av 5782