Newsletters
Balancing Reality and Hope - Kol Ami newsletter 8-2-2022
08/02/2022 06:15:06 PM
| | |
| --- | --- |
| Author | |
| Date Added | |
| Automatically create summary | |
| Summary | |
Kol Ami Newsletter: August 2, 2022
Worship Events
of the Week

Shabbat Blessings
At 6:45 p.m. this Friday, August 5, we make Shabbos together on Zoom with Shabbat blessings and a bit of Torah. This is a great way to connect with one another, and gain greater comfort with Shabbat rituals at home. Click here.

Tisha B'Av
At 7 p.m. Saturday, August 6, we observe Tisha B'av at the home of Fay and Rabbi Doug and via Zoom. The ninth day of the month of Av, Tisha B'Av is a time to reflect on and learn from the tragedies that have befallen the Jewish people during our long history. We read from Eichah, the Book of Lamentations, and gather for meaningful conversation about this important day on the Jewish calendar.

Note that because Tisha B'Av is the only major fast day on the Jewish calendar other than Yom Kippur, no food or drink will be served. As always, for anyone who for health reasons cannot fast, your health always takes precedence over the ritual fast. 

To RSVP or for directions, email Rabbi Doug here. For the Zoom link, click here.
 
Yahrzeits
This Week

August 3
Nelson Romero – godbrother of Rachel Rilinger

August 4
Mary Kenneally – mother of Mark Kenneally

August 9
Stuart Gottstein – father of Beth Thompson

We Wish Mi Shebeirach
A Complete Healing of Mind, Body and Spirit to:

Tim Bruning
Robert Clinton
Jenny Dake
Dennis Dalton
Renee Dietchman
The Rev. Kendyl Gibbons
Marzena Hanek
Bailey Hix
Michah ben Sarah
Randal Strong-Wallace
Eddie Yeong

If you would like a name to continue to be listed or if you have a
new name to include, please send an email to  healing@kolamikc.org. 

Upcoming Community Event

Day of Discovery
The annual adult-learning Day of Discovery is both an in-person and a virtual event this year,

9:30 a.m.-2:30 p.m. Sunday, August 21. For information on class sessions and to register, click here. Cost is $10 per person before August 15 and $15 after August 15.  




Rabbi's Week in Review




As I write this, I am visiting with family out of town over a long weekend. It has been rejuvenating — a time of happiness and a time to feel hopeful. I always struggle with finding a balance between instilling hopefulness for myself and those around me (particularly my Kol Ami family) and engaging head-on  in the discouraging reality of our world.

There was some hopeful news in the past week with the possible breakthrough of ... Click here to read the rest of Rabbi Doug's blog post.

This Week's Torah Portion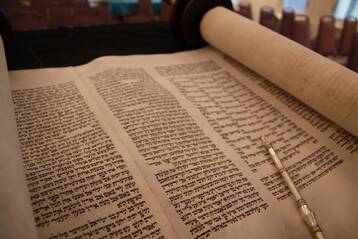 This week's Torah portion is Parashat Devarim (Devarim/Deuteronomy 1:1-3:22). With this Torah portion, we begin the last of the Five Books of Moses, Devarim/Deuteronomy. Before we move forward in our journey, Moses takes a look back to the journey that got us to this place in time.  

At Congregation Kol Ami, we speak of welcoming people who are somewhere on a Jewish journey and/or the people who support those who are on a Jewish journey. We honor our respective pasts, really our stories, yet always seek ways to move forward in our journeys to a better place for ourselves and our world.

Weekly Feature

See You (in School) in September
By Wynne Begun
 
Kol Ami families who would like a Jewish Sunday-school experience for their children are encouraged to enroll in the Marion & Henry Bloch Religious School at New Reform Temple. 
 
Several Kol Ami families have attended New Reform Temple's school over the years. We believe NRT will continue to be a welcoming environment for our families and provide great experiences for our kids!
 
The online registration form is available by clicking here. Or you may download a pdf by clicking here. 
 
Registration is due in early August, so please enroll as soon as possible to guarantee a spot. The pdf can be returned by email to nrt7100@aol.com or by mail to 7100 Main Street, Kansas City, MO 64114. All students in the Torah Tots program through grade 10 need to have their forms completed to attend. For information about the Hebrew in Harmony program, please click here. 

Sunday school begins September 11. The cost for Kol Ami members is $350 per child. NRT also offers a Hebrew program beginning in the third grade that costs $490 per child. For more information, click here.

Community Event

Film and Panel Discussion
At 5 p.m. Sunday, August 7, in observance of Tisha B'Av, the Rabbinical Association sponsors a showing of the documentary film Lonely Man of Faith, about the life of Rabbi Joseph Soloveitchik. Following the film, panelists (including our own Rabbi Doug) discuss the tension between tradition and modernity. Register in advance here.

Social Justice Event

A Service Day in Lexington
Kol Ami plans a service activity with Migrant Farmworkers Assistance Fund Monday, August 15 (from about 4 to 7 p.m.), to distribute food, clothing and other supplies to farmworkers and their families in Lexington, Mo. This takes place outdoors, in the parking lot of the Migrant Head Start Center. If you are interested in participating, please email Pat Clinton or Brad Ordo for more information by clicking here. Also, check out the MFAF website by clicking here to see all the good work they do. 
— Pat Clinton
​​​​​​​
Our mailing address is:
Congregation Kol Ami
4501 Walnut Street
℅ All Souls Unitarian Universalist Church
Kansas City, MO 64111
Fri, August 12 2022
15 Av 5782
Sign Up For Our Newsletter
Fri, August 12 2022 15 Av 5782