Newsletters
A Time of Positive Reflection - Kol Ami newsletter 8-9-2022
08/09/2022 07:05:06 PM
| | |
| --- | --- |
| Author | |
| Date Added | |
| Automatically create summary | |
| Summary | |
Kol Ami Newsletter: August 9, 2022
Worship Event 
of the Week

This Friday, August 12, at 6:45 p.m., we look forward to being together for a Shabbat picnic. Bring a picnic dinner for a festive Shabbat meal at Westwood Park, just south of 47th Street between State Line and Wyoming. (Look for us at the pavilion on the east/Wyoming side of the park.)

Upcoming Social Justice Event

Kol Ami plans a group service activity with Migrant Farmworkers Assistance Fund Monday, August 15, to distribute food, clothing and other supplies to farmworkers and their families in Lexington, Mo. This takes place outdoors, in the parking lot of the Migrant Head Start Center.

If you are interested in participating or would like more information,
email Pat Clinton
or Brad Ordo at socialjustice@ kolamikc.org

We Wish Mi Shebeirach

​​​​​​​A Complete Healing of Mind, Body and Spirit to:

Tim Bruning
Robert Clinton
Jenny Dake
Dennis Dalton
Renee Dietchman
The Rev. Kendyl Gibbons
Marzena Hanek
Bailey Hix
Michah ben Sarah
Randal Strong-Wallace
Eddie Yeong

If you would like a name to continue to be listed or if you have a
new name to include, please send an email to  healing@kolamikc.org. 
Rabbi's Week in Review




We observed Tisha B'Av, the ninth day of the month of Av, this past weekend. It's a day that commemorates the destruction of the first and second Temples, and any churban, any persecution, that has befallen the Jewish people. It culminates a three-week period of mourning on the Jewish calendar. (This year, we actually observed it on the 10th day of Av because it is a fast day — a fast day other than Yom Kippur is postponed by a day when ... Click here to read the rest of Rabbi Doug's blog post.

This Week's Torah Portion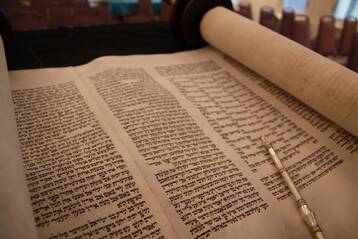 This week's Torah portion is Parashat Va'etchanan (Devarim/Deuteronomy 3:23-7:11). This is the parashah in which we read the Ten Commandments and the Shema. Together they represent how we are in relationship with G-d, and how our interpersonal relationships can be a reflection of our relationship with G-d.

Weekly Feature

Who Knew: Elvis Was Jewish — Kind Of
By Wynne Begun


​​​​​​​
 
Until I saw the movie Elvis, which is creating a buzz this summer, I didn't have much interest in Elvis. My age group went gaga over the Beatles, while those a few years older were mad about the "King of Rock and Roll." So I was dragged to this film by some friends. 
 
To my surprise, I enjoyed it. A lot. Also to my surprise: The last year of his life, Elvis wore a gold chain with a diamond-studded chai. He also donated to Jewish charities. What was that about? According to Angie Marchese, Graceland's vice president of archives and exhibits, he would joke that "he didn't want to be shut out of heaven on a technicality." *
 
The heritage of Elvis' mother, Gladys Presley, was Jewish, her Jewish ancestors immigrating around the time of the American Revolution. Elvis, as many know, was very close to his mother. Her death devastated him, and he became more curious about her background. 
 
While Elvis was raised in the Assembly of G-d church, a picture of his mother's headstone (which Elvis designed) shows a Star of David as well as a cross. Elvis made the choice to honor her heritage for perpetuity. 

To honor Elvis on the 45th anniversary of his death, Graceland hosts Elvis Week 2022 this week, August 9-15, in Memphis. For more info, click here.
 
* "Elvis Presley Was Jewish? A Grave Marker Locked Away for 4 Decades Confirms It," The Detroit Jewish News, July 14, 2021

 


Our mailing address is:
Congregation Kol Ami
4501 Walnut Street
℅ All Souls Unitarian Universalist Church
Kansas City, MO 64111
Fri, September 22 2023
7 Tishrei 5784
Sign Up For Our Newsletter
Fri, September 22 2023 7 Tishrei 5784