Newsletters
The Power of Our Calendar - Kol Ami newsletter 8-16-2022
08/16/2022 07:45:06 PM
| | |
| --- | --- |
| Author | |
| Date Added | |
| Automatically create summary | |
| Summary | |
Kol Ami Newsletter: August 16, 2022
Worship Event 
of the Week

This Saturday, August 20, we celebrate Shabbat together with study and spiritual connection. We continue our study of why we pray what we pray beginning at 9:30 a.m., then Shabbat prayers at 10:30 a.m., followed by Kiddush brunch. We will gather in person at the home of Fay and Rabbi Doug and on Zoom.

For those attending in person, please RSVP to rabbidoug@kolamikc.org.

Find the Zoom link at kolamikc.org.

Social Justice News

MORE2 Speaks at Peace Church
MORE2 talks about local control of the KCPD this Sunday, August 21, at Peace Church, 1801 McGee, at 11:25 a.m. following the Sunday service. This is an important issue for Kansas City, and we appreciate the gracious invitation from Peace Church to join them.  

Yahrzeit This Week
August 18
Midi Christensen – mother of Renee Dietchman

We Wish Mi Shebeirach
A Complete Healing of Mind, Body and Spirit to:

Berny Burke
Tim Bruning
Robert Clinton
Jenny Dake
Dennis Dalton
Renee Dietchman
The Rev. Kendyl Gibbons
Bailey Hix
Judy Krugman
Michah ben Sarah
Randal Strong-Wallace

If you would like a name to continue to be listed or if you have a
new name to include, please send an email to  healing@kolamikc.org. 
Rabbi's Week in Review




I had the pleasure and honor this past Sunday of giving the sermon at Peace Church, where my colleague and friend the Rev. Holly McKissick serves as senior minister and spiritual leader. I spoke of how our Jewish calendar occurs as an emotional flow. It runs on a cycle of emotional highs and lows — confronting realities about ourselves that are difficult, interspersed with times of joy and celebration. This cycle of emotions is not ... 

Please copy and paste the following URL in your browser to continue reading: https://www.kolamikc.org/rabbiweekinreview.html

This Week's Torah Portion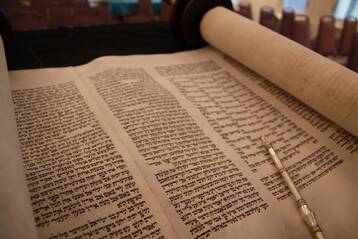 This week's Torah portion is Parashat Ekev (Devarim/Deuteronomy 7:12-11:25). Moses, Moshe Rabeinu, our teacher, warns us against the arrogance of thinking that we alone are responsible for bringing the food that we eat to our tables. Moses instructs that G-d is bringing B'nai Yisrael, the Children of Israel, into a good land where we will lack nothing, and we must give thanks for what has been given to us (Devarim/Deuteronomy 8:7-11). Indeed, when we recite Birkat HaMazon, Grace After Meals, this is one of the recited blessings.

Weekly Feature

Keeping Cool With a Summer Meal
By Wynne Begun

The heat came upon us early this year. By the time I would get around to thinking how not to heat up my kitchen as I prepared dinner, nothing sounded good! 
Then I came across this tabbouleh salad on the Nosher website —

https://www.myjewishlearning.com/the-nosher/bazargan-recipe-syrian-tabbouleh-salad-for-summer/

— and I thought I would give it a try. The verdict? It is delicious! I added some chicken and had a wonderful meal. No hot kitchen, and the dish held both unique flavor and texture. Enjoy!

Community News

Want to Sing in the Communitywide Selichot Service?



This year's communitywide Selichot service is Saturday night, September 17, at Congregation Beth Torah. If you'd like to participate, you must be available for two rehearsals, both at Beth Torah — 7:30-8:45 p.m. Wednesday, August 31, and 7:30-8:45 p.m. Wednesday, September 14.

The choir also meets for a sound check and a final run-through at 8 p.m. September 17. (Havdalah and program begin at 8:50 p.m., and the service starts at 10:10 p.m.) Kol Ami music director Lara Steinel will rehearse and conduct the choir. 

Please contact Lezlie Zucker, music coordinator at Beth Torah, if you're interested. While many choir members know the music from singing it in previous services, there's great support for those singing this service for the first time. For more info or to participate, contact Lezlie Zucker at lzucker@beth-torah.org.  


Our mailing address is:
Congregation Kol Ami
4501 Walnut Street
℅ All Souls Unitarian Universalist Church
Kansas City, MO 64111
Thu, October 6 2022
11 Tishrei 5783
Sign Up For Our Newsletter
Thu, October 6 2022 11 Tishrei 5783