Newsletters
"Do not remain indifferent" - Kol Ami newsletter 9-6-2022
09/06/2022 06:15:21 PM
| | |
| --- | --- |
| Author | |
| Date Added | |
| Automatically create summary | |
| Summary | |
Kol Ami Newsletter: September 6, 2022


Click for Kol Ami Calendar of Events

Worship Event 
of the Week

This Friday, Sept. 9,
at 6 p.m., we make Shabbos together with a family service, followed by a picnic. We will meet on the patio at All Souls. Bring your own Shabbat picnic dinner. (In case of rain, we will be inside at All Souls.) 

Upcoming
Kol Ami Event

SAVE THE DATE
When: Sunday,
Sept. 18, 2-4 p.m. 
Where: All Souls Kitchen 

Come spend the afternoon with your Kol Ami family as we usher in the new year with a fun day of schmoozing and noshing! Take home a few tips and recipes to enhance your holiday home cooking. 
Specific details about this event to follow in next week's newsletter. 
Please RSVP no later than Sept. 15 to Brad Ordo at  kehilahvp@kolamikc.org.

Upcoming Kol Ami Worship Events

HIGH HOLY DAYS
Following is the schedule of services for Rosh Hashanah and Yom Kippur, all at All Souls' Bragg Auditorium (unless otherwise noted).

SUNDAY, SEPT. 25
Erev Rosh Hashanah, 
7:30 p.m.

MONDAY, SEPT. 26
Rosh Hashanah Morning Service, 10:30 a.m.
Our guest speaker during the morning service will be 
Emily Wales, president and CEO of Planned Parenthood Great Plains.
Tashlich, approximately 1 p.m. (or a half-hour following the service), at Theis Park - Brush Creek

TUESDAY, SEPT. 27
Rosh Hashanah Service, Second Day, 8 a.m., Location TBD

TUESDAY, OCT. 4 
Erev Yom Kippur – Kol Nidre, 7:30 p.m.

WEDNESDAY, OCT. 5
Yom Kippur Morning Service, 10:30 a.m.
Yom Kippur Study Session, 1 p.m., location TBD
Meditation Service, 
2:15 p.m.
Yom Kippur Afternoon Service, 3:30 p.m. 
Yizkor Service, 4:15 p.m. 
Neilah/Concluding Service, 5:10 p.m.

Yahrzeits This Week
September 11
Edith Compton – mother of Marion Breinin
Rosalie Rosin – mother of Elizabeth Rosin

We Wish Mi Shebeirach
A Complete Healing of Mind, Body and Spirit to:

Berny Burke
Tim Bruning
Robert Clinton
Jenny Dake
Dennis Dalton
Marvin Lee Denton
Phyllis Lee Denton
Renee Dietchman
The Rev. Kendyl Gibbons
Bailey Hix
Judy Krugman
Michah ben Sarah
Charles Smith
Randal Strong-Wallace
Cierra Wheeler

If you would like a name to continue to be listed or if you have a
new name to include, please send an email to  healing@kolamikc.org. 
Rabbi's Week in Review




As I write this, my laptop computer is limping toward the end of its useful life. For me, this has brought on a sense of dread — dread that I might lose something that I have saved on the computer (even if I have not looked at it in the last eight years or so), dread over having to familiarize myself with new technology, dread at losing this communication lifeline.

I am not one to decry our overreliance on our computers. I do realize ... Click here to read the rest of Rabbi Doug's blog post.

This Week's Torah Portion
Parashat Ki Tetze (Devarim/Deuteronomy 21:10-25:19)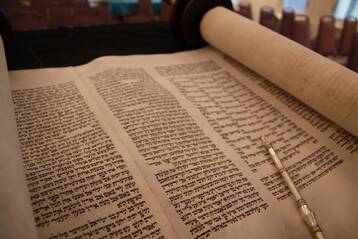 Included among the 72 mitzvot in the Torah is the admonition commonly translated as, "Do not remain indifferent" — that is, do not remain indifferent to the suffering of others.  

Another translation/interpretation is, "Do not conceal yourself." While this could be interpreted in much the same way as to not remain indifferent, another way to treat this commandment is to not conceal our true selves, to be authentically who we are. Implicit in this commandment would be to give the space for others to be their authentic selves. 

Weekly Feature

A Note About High Holy Day Services
By Wynne Begun




​​​​​​​We hope to see you this year at High Holy Day services, which will be both in person at All Souls' Bragg Auditorium and livestreamed.  

Proof of vaccination is no longer required, but please do not attend services with symptoms such as fever, sore throat, cough and/or congestion. (Livestream is available to those who need or prefer it.) In the spirit of Pikuach Nefesh — that saving a human life takes priority over everything — please stay home. 

You are welcome to mask, as a precaution, as you would anywhere else.

Our guest speaker Rosh Hashanah morning is Emily Wales, president and CEO of Planned Parenthood Great Plains. We look forward to hearing from her, especially now.

Lara Steinel, our music director, has hinted at some special featured musicians, who will perform for us at one or more services. Lara also has assembled a talented and committed choir of voices we have heard before, along with some new artists. We can be assured that the musicians will add to the spirit of these holy days and move us spiritually as they have done in the past.

We have rescheduled the Yizkor service to later in the afternoon on Yom Kippur. Please note the new time. 

Please join us at the break-the-fast after the conclusion of Yom Kippur services. Let's welcome in the new year together.

Let me be the first to wish you l'shana tova. May this next year be full of joy, health and love. 


Our mailing address is:
Congregation Kol Ami
4501 Walnut Street
℅ All Souls Unitarian Universalist Church
Kansas City, MO 64111
Fri, September 22 2023
7 Tishrei 5784
Sign Up For Our Newsletter
Fri, September 22 2023 7 Tishrei 5784