Newsletters
The Old and the New — Kol Ami newsletter 9-13-2022
09/13/2022 06:15:21 PM
| | |
| --- | --- |
| Author | |
| Date Added | |
| Automatically create summary | |
| Summary | |
Kol Ami Newsletter: September 13, 2022


Click for Kol Ami Calendar of Events

Worship Event 

of the Week

Shabbat Study, Service and Kiddush Brunch
This Saturday morning, Sept. 17, we celebrate Shabbat together with our continued study of why we pray what we pray, followed by an informal Shabbat service and Shabbat Kiddush brunch. Study is at 9:30 a.m., with a service at 10:30 a.m. We will be at Fay and Rabbi Doug's or on Zoom.
If you are attending in person, you need to RSVP to rabbidoug@kolamikc.org.

For the Zoom link, click here. 

Community Event

Selichot Program

and Service
Prepare for the High Holy Days at a community Selichot, held at host congregation Beth Torah, 6100 West 127th Street, Overland Park. Dessert reception begins at 8 p.m., havdalah and program at 8:50 p.m., and service at 10:10 p.m. To attend in person or virtually, register in advance by clicking here.

Upcoming Kol Ami Worship Events

HIGH HOLY DAYS
Following is the schedule of services for Rosh Hashanah and Yom Kippur, all at All Souls' Bragg Auditorium (unless otherwise noted).

SUNDAY, SEPT. 25
Erev Rosh Hashanah, 
7:30 p.m.

MONDAY, SEPT. 26
Rosh Hashanah Morning Service, 10:30 a.m.
Our guest speaker during the morning service will be 
Emily Wales, president and CEO of Planned Parenthood Great Plains.
Tashlich, approximately 1 p.m. (or a half-hour following the service), at Theis Park - Brush Creek

TUESDAY, SEPT. 27
Rosh Hashanah Service, Second Day, 8 a.m., Location TBD

TUESDAY, OCT. 4 
Erev Yom Kippur – Kol Nidre, 7:30 p.m.

WEDNESDAY, OCT. 5
Yom Kippur Morning Service, 10:30 a.m.
Yom Kippur Study Session, 1 p.m., location TBD
Meditation Service, 
2:15 p.m.
Yom Kippur Afternoon Service, 3:30 p.m. 
Yizkor Service, 4:15 p.m. 
Neilah/Concluding Service, 5:10 p.m.

Yahrzeit This Week
September 18
Daniel Karp – father of Ellen Karp 

We Wish Mi Shebeirach
A Complete Healing of Mind, Body and Spirit to:

Berny Burke
Tim Bruning
Robert Clinton
Jenny Dake
Dennis Dalton
Marvin Lee Denton
Phyllis Lee Denton
Renee Dietchman
The Rev. Kendyl Gibbons
Bailey Hix
Kristen Howell
Judy Krugman
Michah ben Sarah
Charles Smith
Randal Strong-Wallace

If you would like a name to continue to be listed or if you have a
new name to include, please send an email to  healing@kolamikc.org. 


Rabbi's Week in Review




This past week, I started a beginning Yiddish course. I have always regretted not having learned Yiddish and finding that connection with my aunt and uncle, of blessed memory, as well as my first Hebrew-school teacher, also of blessed memory.
  
I am grateful to my eldest, Solomon, for requesting that we buy the course as a birthday present for him, and that he is OK sharing the space with me. Our kids can connect us ... Click here to read the rest of Rabbi Doug's blog post.

This Week's Torah Portion
Parashat Ki Tavo (Devarim/Deuteronomy

26:1-29:8)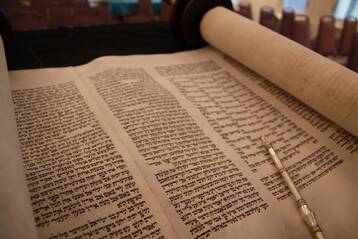 Early in the parashah, we read, "My father was a fugitive Aramean." It is essentially our story that is read on Passover. As we approach the Jewish new year, let this be a time to connect to our stories — to a sense of our identity, to who we are as a people, to the previous generations on whose shoulders we stand.

Kol Ami Event This Week

High Holiday Cooking
By Brad Ordo

Come spend the afternoon with your Kol Ami family as we usher in the new year with a fun day of schmoozing and noshing!

When: Sunday, September 18, from 2 to 4 p.m. 
Where: All Souls Kitchen 

Fay Balk and I will demo a few appetizers to share, followed by hands-on rugelach baking for items to take home. Lastly, we will sample a traditional Ethiopian Rosh Hashanah dessert. All recipes will be provided so you can experiment on your own! Please RSVP no later than Thursday, September 15, to me, Brad Ordo, at kehilahvp@kolamikc.org. 

Weekly Feature

Holiday Food — Traditions and Innovations
By Wynne Begun



 
I love coming together with the Kol Ami community to celebrate the Jewish New Year. I also take great comfort in remembering loved ones with whom I shared this special time. I have such sweet memories of sitting next to my father and playing with the knots on his tallis.  
 
The food associated with Rosh Hashanah is also a sweet memory and the source of much anticipation. I am a traditionalist when it comes to this holiday — matzah ball soup, brisket, kugel, root vegetables, and apples and honey. Those are a given. But what about dessert? Dessert is the one course of the meal that I change up every year. Below are links to four dessert options I am considering this Rosh Hashanah.  
 
1. Apple and Honey Pie Pops — Might be a fun dessert for my grandkids! Who doesn't like food on a stick? Click here.
 
2. One Bowl Apple Sharlotka Cake — One bowl is appealing, and it sounds light, which would be great after the meal. Click here.
 
3. Apple Sauce Cake with Cream Cheese Frosting — What is better than cream cheese frosting?
Click here.

4. Apple Tahini Crumble — The tahini adds a new twist to this tried-and-true dessert. Click here.
 
It was a tough decision, but I am picking No. 1. Fun wins every time!
 
(Recipes from Shannon at the Nosher: newsletter@thenosher.com, September 7, 2022)
 


Our mailing address is:
Congregation Kol Ami
4501 Walnut Street
℅ All Souls Unitarian Universalist Church
Kansas City, MO 64111
Wed, October 5 2022
10 Tishrei 5783
Sign Up For Our Newsletter
Wed, October 5 2022 10 Tishrei 5783