Newsletters
"Without Judgment or Critique" - Kol Ami newsletter 9-21-2022
09/21/2022 05:00:21 PM
| | |
| --- | --- |
| Author | |
| Date Added | |
| Automatically create summary | |
| Summary | |
Kol Ami Newsletter: September 21, 2022


Click for Kol Ami Calendar of Events

Worship Events
of the Week

Shabbat Blessings
At 6:45 p.m. this Friday, Sept. 23, we make Shabbos together with Shabbat blessings on Zoom. It's a wonderful time to connect as we prepare for the High Holy Days. Click here.  

Rosh Hashanah
Services take place at All Souls and via livestream (links to come).

At 7:30 p.m. Sunday, Sept. 25, the High Holy Day season begins with our Erev Rosh Hashanah service at All Souls.

At 10:30 a.m. Monday, Sept. 26, the Rosh Hashanah morning service is at All Souls. Our featured guest speaker is Emily Wales, CEO and president of Planned Parenthood Great Plains.

Our Tashlich service is approximately 30 minutes after the conclusion of Monday's Rosh Hashanah morning service, along the north side of Brush Creek at Frank A. Theis Park (about 48th Street and Oak). Bring breadcrumbs to cast into the creek to cast away your sins.

From 8 to 9 a.m. Tuesday, Sept. 27, we gather at the home of Fay and Rabbi Doug for an informal Second Day Rosh Hashanah service, followed by a light breakfast to celebrate the holiday. You must RSVP by Sunday, Sept. 25, to confirm attendance to  rabbidoug@kolamikc.org.

Upcoming
Kol Ami Events

Kol Ami Book Club
Book club meets on Zoom this Thursday, Sept. 22, at 7 p.m. to discuss stories by Deborah Eisenberg. Click here. 

Yom Kippur
Tuesday, Oct. 4
Erev Yom Kippur/
Kol Nidre, 7:30 p.m. 

Wednesday, Oct. 5
Yom Kippur Morning Service, 10:30 a.m.
Study Session, 1 p.m.
Meditation Service,
2:15 p.m.
Afternoon Service,
3:30 p.m.
Yizkor Service, 4:15 p.m.
Neilah/Concluding Service, 5:10 p.m. 

Yahrzeit This Week
Sept. 25
Pearl Kretchmer Spector - mother of Gary Kretchmer

We Wish Mi Shebeirach
A Complete Healing of Mind, Body and Spirit to:

Berny Burke
Tim Bruning
Robert Clinton
Jenny Dake
Dennis Dalton
Ken Davidson
Marvin Lee Denton
Phyllis Lee Denton
Renee Dietchman
The Rev. Kendyl Gibbons
Bailey Hix
John Hoven
Kristen Howell
Marshall Howell
Judy Krugman
Michah ben Sarah
Charles Smith
Randal Strong-Wallace

If you would like a name to continue to be listed or if you have a new name to include, please send an email to  healing@kolamikc.org. 



Rabbi's Week in Review




I recently taught the Jewish calendar to the community-wide conversion class. For some of the conversion students, it was not the first time I had been studying with them. They have been pretty regular participants in Kol Ami study and worship, beginning earlier this summer.

Having made the choice to become part of the Jewish community (and hopefully Kol Ami), they bring a sense of commitment and energy that is transformative for our ... Click here to read the rest of Rabbi Doug's blog post.

This Week's Torah Portion
Parashat Nitzavim
(Devarim/Deuteronomy 29:9-30:20)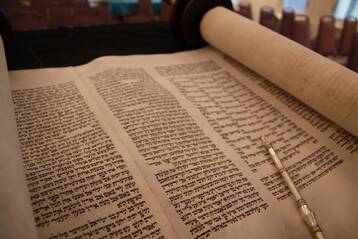 We read this week that our Torah is not in heaven. This is to say, studying Torah is meant for human interpretation, and no one person should claim with absolute certainty that they know the word of G-d.

Community Event

Northland Jewish Chaverim
An informal group that was formed to help foster Jewish community in the Northland meets at 10 a.m. Saturday, September 24, at Parkville's English Landing Park. BYOB — Bring Your Own Bread — for a Rosh Hashanah-style tashlich and a Shabbat-morning get-together. Northland Jewish Chaverim formed on Facebook a year ago and is open to anyone. To join the Facebook group, click here.

Weekly Feature

It's That Time of Year
By Wynne Begun, president
 
I would like to share my excitement regarding our special guests who will enhance our High Holy Day worship this year.  
 
Lara Steinel has put together an outstanding music program, which includes our choir and some guest musicians. We have two guest speakers who will share their thoughts — Emily Wales, president and CEO of Planned Parenthood Great Plains, on Rosh Hashanah morning, and Rabbi Mark Levin during Yizkor on Yom Kippur.
 
If you are receiving this newsletter, you have expressed interest in Kol Ami. We thank you for that. Please think about showing your financial support for Kol Ami as well. Because we turn no one away during the High Holy Days and throughout the year, we need to reach out to ask for your help. Please help us remain who we are and become a contributing friend of the Kol Ami community. Your contribution, for any amount, is greatly appreciated.
 
To donate by check, send it to Congregation Kol Ami, c/o All Souls UU Church, 4501 Walnut, Kansas City, MO 64111.

​​​​​​​To donate through PayPal, scan the QR code below to link to the Kol Ami account. 

Thank you.

            
Our mailing address is:
Congregation Kol Ami
4501 Walnut Street
℅ All Souls Unitarian Universalist Church
Kansas City, MO 64111
Thu, October 6 2022
11 Tishrei 5783
Sign Up For Our Newsletter
Thu, October 6 2022 11 Tishrei 5783