Newsletters
G'mar Chatimah Tovah - Kol Ami newsletter 9-28-2022
09/28/2022 04:30:06 PM
| | |
| --- | --- |
| Author | |
| Date Added | |
| Automatically create summary | |
| Summary | |
Kol Ami Newsletter: September 28, 2022

​​​​​​​
Click for Kol Ami Calendar of Events

Worship Event 
of the Week

Shabbat Blessings
This coming Shabbat is Shabbat Shuvah, the Shabbat of Return, which occurs between Rosh Hashanah and Yom Kippur.  This Friday, September 30, at 6:45 p.m., we make Shabbos together on Zoom with Shabbat blessings and some words of Torah to go with this special Sabbath on the Jewish calendar. Click here for the Zoom link.

Yahrzeit This Week
September 30
Florence Munter, grandmother of Brad Ordo

We Wish
Mi Shebeirach
A Complete Healing of Mind, Body and Spirit to:

Berny Burke
Tim Bruning
Robert Clinton
Jenny Dake
Dennis Dalton
Ken Davidson
Marvin Lee Denton
Phyllis Lee Denton
Renee Dietchman
The Rev. Kendyl Gibbons
John Hoven
Judy Krugman
Michah ben Sarah
Randal Strong-Wallace

If you would like a name to continue to be listed or if you have a
new name to include, please send an email to  healing@kolamikc.org. 
Rabbi's Week in Review




With this time on the Jewish calendar, from Rosh Hashanah through Yom Kippur, there is much to contemplate. We reflect on the Jewish year just past and wonder what the coming year of 5783 will hold for us.

On this day, my thoughts simply are that whatever befalls us, we have a kehilah, a Jewish community, to share all of it. To be part ... Click here to read the rest of Rabbi Doug's blog post.

This Week's Torah Portion
Parashat Vayelech
(Devarim/Deuteronomy 31:1-31:30)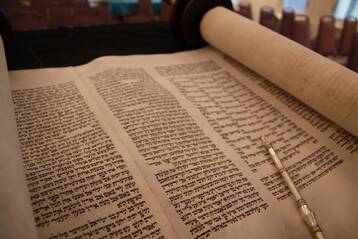 We read this week, during the Yamim Noraim, the Ten Days of Awe, about Moses, with his impending death passing leadership on to Joshua. We learn about our responsibility to carry on the work of the prior generation and to leave the world a better place for the next one. 

Weekly Feature

Yom Kippur at Kol Ami
All events take place at All Souls. For a livestream option, find a link at kolamikc.org.

Tuesday, October 4
Erev Yom Kippur/Kol Nidre, 7:30 p.m., with guest cellist Matt Beckmann

Wednesday, October 5
Yom Kippur Morning Service, 10:30 a.m., with guest musician Stan Kessler
Study Session, 1 p.m.
Meditation Service, 2:15 p.m.
Afternoon Service, 3:30 p.m.
Yizkor Service, 4:15 p.m., with guest sermon by Rabbi Mark Levin
Neilah/Concluding Service, 5:10 p.m. 


 
Our mailing address is:
Congregation Kol Ami
4501 Walnut Street
℅ All Souls Unitarian Universalist Church
Kansas City, MO 64111
Sun, November 27 2022
3 Kislev 5783
Sign Up For Our Newsletter
Sun, November 27 2022 3 Kislev 5783