Newsletters
We celebrate Sukkot - Kol Ami newsletter 10-6-2022
10/06/2022 05:03:21 PM
| | |
| --- | --- |
| Author | |
| Date Added | |
| Automatically create summary | |
| Summary | |
Kol Ami Newsletter: October 6, 2022


Click for Kol Ami Calendar of Events

Worship Events
of the Week

Shabbat Blessings
Join us on Zoom Friday, October 7, at 6:45 p.m., as we make Shabbos together with Shabbat blessings and a little bit of Torah. This is a great way to connect and get comfortable with the Shabbat rituals while having Shabbat dinner in your own home. For the Zoom link, click here.

Sukkot at
Manheim Garden
We celebrate the beginning of Sukkot at the Manheim Park Community Garden (where our Kol Ami Sukkah is located), 4229 Forest, Sunday, October 9, beginning at 4 p.m.
  • At 4 p.m., Sukkah decorating, along with time to enjoy the garden and play with the chickens, and wave the lulav and etrog in the Sukkah.
  • At 5 p.m., a bring-your-own Sukkot picnic, followed by a short service.

We Wish
Mi Shebeirach
A Complete Healing of Mind, Body and Spirit to:

Berny Burke
Tim Bruning
Robert Clinton
Jenny Dake
Dennis Dalton
Ken Davidson
Marvin Lee Denton
Renee Dietchman
The Rev. Kendyl Gibbons
John Hoven
Judy Krugman
Michah ben Sarah
Randal Strong-Wallace

If you would like a name to continue to be listed or if you have a
new name to include, please send an email to  healing@kolamikc.org. 
Rabbi's Week in Review




By the time you read this, we will be past Yom Kippur looking toward Sukkot, which begins this Sunday evening. Sukkot is Z'man Simchateinu, the Season of our Joy. This emotional swing from the difficulty of confronting our behavior on Yom Kippur actually begins with the Yom Kippur concluding service, Neilah, which ends the day on a high note. ... Click here to read the rest of Rabbi Doug's blog post.

This Week's Torah Portion
Parashat Ha'azinu
(Devarim/Deuteronomy 32:1-52)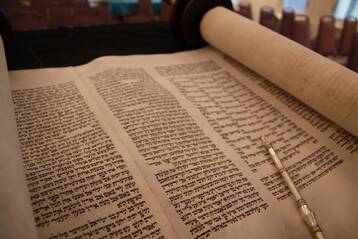 This beautiful poem embodies much of what we grapple with in Torah. How do we reconcile a G-d that is always just with a world full of injustice, and how do we honor our history as Jews and learn from it. It is a poem of Jewish survival. We consider how we have survived for these many millennia and our place in the world. 

Upcoming Kol Ami Events




Friday, October 14, at 6 p.m. — We are back in the Manheim Park Community Garden for Shabbat/Sukkot. We'll have another chance to enjoy the beautiful rituals of Sukkot and just be in the garden, along with a short service. Note the earlier start time to be in the garden while we still have daylight.

Weekday mornings, 8-8:15 a.m. — We will have the opportunity on Zoom to celebrate Sukkot every morning in the week to come. Click here for the Zoom link.
 
Our mailing address is:
Congregation Kol Ami
4501 Walnut Street
℅ All Souls Unitarian Universalist Church
Kansas City, MO 64111
Fri, September 22 2023
7 Tishrei 5784
Sign Up For Our Newsletter
Fri, September 22 2023 7 Tishrei 5784