Newsletters
Gleaning Some Good - Kol Ami Newsletter 10-18-2022
10/18/2022 06:01:06 PM
| | |
| --- | --- |
| Author | |
| Date Added | |
| Automatically create summary | |
| Summary | |
Kol Ami Newsletter: October 18, 2022


Click for Kol Ami Calendar of Events

Worship Event 
of the Week

Bar Mitzvah
On Saturday, October 22, beginning at 10:30 a.m., we have the unique opportunity of sharing a simchah with a former congregant when Aiden Yampolsky becomes a bar mitzvah at Temple Beth El in Madison, Wisconsin. Aiden is the son of Dia Austine Roney and Roney Eapen, and Justin Yampolsky. Rabbi Doug will be attending the bar mitzvah in Madison, and you can be a part of the Shabbat worship and bar mitzvah celebration via the livestream link. Click here. 

Upcoming
Kol Ami Event

Cooking-Series Kickoff 
When: Sunday,
November 6 
Time: 3-5 p.m. 
Cost: $20
Where: Olive Tree Test Kitchen (7044 W. 105th St., Overland Park) 

Kol Ami is launching the first of its food events with a demo/hands-on opportunity with the chef from Baba's Pantry (just named one of the top 10 best new restaurants of 2022 by Bon Appétit magazine)! Space is limited. RSVP with payment using the QR code below, or send an email to kehilahvp@kolamikc.org.




Yahrzeit This Week
October 19
Marvin Hirschman – father of Marion Breinin

We Wish Mi Shebeirach
A Complete Healing of Mind, Body and Spirit to:

Berny Burke
Tim Bruning
Robert Clinton
Jenny Dake
Alies Dalton
Dennis Dalton
Ken Davidson
Marvin Lee Denton
The Rev. Kendyl Gibbons
John Hoven
Judy Krugman
Michah ben Sarah
Randal Strong-Wallace

If you would like a name to continue to be listed or if you have a
new name to include, please send an email to  healing@kolamikc.org. 
Rabbi's Week in Review




While there is no way I would describe a pandemic in positive terms, I have learned a couple of things the last two-plus years that we can take with us going forward. 

While Zoom is not a fully satisfying substitute for gathering in person, the Zoom world helped keep our local community connected during lockdown. It also allowed us to reach out beyond our congregation to find former congregants who have moved away, and family and ... Click here to read the rest of Rabbi Doug's blog post.

This Week's Torah Portion
Bereishit/Genesis 1:1-6:8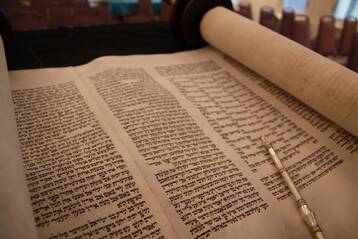 We are back to the beginning of our Written Torah with Parashat Bereishit. With the creation story (really two differing stories between chapters one and two of Bereishit/Genesis), we contemplate not only how we got here but also, of greater importance, what our purpose is for being here. How we find meaning in how we live our lives, and what our role is with G-d in the ongoing story of creation. 

Weekly Feature

Endings and Beginnings
By Wynne Begun

Fall is replete with Jewish holidays and traditions. We move through Rosh Hashanah and Yom Kippur and into Sukkot. At the end of Sukkot, two more holidays occur: Shemini Atzeret, which is often overlooked, and Simchat Torah.
 
Shemini Atzeret is a time when Jews pray for rain for the growing season ahead. "Beginning on Shemini Atzeret and lasting until Passover, a short prayer for rain is inserted into the second blessing of the Amidah prayer" (MyJewishLearning.com). Though some may be skeptical about praying for rain, perhaps we can think about the holiday in a more personal way and ask ourselves what we can do on an individual level about the changing patterns in our seasons.  
 
On Simchat Torah, we end the Book of Deuteronomy and begin (again) the Book of Genesis. It's a holiday of an ending and a beginning. How many of these cycles have we experienced in our lives? The end of being single and finding a partner, the end of being a twosome when a baby is born, ending a job and starting a new one. Endings can be sad and beginnings somewhat anxiety-producing. Yet this is the pattern of our lives. 
 
We can't have a beginning until something ends. When I experience the endings in my life, I try to remember with hope and optimism that new beginnings are ahead. As we celebrate Simchat Torah, may we not only celebrate the great gift we received on Mount Sinai but also the privilege of experiencing new beginnings in our lives.  
 



Our mailing address is:
Congregation Kol Ami
4501 Walnut Street
℅ All Souls Unitarian Universalist Church
Kansas City, MO 64111
Mon, December 11 2023
28 Kislev 5784
Sign Up For Our Newsletter
Mon, December 11 2023 28 Kislev 5784