Newsletters
"Strangers No More" - Kol Ami Newsletter 10-25-2022
10/25/2022 05:30:51 PM
| | |
| --- | --- |
| Author | |
| Date Added | |
| Automatically create summary | |
| Summary | |
Kol Ami Newsletter: October 25, 2022


Click for Kol Ami Calendar of Events

Worship Events 
of the Week

Shabbat Blessings
This Friday, October 28, at 6:45 p.m., we celebrate Shabbat together on Zoom with Shabbat blessings. We can connect to celebrate the rituals of Shabbat, and still have a lovely Shabbos dinner in our own homes. For the Zoom link, click here.​​

Thanks to Stanley Stern and Lara Steinel, who are leading weekday-morning services, 8-8:15 a.m., this week. For the Zoom link, click here.

Kol Ami News
In Sympathy
It is with sadness that we announce the death of Seymour Greenwald, father of congregant and past president Brian Greenwald. Our condolences go out to Brian, Lisa, Jon and Leah. May the Greenwald family be comforted in the days and weeks to come by family and friends, and by our Kol Ami family.
(Link to the obituary by clicking here.)

Upcoming Kol
Ami Events

Kol Ami Book Club
Book club discusses Kaddish and Other Poems, by Allen Ginsberg, at 7 p.m. Tuesday, October 25, on Zoom. Click here. 

Cooking-Series Kickoff 
(Sold Out)
When: Sunday,
November 6
Time: 3-5 p.m.
Cost: $20
Where: Olive Tree Test Kitchen (7044 W. 105th St., Overland Park) 

In the first in its series of food events, Kol Ami is hosting a demo/hands-on opportunity with the chef from Baba's Pantry. Event is sold out.

We Wish
Mi Shebeirach
A Complete Healing of Mind, Body and Spirit to:

Berny Burke
Tim Bruning
Robert Clinton
Jenny Dake
Alies Dalton
Dennis Dalton
Ken Davidson
Marvin Lee Denton
The Rev. Kendyl Gibbons
John Hoven
Judy Krugman
Michah ben Sarah
Randal Strong-Wallace

If you would like a name to continue to be listed or if you have a
new name to include, please send an email to  healing@kolamikc.org. 



Rabbi's Week in Review




While I will be somewhat off the grid this week for a retreat of my rabbinic Clergy Leadership Incubator, I head off feeling joyful about having participated in two simchahs over the weekend. On Saturday, we celebrated the bar mitzvah of Aiden Yampolsky, the son of former congregants Justin Yampolsky, Austine Roney (f/k/a Dia Matthews during her time in Kansas City with Kol Ami), and Roney Eapen. (I participated in person, in Madison ... Click here to read the rest of Rabbi Doug's blog post.

This Week's Torah Portion
Parashat Noah (Bereishit 6:9-11:32)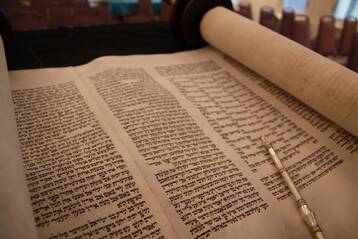 In addition to the Noah story, we read this week about the Tower of Babel. While the story is arguably a polemic against both the diversity embodied in different languages and a more urban and densely populated existence, instead it leaves us, I think, with the challenge and obligation to become unified and strengthened in our diversity. G-d's challenge to us is to learn how to live together with appreciation for what gifts others can offer us. 

Weekly Feature

Just Keyboard Clicks Away: Jewish Resources and Programs
By Stanley Stern




When the pandemic went on longer than expected, I discovered a variety of online resources for Jewish culture and study. Several started up during the shutdown but many existed before, and then switched to online to continue their courses, speakers, films, and myriad programming options. 

Online programming continues, even now that many of us have returned to in-person activities. (Our own Kol Ami got a mention in the NY Times for its 15-minute weekday-morning service on Zoom.) Following is just a short list of the online resources literally at our fingertips. Many of these are free; some request donations or require payment.

• Hadar: Online classes and other opportunities for online learning, hadar.org
• Jewish Majorca: Travel agency providing virtual tours of Jewish communities around the world, jewishmajorca.com
• Jewish Virtual Library: Resources in every area of Jewish life, history and culture, jewishvirtuallibrary.org
• Keshet: Working for the inclusion of LGBTQ+ Jews into Jewish life; events and online resources,  keshetonline.org
• My Jewish Learning: Programming links, articles, recipes, virtual field trips to Jewish communities around the world, and a daily Kaddish minyan, myjewishlearning.com
• 92nd Street Y: Speakers and concerts, and classes in literature, art and history, 92ny.org
• Sefaria: Access to nearly every religious text, Torah commentaries, a wide range of articles, sefaria.org
• Temple Emanu-El's Streicker Center: Classes, and speakers, including author and cultural events, streicker.nyc 



Our mailing address is:
Congregation Kol Ami
4501 Walnut Street
℅ All Souls Unitarian Universalist Church
Kansas City, MO 64111
Fri, September 22 2023
7 Tishrei 5784
Sign Up For Our Newsletter
Fri, September 22 2023 7 Tishrei 5784