Newsletters
The Jewish Communal Experience - Kol Ami Newsletter 11-1-2022
11/01/2022 06:01:22 PM
| | |
| --- | --- |
| Author | |
| Date Added | |
| Automatically create summary | |
| Summary | |
Kol Ami Newsletter: November 1, 2022
Rabbi's Week in Review




I attended a retreat for my rabbinic fellowship, the Clergy Leadership Incubator, at the Brandeis-Bardin retreat center in Simi Valley, California, last week. Having been the recipient of an onslaught of information, as well as a highly emotional experience, I have much to unpack from my four days there.

One piece that stands out came from one of the presenters, Rabbi Sharon Brous, of Ikar. Ikar is a cutting-edge synagogue in L.A. ... Click here to read the rest of Rabbi Doug's blog post.

This Week's Torah Portion
Parashat Lech-Lecha (Bereishit/Genesis 12:1-17:27)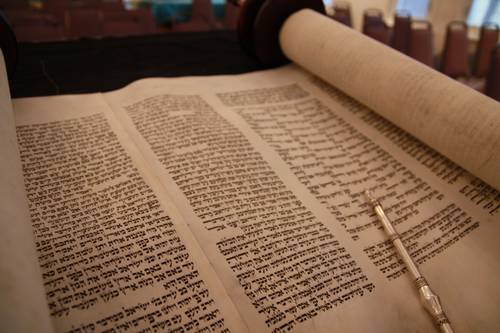 We read about Avraham (at this point in the story, Avram) beginning his G-d-destined journey, a journey "to a place unknown." We are left with the impression from Midrash — Midrash that many of us learned as young children in Hebrew school — that Avraham is going forward on a monotheistic journey, rebelling against his father, the idol salesman. The truth, if you read the end of the prior week's Torah portion, is he begins this journey with his father.

Our truth is that none of us escapes our past. We may chart a new course, sometimes with great difficulty, that goes against what our parents may expect of us. Yet, we bring them along in our journey through life, and hopefully take from their example what is good while freeing ourselves from their lesser characteristics.

Worship Events of the Week

We are back together for Erev Shabbat services at All Souls in Bragg, Friday evening, November 4, at 6:45 p.m. The service will be in-person and will not be livestreamed, but the service will be recorded and posted on YouTube beginning Saturday morning.

On Saturday morning, November 5, at 9:30 a.m., we continue our fascinating discussion of why we pray the prayers we pray. We will be at the home of Rabbi Doug and Fay. Please RSVP to rabbidoug@kolamikc.org if you are planning to attend, and for directions to their home. To participate via Zoom, click here.

Weekly Feature

Member Spotlight — Brad Ordo
A regular Q&A feature for getting to know members of the congregation




You lived in Los Angeles for several years. Tell us a little about your life and work there.
Brad Ordo: I initially moved to Los Angeles to attend college. The melting-pot nature of L.A. filled me with unbridled freedom and optimism. On the other hand, the HIV/AIDS crisis was looming large at that time. Seeing so many people of my generation debilitated and dying, I threw myself into the world of activism and support services. 
 
After college, flying by the seat of my pants, I began my professional career — I bought and sold antiques, opened a retail store, and ultimately decided to design and manufacture furniture. For the next 20 years, I owned and operated Cartouche Designs, Inc. We specialized in high-end, custom furniture to the design trade.
 
I also made time for volunteering in the community — hospice work, youth mentoring, older adult programs, and literacy tutoring. 
 
What brought you back to KC?
It was beginning to dawn on me that my mother's failing health was not going to improve. So I moved back at the end of 2016 to help care for her full time. I'm grateful for the time I had with her, and the lessons learned through that experience. I also had the opportunity to reconnect with my four siblings as adults.
 
What brought you to Kol Ami?
After taking a "Jewish hiatus" for over 20 years, I began to feel the need to reconnect with my roots, rituals/prayers and the community-centeredness of synagogue life. It was hard to imagine going back to the synagogue of my youth, where I felt alone and ostracized. So during the first high holiday season of Covid, I attended the tashlich service at Brush Creek. I had heard that KA was LGBTQ-friendly, and, after feeling welcomed and needed, the rest is history!

You participate in the rabbi's design team for the Clergy Leadership Incubator (CLI). What are your personal aspirations for Kol Ami?
My personal desire is to see Kol Ami expand from within as well as attract folks from the broader community. Within that context, my aspiration is to see greater involvement from members that garners for them a meaningful engagement. (And moving to a pledge model could allow for more freedom in how that involvement looks and feels.) Equally important would be keeping an eye toward incorporating permanent support staff. Lastly, that we continue to be a safe place to explore our individual selves, within the context of our own version of what it means to live Jewishly.
Yahrzeit This Week
November 4
Charlene Fleischer – friend of Brad Ordo

We Wish Mi Shebeirach
A Complete Healing of Mind, Body and Spirit to:

Berny Burke
Tim Bruning
Robert Clinton
Jenny Dake
Alies Dalton
Dennis Dalton
Ken Davidson
Marvin Lee Denton
The Rev. Kendyl Gibbons
John Hoven
Judy Krugman
Michah ben Sarah
Randal Strong-Wallace

If you would like a name to continue to be listed or if you have a new name to include, please send an email to healing@kolamikc.org.  



{{shulcloud_footer_left}}
{{shulcloud_footer_right}}
Sun, November 27 2022
3 Kislev 5783
Sign Up For Our Newsletter
Sun, November 27 2022 3 Kislev 5783