Newsletters
Small 'd' democratic - Kol Ami newsletter 11-8-2022
11/08/2022 05:31:05 PM
| | |
| --- | --- |
| Author | |
| Date Added | |
| Automatically create summary | |
| Summary | |
Kol Ami Newsletter: November 8, 2022

​​​​​​​
Click for Kol Ami Calendar of Events

Worship Event

of the Week

Pizza Party Shabbat
We make Shabbos together this Friday, November 11, at 6 p.m., in the foyer at All Souls with an informal service followed by a Shabbat dinner with pizza and salad. So we know how much food we'll need, please RSVP to rabbidoug@kolamikc.org before Friday.

Yahrzeit This Week
November 13
Lois Steinel – mother of Dan Steinel

We Wish

Mi Shebeirach
A Complete Healing of Mind, Body and Spirit to:

Berny Burke
Tim Bruning
Robert Clinton
Jenny Dake
Alies Dalton
Dennis Dalton
Ken Davidson
Marvin Lee Denton
The Rev. Kendyl Gibbons
John Hoven
Judy Krugman
Michah ben Sarah
Randal Strong-Wallace

If you would like a name to continue to be listed or if you have a
new name to include, please send an email to  healing@kolamikc.org. 
Rabbi's Week in Review




During last Friday's Erev Shabbat service, I spoke (at somewhat longer length than usual for a Shabbat service) about the elections last week in Israel. The great and scary irony for me is that, at a time when the rise of anti-Semitism is front and center in the news, Israel is giving increased voice and legitimacy to Itamar Ben Gvir, known as the David Duke (the Ku Klux Klan leader) of Israel.

Without even considering our own ... Click here to read the rest of Rabbi Doug's blog post.

This Week's Torah Portion
Parashat Vayera (Bereishit/Genesis 18:1-22:24)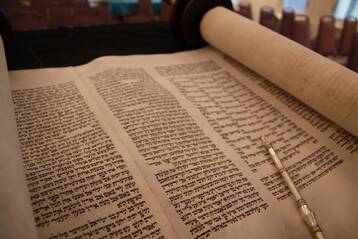 The Torah portion opens with the ultimate example of hospitality when Sarah and Avraham welcome three strangers into their tent. The Parashah shifts to the opposite of hospitality with the story of Sodom. The sin of Sodom, in which Avraham cannot present even 10 righteous people to G-d in order to save Sodom, is an exposé in divisiveness, hate and demonizing the other, the stranger in our midst.
  
As we hold elections this week (and Israel last week), the simple question is this: Who stands on the side of compassion, hospitality and generosity of spirit versus those who play to our worst fears and anger, and pit us against one another rather than unifying us? 
 
Weekly Feature

My Jewish Journey — Through Books
By Wynne Begun




It takes all kinds of people to make a synagogue community. Some of us at Kol Ami grew up in observant homes with multigenerational Jewish friends. I am one who did not experience a rich Jewish upbringing, and I have always been on a quest to learn more about Jewish culture, tradition and faith. Our rabbi offers wonderful educational opportunities, and I find that the more I participate in Torah study and worship, the more comfortable I become on my Jewish journey. 

I have found another source of learning: the Kol Ami Book Club, currently led by member Lee Merrill. Through my escape into our books, both fiction and nonfiction, I have come to know a queer Orthodox woman who had to choose between who she could love and her community, and I have learned about very curious folks from a Polish shtetl who were forgotten and left to thrive untouched, from before WWII to the present. I have met Alan Ginsberg as he mourned for his mother, and a woman in the Dark Ages who became a scribe for a learned rabbi. I have come to understand how our Jewish experiences through the generations — how Jewish cultures, issues and customs — have shaped my psyche and impacted my own Jewish journey as I form and change who I am as a Jewish contemporary woman.  

Book club meets to talk and learn once a month on Tuesday evenings. Consider joining us. The next meeting is Tuesday, November 29, at 7 p.m. on Zoom. (Link to come.) We will discuss Shmutz, by Felicia Berliner, a new novel about a woman in an ultra-Orthodox community who is trying to bridge two worlds: the traditional world of her parents, who are trying to arrange a marriage for her, and the secret world on her hidden computer.
 


Our mailing address is:
Congregation Kol Ami
4501 Walnut Street
℅ All Souls Unitarian Universalist Church
Kansas City, MO 64111
Fri, September 22 2023
7 Tishrei 5784
Sign Up For Our Newsletter
Fri, September 22 2023 7 Tishrei 5784