Newsletters
Saying Goodbye to a (New) Friend - Kol Ami newsletter 11-15-2022
11/15/2022 06:01:06 PM
| | |
| --- | --- |
| Author | |
| Date Added | |
| Automatically create summary | |
| Summary | |
Kol Ami Newsletter: November 15, 2022


Click for Kol Ami Calendar of Events

Worship Event 
of the Week

Shabbat Study, Service and Kiddush Brunch
This Saturday, November 19, beginning at 9:30 a.m., we celebrate Shabbat at the home of Ellen Karp. We continue our study of why we pray what we pray, followed by Shabbat morning worship and a festive Shabbat meal.  

All those attending must RSVP to rabbidoug@kolamikc.org.
Address and directions to Ellen's will be provided upon your RSVP. To join the study and service via Zoom, click here.

We look forward to a wonderful Shabbat together. 


Kol Ami Event
of the Week

Jewish Meditation
With Lara Steinel
In a virtual session 2:15-3:15 p.m. Sunday, November 20, participants learn and practice the basics of Jewish meditation. This session's focus is gratitude. It's the awareness of the components or nuances of gratitude that deepen our experience of thankfulness. The session begins with a short introduction by Rabbi Doug Alpert. For the Zoom link, click here. 

Social Justice News

Paper Grocery Bags
A big thanks to all who have saved and donated their paper grocery sacks, which we give to the Migrant Farmworkers Assistance Fund for its food distribution. This is an ongoing project for MFAF, one of our social-justice partners. If you have paper bags to donate, email newsletter@kolamikc.org to arrange dropoff or pickup. Thank you.

Yahrzeits This Week
November 19
Bernard Klein – grandfather of Beth Thompson
November 20
Sarah Katzeff – grandmother of Stanley Stern
November 21
John Jeremias Stein – uncle of Lara Steinel
November 22
Ben Katzeff – grandfather of Stanley Stern

We Wish

​​​​​​​Mi Shebeirach
A Complete Healing of Mind, Body and Spirit to:

Berny Burke
Tim Bruning
Robert Clinton
Jenny Dake
Alies Dalton
Dennis Dalton
Ken Davidson
Marvin Lee Denton
The Rev. Kendyl Gibbons
John Hoven
Judy Krugman
Michah ben Sarah
Randal Strong-Wallace

If you would like a name to continue to be listed or if you have a
new name to include, please send an email to  healing@kolamikc.org. 



Rabbi's Week in Review




I attended a shiva service this past week for Ruth Roth. She attended our High Holy Day services at Kol Ami but was not well-known in our community. I met Ruth through my time as a rabbinic intern at Ohev Sholom. She became interested in our shul after Ohev's merger with Beth Shalom. I learned that she really enjoyed our service and was interested in joining Kol Ami.

I do not mention this to slip in an accolade for Kol Ami. For me, ... Click here to read the rest of Rabbi Doug's blog post.

This Week's Torah Portion
Parashat Chaye Sarah
​​​​​​​(Bereishit/Genesis 23:1-25:18)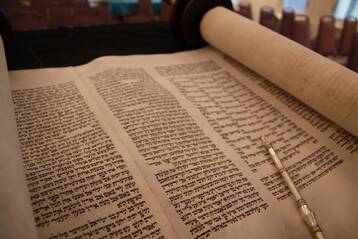 Chaye Sarah, translated as the life of Sarah, is really a description of her death. Through Avraham's actions in arranging for Sarah's burial, we learn the importance of Jewish ritual as a way to honor those who have died, and to provide a place of support for those who mourn loss. Through ritual, we create emotional space for mourners and space to carry on legacy.   

Weekly Feature

My Blinking Eyes — Reflections
​​​​​​​of a Kol Ami President
By Wynne Begun



 
No one at Kol Ami wakes up one morning and says, "I want to be president of my congregation!" The path is more like, "The current president wants to move on." It's a game of chicken of sorts, and then one person blinks. And I'm the one who blinked!  
 
All in all, it has been more than OK. I have fulfilled this role now for about 18 months and have had the privilege of serving with a dedicated, hardworking and sincere board of directors. They all care deeply about Kol Ami, and are doing a lot to make sure we are innovative and that we keep going!  
 
I have gotten to know our member community and have shared in their naches and sorrows. Our humanity is a gift we give one another.  
 
I have also had the opportunity to connect with many in our Jewish community who want only to attend during the High Holy Days. You are welcome to join us anytime.
 
I have had the pleasure of working with a rabbi who is a mensch and walks the walk with social justice in the community. I am proud to claim him as our rabbi. 
 
The huge generosity of our members and friends has also been a fortunate experience. It takes money to keep going. Thank you — to all of you.
 
It is not quite time for me to move on. When I do, I hope that you consider blinking! If you have ever even remotely considered being president of a Jewish congregation, make it Kol Ami. I promise you won't be sorry. 
 
Take care, stay well and see you around!




Our mailing address is:
Congregation Kol Ami
4501 Walnut Street
℅ All Souls Unitarian Universalist Church
Kansas City, MO 64111
Mon, December 11 2023
28 Kislev 5784
Sign Up For Our Newsletter
Mon, December 11 2023 28 Kislev 5784