Newsletters
Standing With the LGBTQ+ Community - Kol Ami newsletter 11-22-2022
11/22/2022 06:01:07 PM
| | |
| --- | --- |
| Author | |
| Date Added | |
| Automatically create summary | |
| Summary | |
Kol Ami Newsletter: November 22, 2022

​​​​​​​
Click for Kol Ami Calendar of Events

Worship Event 
of the Week

Shabbat Blessings
After satiating ourselves at our respective Thanksgiving meals, we have the opportunity to be together on Zoom Friday, November 25, from 6:45 to 7 p.m. for Shabbat blessings and a bit of Torah. Click here to join us as we begin our Shabbat celebration together.

Upcoming Kol
Ami Event

Kol Ami Book Club
The Book Club meets on Zoom at 7 p.m. Tuesday, November 29, to discuss Shmutz, by Felicia Berliner. Click here for the Zoom link.

Social Justice
Holiday Event

Shopping Day to
Benefit MFAF
Migrant Farmworkers Assistance Fund hosts a Shopping Day at Ten Thousand Villages, in downtown Overland Park (7947 Santa Fe Drive), noon-4 p.m. Sunday, December 4. MFAF, one of Kol Ami's social justice partners, receives 15 percent of the sales that afternoon.

Ten Thousand Villages is a fair-trade shop, with handcrafted items from developing countries. Support artisans from around the world and support MFAF.

We Wish
Mi Shebeirach
A Complete Healing of Mind, Body and Spirit to:

Louis Breinin
Robert Clinton
Jennifer Dake
Alies Dalton
Dennis Dalton
Ken Davidson
Marvin Lee Denton
Rev. Kendyl Gibbons.
Harriet Greenwald
John Hoven
Michah ben Sarah

If you would like a name to continue to be listed or if you have a
new name to include, please send an email to  healing@kolamikc.org. 
Rabbi's Week in Review




I am heartsick and outraged by the murder of five people and injury to 19 by a hateful, immoral tyrant at the LGBTQ+ nightclub, Club Q, in Colorado Springs. I, as rabbi, and we at Congregation Kol Ami stand in love with our queer Jewish family and everyone in the queer community. 
 
Sadly, this is the inevitable result of all of the hate speech directed toward the queer community by many leaders in the Republican party. Banning books from ... Click here to read the rest of Rabbi Doug's blog post.

This Week's Torah Portion
Parashat Toledot (Bereishit/Genesis 25:19-28:9)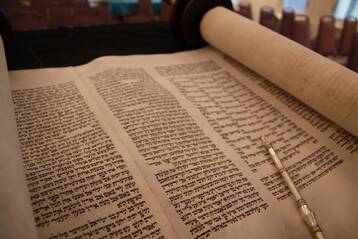 We read about sibling rivalry between Jacob and Esau, Rebecca and Isaac's disapproval of Esau's marriage to a Hittite woman, and the consequences of favoritism by parents.  

As we celebrate the many joys in our lives with family, we also realize that family can be challenging and complicated. We understand that maintaining positive relationships within family, and maintaining important personal relationships in general, takes care, compassion, perseverance and acceptance of human frailty. At Kol Ami, we also recognize and strive to be open to the different configurations that can comprise a family, to be a place for the nontraditional family 

Weekly Feature

A Prayer of Thanks — Modim Anachnu Lach
By Ellen Karp

This week brings us Thanksgiving, a holiday that encapsulates the idea behind Modim Anachnu Lach, a part of the Amidah that expresses thanks as well as humility for all of G-d's gifts. As Rabbi Doug often says, even in the world to come (Olam Ha-bah), the one necessary prayer to be said will be Modim Anachnu Lach.  

The Amidah is composed of a series of blessings, and we come to the Modim after several requests — for health, wisdom, prosperity, etc. These are offered in a mood of optimism, that we can secure the essentials of a happy life. They are about shaping our lives for the better. But when we arrive at Modim, toward the end of the Amidah, our tone shifts from beseeching to awe and appreciation for:
"…The grandeur of creation, worlds known and unknown.
… Our fragile planet Earth.
… Human life, its wonders and hopes.
… Human community, our common past and future hope."

The other blessings — and commentaries — one can reflect on are in our Mishkan T'filah prayer book, pages 146-147. 

A joyous Thanksgiving to all. 

Social Justice Event

Holiday Toy Drive for MLK Jr. School
By Pat Clinton


Kol Ami's ongoing partnership with Martin Luther King Jr. Elementary demonstrates our commitment to tikkun olam and engagement in the broader Kansas City community. This year, we are working with other faith-based organizations that support MLK School to bring the holiday spirit to children who may not otherwise receive presents. 

Kol Ami is providing gifts for kindergarten and first-grade students — about 120 children. While we may not be able to give that many gifts, I am hoping that we can be as generous as possible. These need not be expensive. Pop-its, fidgets, miniature cars, kinetic sand, and culturally appropriate dolls and action figures are always popular and reasonably priced. I will collect these items at our Shabbat services December 2 and December 9. Thank you in advance for your generosity.

 


Our mailing address is:
Congregation Kol Ami
4501 Walnut Street
℅ All Souls Unitarian Universalist Church
Kansas City, MO 64111
Sun, November 27 2022
3 Kislev 5783
Sign Up For Our Newsletter
Sun, November 27 2022 3 Kislev 5783