Newsletters
The Rabbi's Challenge: 100 Questions - Kol Ami newsletter 11-29-2022
11/29/2022 05:40:06 PM
| | |
| --- | --- |
| Author | |
| Date Added | |
| Automatically create summary | |
| Summary | |
Kol Ami Newsletter: November 29, 2022


Click for Kol Ami Calendar of Events

Worship Events
of the Week

Shabbat Worship with Musical Guests
We celebrate Shabbat together this week in the sanctuary at All Souls. Join us Friday, December 2, at 6:45 p.m. when we are delighted to hear music composed by Kol Ami musicians Brendan Howard and Roberta Solomon. What a blessing to have such talented and soulful composers in our midst. (For those who cannot attend in person, the service will be recorded and available on YouTube the following day.)

Study Session
At 9:30 a.m. Saturday, December 3, we continue our study of "why we pray what we pray." We will be at the home of Fay and Rabbi Doug, as well as on Zoom. For directions, email rabbidoug@kolamikc.org. For the Zoom link, click here.

Kol Ami Event

Book Club
Book Club meets on Zoom tonight — 7 p.m. Tuesday, November 29 — to discuss Shmutz, by Felicia Berliner. Click here.

Social Justice Events

Holiday Toy Drive
for MLK Jr. School
In our ongoing partnership with Martin Luther King Jr Elementary, Kol Ami is providing gifts for kindergarten and first-grade students — about 120 children — who might not otherwise receive Christmas presents. We may not be able to give that many gifts, but I am hoping we can be as generous as possible. These need not be expensive — pop-its, fidgets, miniature cars, kinetic sand, and culturally appropriate dolls and action figures are always popular and reasonably priced. I will collect these items at our Shabbat services December 2 and December 9. Thank you.
— Pat Clinton

​​​Shopping Day
Benefits MFAF
Migrant Farmworkers Assistance Fund hosts a Shopping Day at Ten Thousand Villages, in downtown Overland Park (7947 Santa Fe Drive), noon-4 p.m. Sunday, December 4. MFAF, one of Kol Ami's social justice partners, receives 15 percent of the sales that afternoon. Ten Thousand Villages is a fair-trade shop. Support artisans from around the world and support MFAF.

We Wish
Mi Shebeirach
A Complete Healing of Mind, Body and Spirit to:

Louis Breinin
Robert Clinton
Jennifer Dake
Alies Dalton
Dennis Dalton
Ken Davidson
Marvin Lee Denton
Rev. Kendyl Gibbons
Harriet Greenwald
Michah ben Sarah

If you would like a name to continue to be listed or if you have a
new name to include, please send an email to healing@kolamikc.org.
Rabbi's Week in Review




In our limmud, our study together, we have been delving into prayer. Specifically, we have been studying "why we pray what we pray." The group discussions and insights that have ensued have been extraordinary. We are gaining a deeper understanding of prayer with a greater sense of intention over our prayers. ... I have come to realize that while we have not reached the end of our exploration of Jewish prayer, we do need to change things up with a little greater frequency. It is with that in mind that I am throwing out a challenge to all of you. ... Click here to read the rest of Rabbi Doug's blog post.

This Week's Torah Portion
Parashat Vayetze (Bereishit/Genesis 28:10-32:3)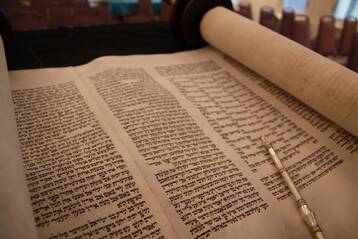 We read this week of Jacob's ladder, his dream of angels ascending and descending between earth and heaven. With this week's Torah portion, I think back to our study series on the book, A Gathering of Angels: Angels in Jewish Life and Literature by Rabbi Morris Margolies z"l. He sees the angels as a metaphor, that our lives are full of peaks and valleys. G-d's angels are there with us, both on our best days and on our worst days.

In our studies together, we learned that angels can serve as the forces within us. They are not so much about what G-d needs; rather, angels serve a need we have to be a bridge getting us closer to G-d.

Weekly Feature

View From the Bridge
One of Our Own Conversion Candidates Reflects
By Ellen Karp and Sierra Harbinson




Sierra Harbinson, a nurse in reproductive health care and a parent to two rescue dogs, grew up in Germany and moved to Kansas in 2012. Sierra answers Ellen Karp's questions about converting to Judaism.

EK: What sparked your interest in Judaism?
SH: I was raised in an environment where asking questions was frowned upon, and I got in a lot of trouble for questioning church teachings. When Katie [Harbinson] and I were first dating, she mentioned some of her Jewish friends and conversations they'd shared, and it piqued my interest to the point that I started reading articles online about Jewish thought and culture.

What drove your decision to convert?
We were invited to a Zoom Passover seder in April 2020. I hate to sound cheesy, but everything that was happening resonated deeply within me, and that, coupled with the talking with Katie and the reading I had been doing for months, was enough of a nudge to start inquiring about conversion classes. It's been really special to do it together!

What were the biggest surprises and insights you took away from the conversion process?
I'm surprised at how fun and engaging the process has been. It's hard work and requires a lot of dedication, but it's been refreshing to reconnect with religion and community in such a positive way. I love how Judaism values education, repairing the world, and caring for our neighbors.

What drew you to Kol Ami? Do you anticipate getting involved in the life of the congregation in some way? If so, how?
Katie and I were both looking for a progressive synagogue that was actively engaged with the community, affirming of LGBTQ+ folks, and not shying away from difficult conversations within the diaspora. I want to improve my Hebrew, and I'd love to work my way up to eventually joining the musical team, if they'll have me!

How do you hope being Jewish, establishing a Jewish home, and becoming members of a Jewish congregation will make a difference in your lives?
I've already experienced more community within Kol Ami than I have ever experienced in a religious setting. Establishing a Jewish home together has been full of making sweet traditions for our family, and teaching our extended family about our new Jewish culture. It adds structure and a way to mark time, and I have especially enjoyed taking part in our morning connection and davening group. I'm excited to mark future life-cycle events, and we're hoping to have a Jewish wedding.


Our mailing address is:
Congregation Kol Ami
4501 Walnut Street
℅ All Souls Unitarian Universalist Church
Kansas City, MO 64111
Sun, February 5 2023
14 Shevat 5783
Sign Up For Our Newsletter
Sun, February 5 2023 14 Shevat 5783