Newsletters
Being Proactive Against Hate - Kol Ami newsletter 12-6-2022
12/06/2022 06:01:07 PM
| | |
| --- | --- |
| Author | |
| Date Added | |
| Automatically create summary | |
| Summary | |
Kol Ami Newsletter: December 6, 2022


Click for Kol Ami Calendar of Events

Worship Event
of the Week

Shabbat Shulchan
This Friday, December 9, at 6 p.m., we look forward to another Shabbat Shulchan, Shabbat Table, in the lobby at All Souls. It's an opportunity for an informal Shabbat prayer experience, followed by a Seudah, a festive Shabbat meal to share together (also informal). 
 
If you plan to attend,
please RSVP to rabbidoug@kolamikc.org so we know how much food to have on hand.

Ask the Rabbi

Everything You
Always Wanted to Know About Judaism
A reminder: Submit questions to Rabbi Doug that you've always wanted to ask about Judaism. These questions will be the basis for our study together in 2023. Email your queries to rabbidoug@kolamikc.org.

Social Justice

Toy Drive for
MLK Jr. School
Kol Ami is providing gifts for elementary-school students in kindergarten and first grade — about 120 children — who might not otherwise receive Christmas presents. These need not be expensive — Play-Doh, pop-its, fidgets, miniature cars, kinetic sand, or culturally appropriate dolls and action figures are always popular. I will collect toy donations at our Shabbat service December 9. Thank you for your generosity.
            — Pat Clinton

Upcoming Kol
Ami Event

Kol Ami Book Club
The next book club meeting is at 7 p.m. Tuesday, December 27, on Zoom. The book under discussion will be Thistlefoot, by GennaRose Nethercott. Zoom link to come.

We Wish
Mi Shebeirach
A Complete Healing of Mind, Body and Spirit to:

Louis Breinin
Robert Clinton
Jennifer Dake
Alies Dalton
Dennis Dalton
Ken Davidson
Marvin Lee Denton
Rev. Kendyl Gibbons
Harriet Greenwald
Michah ben Sarah
Wayne Courtois-Seligman

If you would like a name to continue to be listed or if you have a new name to include, please send an email to  healing@kolamikc.org. 




Rabbi's Week in Review




Anti-Semitism has been front-and-center in the news recently. The former president dining at his home with white supremacist/Holocaust denier/neo-Nazi Nick Fuentes and Kanye/Ye, who can't seem to get a sentence out unless he is going off on us, has put anti-Semitism on the front burner in a way that I cannot ever remember experiencing in my lifetime.

Amidst much appropriate worry and fear within our community, there are some ... Click here to read the rest of Rabbi Doug's blog post.

This Week's Torah Portion
Parashat Vayishlach
(Bereishit/Genesis 32:4-36:43)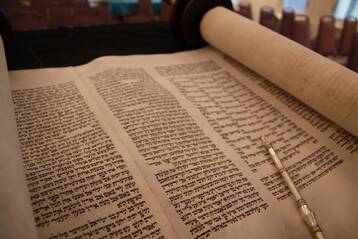 We read this week about Dinah, the daughter of Leah who is sexually assaulted. With this narrative, we continue to think about how we can lift up voices of women who have been marginalized, both in Torah and now.

Weekly Feature

Oh Hanukkah, Oh Hanukkah
By Wynne Begun



 
I can tell Hanukkah is coming by how dark it is getting, by the arrival of the toy catalog from Amazon, and the discussions that arise within my family regarding whether we should or should not give gifts to the adults. These are annual occurrences that lead up to that wonderful time of the year when families observe Hanukkah, each family creating their own eight-day Festival of Lights. 
 
What do you do to make the holiday special? We would like to share, in an upcoming newsletter, the customs and foods and anything else that make Hanukkah festive for your family. Please submit just a few words describing your unique celebration to office@kolamikc.org by December 18. We look forward to learning a little more about you!
 
     ____________________________________

Corrections to the Weekly Feature in the November 29, 2022, Issue

"View From the Bridge: One of Our Own Conversion Candidates Reflects — Sierra Harbinson, a nurse in reproductive health care and a parent to two rescue dogs, grew up in Germany and moved to Kansas in 2012. Sierra answers Ellen Karp's questions about converting to Judaism."
(In the original text, we misstated Sierra's last name and pronoun preference, and also misspelled Katie Harbinson's last name. We regret the errors.)


Our mailing address is:
Congregation Kol Ami
4501 Walnut Street
℅ All Souls Unitarian Universalist Church
Kansas City, MO 64111
Sun, February 5 2023
14 Shevat 5783
Sign Up For Our Newsletter
Sun, February 5 2023 14 Shevat 5783