Newsletters
Celebrating Chanukah Together Again - Kol Ami newsletter 12-13-2022
12/13/2022 07:05:07 PM
| | |
| --- | --- |
| Author | |
| Date Added | |
| Automatically create summary | |
| Summary | |
Kol Ami Newsletter: December 13, 2022


Click for Kol Ami Calendar of Events

Worship Events
of the Week

Shabbat Study, Service and Kiddush Brunch
We celebrate Shabbos together this Saturday, December 17, beginning at 9:30 a.m., continuing our study of why we pray what we pray — and then praying a little, of course — followed by our Seudah, our festive Shabbat meal. We will meet at the home of Fay and Rabbi Doug.
RSVPs are needed to attend — contact rabbidoug@kolamikc.org.

Chanukah Celebration
Beginning at 5:30 p.m. Sunday, December 18, at All Souls, we have our annual Kol Ami Chanukah celebration. Bring your Chanukah menorahs and candles as we set the room aglow on the first night of the Festival of Lights. A story from the rabbi and latkes will round out this wonderful Kol Ami tradition. If you have a special latke recipe, please bring some of your latkes to share.

Upcoming
Kol Ami Event

Kol Ami Book Club
The next book club meeting takes at 7 p.m. Tuesday, December 27, via Zoom. The book under discussion: Thistlefoot, by GennaRose Nethercott. Zoom link to come.

Ask the Rabbi

Questions for the Rabbi?
Submit questions to Rabbi Doug that you've always wanted to ask about Judaism. These questions will be the basis for our study together in 2023. Email your queries to  rabbidoug@kolamikc.org.

Yahrzeits This Week
December 15
Nathan Swerdlove – father of Victor Swerdlove

December 17
Albert Bamberger – father of David Bamberger

December 18
Rosalie Alpert, Rachel bat Ailey v'Batya – mother of Rabbi Doug Alpert

Ida Bamberger – mother of David Bamberger

Joyce Weisman Karp – mother of Ellen Karp

We Wish
Mi Shebeirach
A Complete Healing of Mind, Body and Spirit to:

Louis Breinin
Robert Clinton
Jennifer Dake
Alies Dalton
Dennis Dalton
Ken Davidson
Marvin Lee Denton
Rev. Kendyl Gibbons
Harriet Greenwald
Michah ben Sarah
Wayne Courtois-Seligman

If you would like a name to continue to be listed or if you have a
new name to include, please send an email to  healing@kolamikc.org. 






Rabbi's Week in Review




I am looking forward this week, with great anticipation, to renewing our traditional Congregation Kol Ami Chanukah celebration. This has always been a special time for us when we all light our Chanukah menorahs together.  

A special shout-out to Roberta Solomon, who, in my first year with Kol Ami, set me up for storytelling — with an easy chair, a lamp and my cardigan sweater. It is that kind of creative thought that has ... Click here to read the rest of Rabbi Doug's blog post.

This Week's Torah Portion
Parashat Vayeshev (Bereishit/Genesis 37:1-40:23)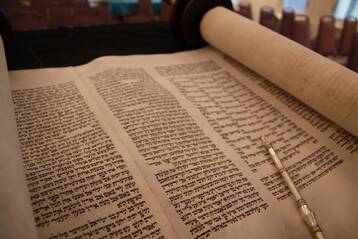 We begin the Joseph story and his improbable journey, literally from the pit(s) to royalty. As we begin Chanukah this coming Sunday evening, we celebrate the ongoing miracle of our existence, and our determination to always imagine and then work for a better world.

Weekly Feature

Let There Be Light
By Wynne Begun


This time of year, when days are shorter, many people feel down. A common condition during this season of additional darkness is seasonal affective disorder (SAD), for which light therapy is prescribed.  
 
My belief is that as a species, we need light. One way I practice light therapy is by looking for the perfect outdoor lighted tree. To qualify, the tree must be an evergreen with colored tiny lights spaced perfectly around it. No droops, no gaps, but spaced with a perfection that is hard to achieve. This year, I am still looking for THE tree — but there is still time. 
 
Many major religions and cultures have days set aside during this time that involve creating light. These include Diwali, a festival in Hinduism, Jainism and Sikhism celebrating light over darkness; Kwanzaa, which includes the lighting of red, green and black candles as some African-Americans honor their African roots and heritage; and, of course, Christmas. 
 
My holiday is Chanukah, when it is customary to place menorahs in our windows to share light with the world. One of my fondest memories of parenting is seeing our children light the menorah. We often turned down the lights in our home as we watched the candles burn slowly, and we became mesmerized by the candlelight reflected in their faces.  
 
As we are all caught up in this holiday season, may the lights of the many traditions be uplifting, and may the lights of your personal tradition be especially so. 

Making Chanukah Festive
Submitted by Shere-Ling Kraus-Yao
 
Two years ago, at North Shore Milwaukee with CEEBJ Reform temple, we each got a prayer card to follow for each day of lighting the candles. I remember getting a special treat from the temple and candles (though I purchased my own). Thus, I still have a package of 44 small candles at home!
 
What do you do to make the holiday special? Send us just a few words describing your unique celebration to  office@kolamikc.org by December 18. We look forward to learning a little more about you!
 

Our mailing address is:
Congregation Kol Ami
4501 Walnut Street
℅ All Souls Unitarian Universalist Church
Kansas City, MO 64111
Sun, February 5 2023
14 Shevat 5783
Sign Up For Our Newsletter
Sun, February 5 2023 14 Shevat 5783