Newsletters
"How We See Ourselves" - Kol Ami newsletter 12-20-2022
12/20/2022 05:50:07 PM
| | |
| --- | --- |
| Author | |
| Date Added | |
| Automatically create summary | |
| Summary | |
Kol Ami Newsletter: December 20, 2022


Click for Kol Ami Calendar of Events

Worship Event
of the Week

Zoom Shabbat and
Chanukah Blessings
At 6:45 p.m. Friday, December 23, we gather via Zoom to make Shabbos and celebrate the sixth night of Chanukah with blessings for both Shabbat and Chanukah. Have all your candles at the ready as we bring light into this darkest time of year. For the Zoom link, click here. 

Upcoming
Kol Ami Events

Kol Ami Book Club
Book club meets on Zoom next Tuesday, December 27, at 7 p.m. The book under discussion: Thistlefoot, by GennaRose Nethercott. Click here. 

Shabbat and New Year's Celebration
From 6:45 to 8:45 p.m. Friday, December 30, we hold an informal Shabbat service at All Souls, followed by some time together to usher in the new (secular) year. Bring games and sparkling beverages (alcoholic or nonalcoholic welcome) to share.

Kol Ami News

Changes to Livestream
Starting in January 2023, Kol Ami Friday-night services will no longer be available via livestream; however, b'nai mitzvot and High Holy Day services will continue to have an online option.

Yahrzeits This Week
December 22
Besse Engleman Gottstein – grandmother of Beth Thompson
December 25
Denise Green – mother of Rachel Bishop

We Wish
Mi Shebeirach
A Complete Healing of Mind, Body and Spirit to:

Louis Breinin
Robert Clinton
Wayne Courtois-Seligman
Jennifer Dake
Alies Dalton
Dennis Dalton
Ken Davidson
Marvin Lee Denton
Rev. Kendyl Gibbons
Harriet Greenwald
​​​​​​​Claudia Mandelbaum
Michah ben Sarah

If you would like a name to continue to be listed or if you have a
new name to include, please send an email to  healing@kolamikc.org. 

Rabbi's Week in Review




At our annual Congregation Kol Ami Chanukah celebration, I mentioned that there may have been a certain ambivalence toward the holiday. The Talmud seems to give short shrift to it relative to our other festivals. It has multiple themes that are not necessarily in concert with one another.

On one level, it celebrates a military victory — the victory of the Hasmoneans (Maccabees) over Hellenism. It is a celebration of religious ... Click here to read the rest of Rabbi Doug's blog post.

This Week's Torah Portion
Parashat Miketz (Bereishit/Genesis 41:1-44:17)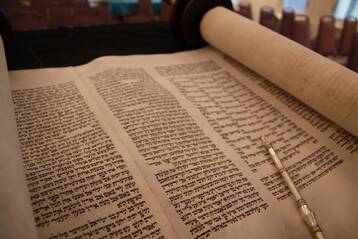 The Joseph narrative continues as he comes to power in Egypt, only second to Pharaoh in governing the land. Joseph is a study in the impact that coming into a position of authority has on a person — whether it necessarily corrupts even good people when they are in a position of authority over others.

Weekly Feature

A Holiday Twofer —
Celebrating Steinel-Style
By Lara and Dan Steinel
 



When we got married in 1973, we decided to honor each other's religious and cultural practices: Dan's Swedish Lutheran heritage and Lara's Jewish faith and traditions. Never is that commitment more apparent than in December when we celebrate both Christmas and Chanukah.

Our different backgrounds mesh with shared Swedish and Jewish food traditions, like herring and cucumber salad. We offer friends plates of decorated cookies in the shapes of Christmas trees, candy canes, dreidels, and Jewish stars.

Dan makes the latkes for all our Chanukah meals. In Lara's home growing up, her father was the latke maker, and Dan made a point of learning all his techniques. Until Lara visited Dan's family for Christmas the first time, she had never tasted a Swedish meatball (called a köttbullar). She now makes the Swedish meatballs for every year's holiday meal.

Our shared traditions extend as well to decorating our home in December. People who drive by see a Christmas tree in one window and a chanukiah, lighted for each of Chanukah's eight nights, in another window. Our two-sided fireplace displays stockings and Swedish tomte (Nordic folkloric figures) on one side and Chanukah decorations and dreidels on the other.

At Passover, we team up on matzah ball soup — Dan makes the matzah balls and Lara the chicken stock. When Passover coincides with Easter, Lara makes matzah kugel to serve with the traditional Easter meal.

We acknowledge that our approach might not work for other couples, but for us, it's a richly rewarding commitment that we enjoy sharing with family and friends.
 


Our mailing address is:
Congregation Kol Ami
4501 Walnut Street
℅ All Souls Unitarian Universalist Church
Kansas City, MO 64111
Sun, February 5 2023
14 Shevat 5783
Sign Up For Our Newsletter
Sun, February 5 2023 14 Shevat 5783