Newsletters
Bringing in a new (secular) year - Kol Ami newsletter 12-27-2022
12/27/2022 05:45:06 PM
| | |
| --- | --- |
| Author | |
| Date Added | |
| Automatically create summary | |
| Summary | |
Kol Ami Newsletter: December 27, 2022


Click for Kol Ami Calendar of Events

Worship Events
of the Week

Shabbat and New Year's Celebration
From 6:45 to 8:45 p.m. Friday, December 30, we hold an informal Shabbat service at All Souls, followed by some time together to usher in the new (secular) year. Bring games and sparkling beverages to share (alcoholic or nonalcoholic welcome).

Friday-Morning
Special Yahrzeit
From 8 to 8:15 a.m. this Friday, December 30, we help Sheryl Kretchmer observe the Yahrzeit of her (and our) beloved Gary Kretchmer. Please join us at our regular weekday-morning service and study to make a minyan, to support Sheryl and honor Gary's memory. For the Zoom link, click here.

Yahrzeits This Week

December 28
Tommy Compton – stepfather of Marion Breinin
December 29
Gary Kretchmer – spouse of Sheryl Kretchmer
December 30
Leon Kretchmer – father of Gary Kretchmer

We Wish
Mi Shebeirach
A Complete Healing of Mind, Body and Spirit to:

Diane Alexander 
Louis Breinin
Robert Clinton
Wayne Courtois-Seligman
Jennifer Dake
Alies Dalton
Dennis Dalton
Ken Davidson
Marvin Lee Denton
Rev. Kendyl Gibbons
Amanda Goldstein
Harriet Greenwald
Marc Ordo
​​​​​Michah ben Sarah

If you would like a name to
continue to be listed or if
you have a new name to
include, please send an
email to 
healing@kolamikc.org. 


Upcoming Kol Ami Events




Friday-Night Guest Musician January 6
For our Friday, January 6, Shabbat service at All Souls, we welcome Adam Galblum to the bimah as part of our program of inviting guest musicians to participate in our services every other month.

Adam Galblum is a classically trained violinist specializing in jazz and fiddle music. He studied at the Berklee College of Music in Boston, was an alumnus of the Youth Symphony of Kansas City, and apprenticed with KC jazz icon Claude "Fiddler" Williams. He has toured with bluegrass and jam bands, and is a member of Shakedown Strings, a trio that celebrates the music of the Grateful Dead. 
 — Lara Steinel

Save the Date!
At 5 p.m. Sunday, February 5, we celebrate Tu Bishvat with a unique seder and an opportunity to honor the work of the Migrant Farmworkers Assistance Fund. More information to come.

Book Club Cancels December Meeting
Book club meets up at 7 p.m. Tuesday, January 31, via Zoom to discuss Thistlefoot, by GennaRose Nethercott.

Kol Ami News
 
Changes to Livestream
Starting in January, Kol Ami Friday-night services will no longer be available via livestream; however, b'nai mitzvot and High Holy Day services will continue to have an online option.

This Week's Torah Portion
Parashat Vayigash (Genesis 44:18-47:27)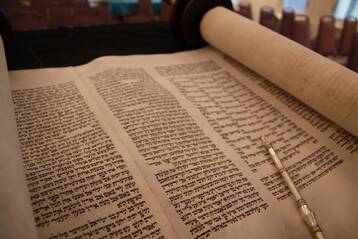 "In this Torah portion, Joseph's brothers refuse to return to Canaan without Benjamin, whom Joseph has falsely accused of theft. Joseph reveals his true identity and invites his brothers to return for their father, Jacob, and bring him and their families to Egypt to live. When they return, Joseph introduces his father to Pharaoh, and, at Pharaoh's suggestion, the family settles in Goshen, a particularly fertile region of Egypt."
— From MyJewishLearning.com

Our mailing address is:
Congregation Kol Ami
4501 Walnut Street
℅ All Souls Unitarian Universalist Church
Kansas City, MO 64111
Tue, May 30 2023
10 Sivan 5783
Sign Up For Our Newsletter
Tue, May 30 2023 10 Sivan 5783