Newsletters
"Within You and Without You" - Kol Ami newsletter 1-3-2023
01/03/2023 06:02:06 PM
| | |
| --- | --- |
| Author | |
| Date Added | |
| Automatically create summary | |
| Summary | |
Kol Ami Newsletter: January 3, 2023


Click for Kol Ami Calendar of Events

Worship Events 
of the Week

Friday-Night
Guest Musician 
For our Shabbat service at All Souls at 6:45 p.m. Friday, January 6, we welcome Adam Galblum, a classically trained violinist specializing in jazz and fiddle music. He has toured with bluegrass and jam bands, and is a member of the trio Shakedown Strings.

Shabbat-Morning
Study Group
At Fay and Rabbi Doug's at 9:30 a.m. Saturday, January 7, we wrap up our series on "Why We Pray What We Pray" with a look at the Aleinu. RSVP required to 
rabbidoug@kolamikc.org.

Kol Ami News

Bring Joy (Oneg)
to a First-Friday
Shabbat Service
We are looking for a few mensches to choose a month to bring simple handheld treats (veggies, brownies, cookies, etc.) to share with Shabbat-service attendees at our Oneg Shabbat following our Friday-night service. When you pick a month, we also know we'll have the pleasure of your company for Shabbat worship and post-service schmoozing in the New Year. 
 
Just respond to office@kolamikc.org — todah rabah in advance.
(First-Friday Shabbat dates are below.) Be the first in your neighborhood to grab yours.

Friday, January 6
Friday, February 3
Friday, March 3
No service in April (Passover)
Friday, May 5

Yahrzeit This Week
January 5
Sarah Woolf – grandmother of Wynne Begun

​​​​​​​We Wish
Mi Shebeirach
A Complete Healing of Mind, Body and Spirit to:

Diane Alexander 
Louis Breinin
Robert Clinton
Wayne Courtois-Seligman
Jennifer Dake
Alies Dalton
Dennis Dalton
Ken Davidson
Marvin Lee Denton
Rev. Kendyl Gibbons
Amanda Goldstein
Harriet Greenwald
Marc Ordo
​​​​​Michah ben Sarah

If you would like a name to continue to be listed or if you have a
new name to include, please send an email to  healing@kolamikc.org. 
Rabbi's Week in Review




I/we take this time to reflect on our lives, both communally and individually. Not so much because of celebrating the secular new year (although that's not a bad reason to do some productive contemplation), but rather that in our very short and colder days, days filled with more darkness than light, we naturally take on a more internal focus. We search for the light within.

In our daily study of a page of Talmud, Daf Yomi, we are ... Click here to read the rest of Rabbi Doug's blog post.

This Week's Torah Portion
Parashat Vayechi
(Bereishit/Genesis 47:28-50:26)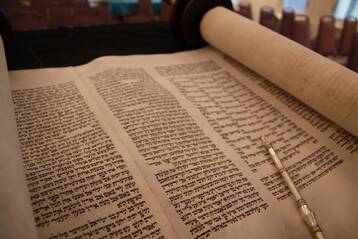 With this parashah, we complete the Book of Bereishit/Genesis. Leading up to our patriarch Jacob's death, we reflect on the meaning and value of legacy. We come to learn that in every generation, we need to have a renewed sense of commitment to seeking a more just world; we cannot simply rely on the positive impact of past generations but rather must build on their contributions.

Weekly Feature

Join Us for a February Celebration
of Trees and MFAF
By Wynne Begun
 


An orchard near Lexington, Missouri

On February 5, we observe Tu Bishvat with a joyous seder to honor and support Suzanne Gladney and Alan Lubert's work with the Migrant Farmworkers Assistance Fund. MFAF helps provide health, education and social services to the migrant-farmworker community near Lexington, Missouri. Please put Sunday, February 5, on your calendar! 
 
Tu Bishvat (the 15th day, tu, of the Hebrew month of Shvat) is known as the birthday of the trees and is connected to Israel's agricultural cycle. It particularly celebrates fruit trees — apropos, given that the farmworkers work in apple and peach orchards. 
 
The Tu Bishvat haggadah extols nature and all that comes with the planting season. Instead of the traditional Passover seder plate, three platters of different fruits and nuts are assembled. A vegetarian dinner will be served after the brief seder, and we will hear from a young woman whose life has been directly and positively affected by MFAF.
 
In addition, we hope this event will raise funds for the organization. Please look for more information in this newsletter about this incredible nonprofit and about the event, including reservation information, cost and directions to the Guadalupe Center — which is easy to find and has a parking lot across from the entrance.
 
Hope to see you there! 



Our mailing address is:
Congregation Kol Ami
4501 Walnut Street
℅ All Souls Unitarian Universalist Church
Kansas City, MO 64111
Tue, May 30 2023
10 Sivan 5783
Sign Up For Our Newsletter
Tue, May 30 2023 10 Sivan 5783