Newsletters
"In Meaningful Relationship" - Kol Ami newsletter 1-10-2023
01/10/2023 07:15:07 PM
| | |
| --- | --- |
| Author | |
| Date Added | |
| Automatically create summary | |
| Summary | |
Kol Ami Newsletter: January 10, 2023

​​​​​​​
Click for Kol Ami Calendar of Events

Worship Event 
of the Week

Shabbat Shulchan
At 6 p.m. Friday, January 13, in the foyer at All Souls, we continue our Shabbat Shulchan program — an informal service to welcome in Shabbat followed by a Seudah, a festival meal to celebrate Shabbat together. It is always so nice to create community over food. In order to know how much food to have on hand, please RSVP to
​​​​​​​rabbidoug@kolamikc.org.

Changes to Livestream
Kol Ami Friday-night services are no longer available via livestream B'nai mitzvot and High Holy Day services will continue to have an online option.

Yahrzeits This Week
January 17
Donald David Alpert, Daniel David ben Yaakov v'Sarah – father of Rabbi Doug Alpert
January 17
Milton Karp – grandfather of Ellen Karp

We Wish
Mi Shebeirach
A Complete Healing of Mind, Body and Spirit to:

Diane Alexander 
Robert Clinton
Wayne Courtois-Seligman
Jennifer Dake
Alies Dalton
Dennis Dalton
Rev. Kendyl Gibbons
Amanda Goldstein
Harriet Greenwald
Liza Ordo
Marc Ordo
​​​​​Michah ben Sarah

If you would like a name to continue to be listed or if you have a
new name to include, please send an email to  healing@kolamikc.org. 
Rabbi's Week in Review




I'm writing this after receiving an antidote to a stressful week — really as much a reminder or a refresher course, if you will.

The stress came from both schedule management (or, a more accurate descriptor, my great challenge in managing my schedule) and the politics of the week. Leaving aside the former, which is a constant and is not going to change anytime soon, the latter came from the dysfunction on display in the House ... Click here to read the rest of Rabbi Doug's blog post.

This Week's Torah Portion
Parashat Shemot (Shemot/Exodus 1:1-6:1)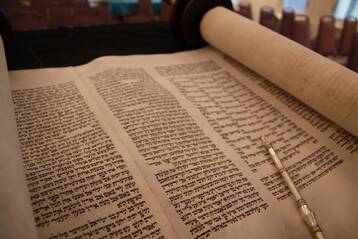 This week we begin the second book of the Written Torah. Having built a foundation for our shared Jewish existence based on a single family in Genesis, we will move forward to create our communal existence. It is a communal existence based on shared obligation — the sense that each of us is needed by the others in our community, and a sense of being supported by the community — that we are part of a community that cares about each of us.

Weekly Feature
  
Traveling Here, There and Everywhere
The Lives of Migrant Workers



Suzanne Gladney (center) and MFAF staff meet with migrant farmworkers.

Migrant and seasonal farmworkers are a crucial link in our food's journey from farm to table, putting in long days doing backbreaking and repetitive labor on farms and orchards.
 
They follow crops' growing and harvest times — apple and peach season here, the citrus season in Florida or Texas. They go to Georgia for onions. Some stay year-round to maintain orchards and facilities.
 
Eugenio, a farmworker in his 60s, worked in California, the Carolinas and Florida before arriving in Lafayette County. He's been a farmworker, coming and going to the United States, since he was 15. He likes this area — the trees don't have thorns, and he doesn't get hurt. Francisca came for the apple season when she was eight months' pregnant. 

"Everything about their lives is uncertain," says Suzanne Gladney, director of Migrant Farmworkers Assistance Fund (MFAF), whose organization assists workers in following up with chronic and acute health issues, which can be neglected during the grind of their migrant lifestyle and work schedule. 
 
Through outreach to the labor camps, MFAF builds relationships with the workers — who are in remote rural areas without transportation — and connects them to services including health care, child care, school enrollment, legal assistance, and food distribution. MFAF has known many of the workers and families for more than 30 years. 
 
"I haven't seen any other social services like the one here. The people are very humane," said Luis, who used to oversee and care for orchards here year-round. "They help you with everything they can, even more than you think they could."
 
Learn more about MFAF and the work it does by joining Kol Ami on Sunday, February 5, for a Tu B'Shvat seder, led by Rabbi Doug Alpert, and a program at Guadalupe Center to honor this social-service nonprofit. More information to come. 

​​​​​​​
Our mailing address is:
Congregation Kol Ami
4501 Walnut Street
℅ All Souls Unitarian Universalist Church
Kansas City, MO 64111
Mon, December 11 2023
28 Kislev 5784
Sign Up For Our Newsletter
Mon, December 11 2023 28 Kislev 5784