Newsletters
Our Religious Freedom - Kol Ami newsletter 1-24-2023
01/24/2023 06:05:07 PM
| | |
| --- | --- |
| Author | |
| Date Added | |
| Automatically create summary | |
| Summary | |
Kol Ami Newsletter: January 24, 2023


Click for Kol Ami Calendar of Events

Worship Events
of the Week

Zoom Shabbat Blessings
Let's make Shabbos together with Shabbat blessings and a bit of Torah at 6:45 p.m. Friday, January 27, via Zoom. This is a wonderful way to both connect as community and create a greater sense of comfort in performing Shabbat rituals, all while having Shabbat dinner in our own homes. For the Zoom link, click here.

Morning Service
Remember that you can start your weekday mornings on Zoom with a short service and study, 8-8:15 a.m. Monday-Friday.  Click here.

Upcoming Kol
Ami Events

Book Club
Book club convenes on Zoom at 7 p.m. Tuesday, January 31, to discuss the novel Thistlefoot by GennaRose Nethercott. For the Zoom link, click here.

Tu B'Shvat Seder
We celebrate Tu B'Shvat on Sunday, February 5, with a seder and program to honor and support the Migrant Farmworkers Assistance Fund. Learn about this social-service nonprofit and the work it does.

The seder, led by Rabbi Doug Alpert, begins at 5 p.m., followed by a vegetarian meal and a program, with emcee Brian Greenwald and MFAF guests. The event takes place at Guadalupe Centers, 1015 Avenida Cesar E. Chavez, Kansas City, Missouri (with a parking lot across from the entrance). Click here for more information and to get tickets.

Yahrzeit This Week
January 29
Betty Thompson – mother of Gary Thompson

We Wish
Mi Shebeirach
A Complete Healing of Mind, Body and Spirit to:

Diane Alexander 
Robert Clinton
Wayne Courtois-Seligman
Jennifer Dake
Alies Dalton
Dennis Dalton
Rev. Kendyl Gibbons
Amanda Goldstein
Harriet Greenwald
Liza Ordo
Marc Ordo
​​​​​Michah ben Sarah
Joel Zitron

If you would like a name to continue to be listed or if you have a
new name to include, please send an email to healing@kolamikc.org. 


Rabbi's Week in Review




A lawsuit was filed this past week against the State of Missouri by 13 Missouri clergy/faith leaders. The lawsuit seeks to declare that Missouri's abortion ban is an unconstitutional establishment of a single religious point of view.  

I am one of those 13 faith leaders, five of whom are rabbis (40 percent of the group). Included in that group are ... Click here to read the rest of Rabbi Doug's blog post.

This Week's Torah Portion
Parashat Bo (Shemot/Exodus 10:1-13:16)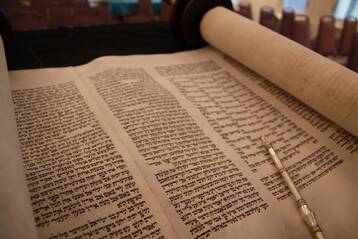 We read that the Israelites took gold and silver from the Egyptians as they left Egypt. The great 20th-century biblical commentator observes how this act may have served a purpose of healing — of limiting the desire for vengeance against the Egyptians. Also, there is a question of just compensation for all the work done by Israelites that is deserving of compensation.  

As we celebrated the birthday last week of Rev. Dr. Martin Luther King Jr., a theme of that celebration was reparations. What is just compensation for centuries of Black enslavement and indentured servitude upon which our economy was built and how do we heal. 

Weekly Feature

International Holocaust Remembrance Day —
Friday, January 27, 2023




"We must always take sides. Neutrality helps the oppressor, never the victim. Silence encourages the tormentor, never the tormented. Sometimes we must interfere. When human lives are endangered, when human dignity is in jeopardy, national borders and sensitivities become irrelevant. Wherever men or women are persecuted because of their race, religion, or political views, that place must – at that moment – become the center of the universe." 
— Elie Wiesel, author and Holocaust survivor, from his Nobel Peace Prize acceptance speech, December 10, 1986

Social Justice News

Ask for Paper at the Store




Last year, Migrant Farmworkers Assistance Fund went through more than 5,000 paper grocery bags with their food distributions, and nearly half of those were used during the three months of the harvest season, says Suzanne Gladney, MFAF director. The bags from Kol Ami, she says, are super important. A big thank you to those who have collected and donated paper grocery sacks. Email newsletter@kolamikc.org if/when you have bags to donate.




Our mailing address is:
Congregation Kol Ami
4501 Walnut Street
℅ All Souls Unitarian Universalist Church
Kansas City, MO 64111
Tue, May 30 2023
10 Sivan 5783
Sign Up For Our Newsletter
Tue, May 30 2023 10 Sivan 5783