Newsletters
"Seeking Greater Knowledge" - Kol Ami newsletter 2-14-2023
02/14/2023 05:30:07 PM
| | |
| --- | --- |
| Author | |
| Date Added | |
| Automatically create summary | |
| Summary | |
Kol Ami Newsletter: February 14, 2023

​​​​​​​
Click for Kol Ami Calendar of Events

Worship Event
of the Week

Study, Service
and Seudah
We make Shabbos together with study, prayer and, of course, food. Beginning at 9:30 a.m. Saturday, February 18, we will be at Fay and Rabbi Doug's home for study, followed by informal Shabbat worship at 10:30 a.m. and a Seudah, a festive Shabbat brunch.  

As the National Council for Jewish Women has declared this coming Shabbat Repro Shabbat, we will be studying Jewish views on abortion.
 
To attend, you must RSVP to rabbidoug@kolamikc.org.

​​​​​​​To attend via Zoom, click here.
 
Upcoming
Kol Ami Event

February Book Club
Kol Ami's book club convenes at 7 p.m. Tuesday, February 28, on Zoom to discuss Etty Hillesum: An Interrupted Life, The Diaries of 1941-1943. Zoom link to come.

Yahrzeit This Week
February 21
Joseph Gottstein – grandfather of Beth Thompson

We Wish
Mi Shebeirach
A Complete Healing of Mind, Body and Spirit to:

Diane Alexander 
Robert Clinton
Wayne Courtois-Seligman
Rev. Kendyl Gibbons
Amanda Goldstein
Harriet Greenwald
Marc Ordo
​​​​​Michah ben Sarah
Edi Shifrin

If you would like a name to continue to be listed or if you have a
new name to include, please send an email to  healing@kolamikc.org. 


Rabbi's Week in Review


​​​​​​​​​​​​​​

Given how I choose to spend my volunteer time, it would be disingenuous for me to suggest that how I interpret our Jewish values and how I choose to live those values are somehow apolitical.

Yet I am drawing on two examples of issues that have become politicized but really do not have to be so.
Last week we came together to celebrate Tu B'Shevat, the 15th day of the Jewish month of Shevat, most often referred to as the birthday of ... Click here to read the rest of Rabbi Doug's blog post.

This Week's Torah Portion
Parashat Mishpatim (Shemot/Exodus 21:1-24:18)​​​​​​​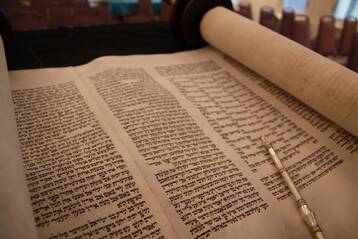 After reading the Ten Commandments last week, we are introduced to a whole host of mitzvot, commandments, that guide us in everyday life and in creating healthy communities. Among the most important of these commandments is to use the empathy drawn from our own experience as the "stranger" to not oppress the stranger, and to love the stranger in our midst.

Weekly Feature

We thought it particularly appropriate, after honoring the work of Migrant Farmworkers Assistance Fund at our Tu B'Shevat seder February 5, to pass along this alarming news from MFAF director Suzanne Gladney about the threat to those of DACA status: 

"I do not usually ask folks to write a note about legislation. I know some of you have already heard about the attempts in the courts and in Congress to eliminate the DACA program.  

This is a very serious and dangerous point for hundreds of thousands of people to have their already approved and granted DACA status terminated and their lives turned upside down. Most of the grantees are no longer "children" but 30-plus years old, parents, college graduates, long-term employees, homeowners, professionals and business owners.   

I have represented many DACA grantees. All of them have lived in the United States since before they were 16 years old and educated in the U.S. Their lives are firmly settled in the U.S. Their legal status, which must be renewed every two years, would be canceled by the current proposal.

Please send a note to your representative and senators. The National Immigration Law Center (NILC) provides more details" — click here.

Suzanne Gladney, attorney/director
Migrant Farmworkers Assistance Fund



Our mailing address is:
Congregation Kol Ami
4501 Walnut Street
℅ All Souls Unitarian Universalist Church
Kansas City, MO 64111
Fri, September 22 2023
7 Tishrei 5784
Sign Up For Our Newsletter
Fri, September 22 2023 7 Tishrei 5784