Newsletters
Living Like Jimmy Carter - Kol Ami newsletter 2-21-2023
02/21/2023 06:01:07 PM
| | |
| --- | --- |
| Author | |
| Date Added | |
| Automatically create summary | |
| Summary | |
Kol Ami Newsletter: February 21, 2023

​​​​​​​
Click for Kol Ami Calendar of Events

Worship Event
of the Week

Zoom Shabbat Blessings
Join us this Friday, February 24, at 6:45 p.m. on Zoom for Shabbat blessings and a short D'var Torah. This has been a great way for everyone to have Shabbat dinner at home and stay connected. Going through the rituals of Shabbat together allows everyone greater comfort in performing the rituals. Please join in by clicking here.

Upcoming
Kol Ami Events

February Book Club
Kol Ami book club convenes at 7 p.m. next Tuesday, February 28, on Zoom to discuss Etty Hillesum: An Interrupted Life, The Diaries of 1941-1943. Zoom link to come.

Guest Musicians March 3
Kol Ami welcomes drummers Brandon and Teryn Draper to the bimah Friday, March 3. Brandon Draper teaches jazz drums, world percussion and steel band at the University of Kansas. He has performed with the New Mexico, Santa Fe and Kansas City symphonies, and he has performed and/or recorded with Bobby Watson, Ottmar Liebert, Donna Summer, Mary Wilson and other artists. Brandon and Teryn were protégés of the late children's entertainer Bongo Barry Bernstein, and they now lead Drum Safari, an interactive percussion performance group for children.  
— Lara Steinel

Kol Ami Jewish
Cooking Series 
Ashkenazi vs Sephardic Passover Recipes 
When: Wednesday,
March 22 
Time: 6-8 p.m. 
Where: All Souls Kitchen
A boxed dinner will be provided. 
More info to come soon.

Yahrzeits This Week
February 23
Paul Milgrim – brother of Robert Milgrim
February 27
Max Rachlin – father of Lara Steinel

We Wish
Mi Shebeirach
A Complete Healing of Mind, Body and Spirit to:

Diane Alexander 
Robert Clinton
Wayne Courtois-Seligman
Rev. Kendyl Gibbons
Amanda Goldstein
Harriet Greenwald
Marc Ordo
​​​​​Michah ben Sarah
Edi Shifrin

If you would like a name to continue to be listed or if you have a
new name to include, please send an email to healing@kolamikc.org. 


Rabbi's Week in Review




I am thinking, this week, about growing old, and I am thinking about death. I hasten to add that I am not putting the two together — I am not thinking about growing old as a step closer to the inevitability of death. Rather, I am struck by how some people carry themselves with dignity through both experiences.

Among the events that moved me in this direction was a shiva service I led Sunday night. I saw many familiar faces I had not ... Click here to read the rest of Rabbi Doug's blog post.

This Week's Torah Portion
Parashat Terumah (Shemot/Exodus 25:1-27:19)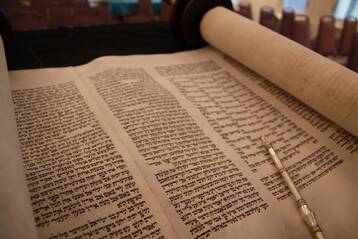 We read this week about the building of the Mishkan, the Holy Tabernacle, the sacred space that would be carried in the wilderness. The exhaustive detailed description of building the Mishkan reminds us that for any endeavor or any interpersonal relationship encounter, we need to be intentional about our actions.

Weekly Feature

A Jewish Founding Father? 
By Stanley Stern




Presidents Day inspires us to wonder about Jewish candidates who have gone after the highest job. They are a diverse group — conservatives and liberals. To name just a few: Arlen Specter, Joseph Lieberman, Michael Bloomberg, Bernie Sanders, Michael Bennet and Marianne Williamson. Presidents Day also inspires us to look at those who have served in our country's highest offices, including one of our founding fathers.

We think we know a lot about Alexander Hamilton. He was orphaned as a boy, came to New York City, served under George Washington in the American Revolution, became Secretary of the Treasury, invented the American financial system, and died in a duel with Aaron Burr. (And he could sing, too.)

In the 2021 book The Jewish World of Alexander Hamilton, by Andrew Porwancher, we learn a great deal more, especially about Hamilton's childhood and teenage years. Porwancher makes a convincing, if circumstantial, case that Hamilton's mother was Jewish and, through tradition, Hamilton too. 

Porwancher's research covers ground that other biographers have ignored or felt irrelevant, and much of the book covers Hamilton's years in New York City during and after the war and during the writing of the Constitution. 

As a lawyer, Hamilton represented many of the prominent Jewish families in NYC and was involved with the Jewish community there throughout his career, very likely inspiring Washington's famous letter to the Jewish people in which the president commits to religious freedom as an essential part of the American experiment. 

This book is a fascinating look at NYC Jewry at the time of our country's creation. It is interesting to think of Hamilton's being Jewish, at least by birth. And now, with a little help from Porwancher, we can imagine a Jew being closely involved in the beginnings of this nation. If not yet a president. 
​​​​​​​
 
Our mailing address is:
Congregation Kol Ami
4501 Walnut Street
℅ All Souls Unitarian Universalist Church
Kansas City, MO 64111
Mon, March 20 2023
27 Adar 5783
Sign Up For Our Newsletter
Mon, March 20 2023 27 Adar 5783