Newsletters
Do Clothes Make the Person? - Kol Ami newsletter 2-28-2023
02/28/2023 05:45:12 PM
| | |
| --- | --- |
| Author | |
| Date Added | |
| Automatically create summary | |
| Summary | |
Kol Ami Newsletter: February 28, 2023


Click for Kol Ami Calendar of Events

Worship Events
of the Week

Guest Musicians 
Friday Night
We make Shabbos at 6:45 p.m. Friday, March 3, at All Souls with a special worship experience, with our guest musicians, drummers Brandon and Teryn Draper. 

Saturday-Morning Study
At 9:30 a.m. Saturday, March 4, we continue our "Ask the Rabbi" series, picking up on our discussion of Jewish burial and mourning practices. Join either in person at the home of Rabbi Doug and Fay or by Zoom. If in person, you must RSVP to rabbidoug@kolamikc.org.
For Zoom, click here.

It's Purim
At 6 p.m. Monday, March 6, we gather to celebrate Purim at the home of Fay and Rabbi Doug. Pizza will be served. This is always a fun celebration (with the potential for cats in costume). RSVPs are needed to rabbidoug@kolamikc.org.

Upcoming
Kol Ami Event

Kol Ami Jewish
Cooking Series 
Ashkenazic vs Sephardic Passover Recipes
A box dinner will be provided. 
When: Wednesday,
March 22 
Time: From 6 to 8 p.m. 
Where: All Souls Kitchen
More info to come.

Yahrzeits This Week
March 1
Emily Ariel Bamberger – daughter of David and Elizabeth Bamberger, sister of Elissa Bamberger
March 2
Arthur K. Hirsch – father of Deborah Hirsch

We Wish
Mi Shebeirach
A Complete Healing of Mind, Body and Spirit to:

Diane Alexander 
Robert Clinton
Kenneth Dantzler
Wayne Courtois-Seligman
Rev. Kendyl Gibbons
Amanda Goldstein
Harriet Greenwald
Frank Karr
LJ Karr
Sheryl Kretchmer
Marc Ordo
​​​​​Michah ben Sarah
Edi Shifrin

If you would like a name to continue to be listed or if you have a new name to include, please send an email to healing@kolamikc.org. 
​​​​​​​


Rabbi's Week in Review




With this week's Torah portion focusing on the priestly garments and with the costumes worn on Purim, we are squarely focused on the clothes we wear. The purpose of the two could not be more diametrically opposed.

The priestly garments — the clothes worn by the Kohanim — are worn with a sense of lifting up the Kohanim in their role as spiritual leaders. Whether you see this detailed emphasis on their clothes, replete with symbolic purpose, as laudable or elitist ... Click here to read the rest of Rabbi Doug's blog post.

This Week's Torah Portion
Parashat Tetzevah
(Shemot/Exodus 27:20-30:10)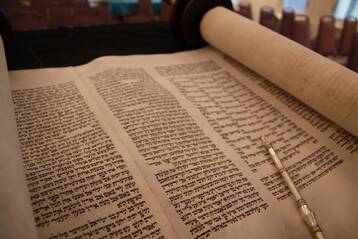 We read this week of the priestly garments, symbolizing a sense of intentionality and considered thought into how they represented themselves in connecting the people to G-d. We think about the importance of our clothes and what they do or do not say about us, and the assumptions we tend to make about others based on their clothing.

Kol Ami Events This Week

February Book Club
Kol Ami's book club convenes on Zoom at 7 p.m. tonight — Tuesday, February 28 — to discuss Etty Hillesum: An Interrupted Life, The Diaries of 1941-1943. Click here.

Drumroll, Please
Guest Percussionists Join Us Friday Night
By Lara Steinel

We welcome drummers Brandon and Teryn Draper to the bimah this Friday evening, March 3, beginning at 6:45 p.m.

Brandon Draper is on staff at the University of Kansas, where he teaches jazz drums, world percussion and steel band. He has performed with the New Mexico, Santa Fe and Kansas City symphonies, and he has also performed and/or recorded with Bobby Watson, Ottmar Liebert, Donna Summer, Mary Wilson and other artists.

Brandon and Teryn met while studying percussion in college. They were protégés of the late children's entertainer Bongo Barry Bernstein, and now they lead Drum Safari, an interactive percussion performance group for children.
 
Our mailing address is:
Congregation Kol Ami
4501 Walnut Street
℅ All Souls Unitarian Universalist Church
Kansas City, MO 64111
Tue, March 21 2023
28 Adar 5783
Sign Up For Our Newsletter
Tue, March 21 2023 28 Adar 5783