Newsletters
A Renewed Purpose in Purim - Kol Ami newsletter 3-7-2023
03/07/2023 05:01:52 PM
| | |
| --- | --- |
| Author | |
| Date Added | |
| Automatically create summary | |
| Summary | |
Kol Ami Newsletter: March 7, 2023

​​​​​​​
Click for Kol Ami Calendar of Events

Worship Event 
of the Week

Shabbat Shulchan
At 6 p.m. this Friday, March 10, we gather at All Souls for our Shabbat Shulchan, our Shabbat Table — informal Shabbat worship followed by our Seudah, our festive Shabbat meal. So we know how much food to have on hand, please RSVP to rabbidoug@kolamikc.org.

Upcoming Kol
Ami Events

Kol Ami Jewish
Cooking Series 
Ashkenazic vs Sephardic Passover Recipes

When: Wednesday,
March 22 
Time: From 6 to 8 p.m. 
Where: All Souls Kitchen
Cost: $20 (includes a boxed dinner)

RSVP required by
March 19. 
To register, click here.
Questions? For additional information, contact Brad Ordo at kehilahvp@kolamikc.org.

Give Us Your Paper Grocery Bags  
Attending services?
Bring your gently used paper grocery bags and drop them in a cardboard box by the siddurs. (We donate them to Migrant Farmworkers Assistance Fund for food distribution to farmworkers and their families.)
Want the bags picked up?You can email newsletter@kolamikc.org if you would like the bags picked up from your house. Thank you!

We Wish
Mi Shebeirach
A Complete Healing of Mind, Body and Spirit to:

Diane Alexander 
Robert Clinton
Kenneth Dantzler
Rev. Kendyl Gibbons
Amanda Goldstein
Frank Karr
LJ Karr
Sheryl Kretchmer
Marc Ordo
Rachel Perera
​​​​​Michah ben Sarah
Edi Shifrin

If you would like a name to continue to be listed or if you have a
new name to include, please send an email to  healing@kolamikc.org. 
Rabbi's Week in Review




Wrapping up another Purim celebration this week, a holiday I approach with some sense of trepidation. I don't enjoy putting on costumes (although our cats are always in costume, whether they want to or not). The raucous nature of the holiday has been somewhat jarring for me, and I can't seem to get past the violence of chapter 9 in the Book of Esther.

I did find a new purpose this year in the holiday, however. We speak ... Click here to read the rest of Rabbi Doug's blog post.

This Week's Torah Portion
Parashat Ki Tisa (Shemot/Exodus 30:11-34:35)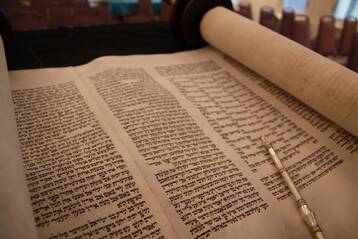 We read this week regarding the sin of the golden calf, and Moses' response to the people having built such an idol. His initial response is to break the tablets containing the Aseret Dibrot, the Ten Commandments. He compounds the sin by his own angry response. Yet he and the people all get a second chance. Moses collects himself and pleads on behalf of the people.  
 
Weekly Feature

Random Purim Food Musings
By Ellen Karp




Legend has it that Esther followed a vegetarian diet while living in the palace. Why? She didn't want to violate rules of kashrut and she didn't want to disclose that she was a Jew. So it's customary during Purim to eat dishes of lentils, chickpeas, beans and nuts.
   
Then, of course, there's the obligatory hamantaschen, the luscious three-cornered pastry ascribed to Haman's hatwear. Making it has been the bane of my existence — despite multiple efforts, my hamantaschen is always ugly. My sister, Jody, and my dear friend Fay are both incredibly talented bakers, and their hamantaschen are always gorgeous. I thought it was my personal trauma to have to accept and live with but then, voila and all praise to Google: I found I was not alone! I found my people! Click here and here and here and here to see some not-so-pretty hamantaschen. Misery loves company. 

And for some rather unusual hamantaschen recipes — if you're feeling ambitious — click here.

Happy Purim, y'all.

Congregant in the News




The KC Jewish Chronicle writes that Kol Ami member Alex Shapiro, vice president of philanthropy for the KC Symphony, led a session of the Jewish Community Foundation's "Parking Lot Lunch" series February 14 with his colleague Karen Casebolt, KC Symphony's director of individual philanthropy, about planned-giving opportunities and best practices for agencies and organizations ("JCF educates nonprofit partners at 'Parking Lot Lunches,' " March 2).


  
Our mailing address is:
Congregation Kol Ami
4501 Walnut Street
℅ All Souls Unitarian Universalist Church
Kansas City, MO 64111
Mon, December 11 2023
28 Kislev 5784
Sign Up For Our Newsletter
Mon, December 11 2023 28 Kislev 5784