Newsletters
Advocating Local Control - Kol Ami newsletter 3-15-2023
03/15/2023 05:05:07 PM
| | |
| --- | --- |
| Author | |
| Date Added | |
| Automatically create summary | |
| Summary | |
Kol Ami Newsletter: March 15, 2023

​​​​​​​
Click for Kol Ami Calendar of Events

Worship Event
of the Week

Shabbat Study, Worship and Seudah
At 9:30 a.m. this Saturday, March 18, at Fay and Rabbi Doug's home or on Zoom, we celebrate Shabbat with study, prayer and a Seudah, a festive Shabbat brunch. We continue our fascinating study of Jewish burial and mourning practice, and, as always, it's a blessing to make Shabbos together.
For those attending in person, you must RSVP to rabbidoug@kolamikc.org. To participate via Zoom, click here. 

Yahrzeits This Week
March 16
Belle Pirchesky – mother of Elizabeth Bamberger, grandmother of Elissa Bamberger
March 20
Betty Breinin – mother of Rick Breinin

We Wish
Mi Shebeirach
A Complete Healing of Mind, Body and Spirit to:

Robert Clinton
Kenneth Dantzler
Rev. Kendyl Gibbons
Amanda Goldstein
Frank Karr
LJ Karr
Sheryl Kretchmer
Marc Ordo
Rachel Perera
​​​​​Michah ben Sarah
Edi Shifrin
Carol Swartz

If you would like a name to continue to be listed or if you have a
new name to include, please send an email to  healing@kolamikc.org. 



Rabbi's Week in Review




I did a ride-along with Officer Dwon Littlejohn of the KCPD last week. Officer Littlejohn is known by our Kol Ami community as the one who either provides us security when we gather together or arranges for other KCPD to provide us security. We appreciate Officer Littlejohn not only for what he does for us with a great generosity of spirit but also for all he does for our Kansas City community. 

An overarching observation from ... Click here to read the rest of Rabbi Doug's blog post.

This Week's Torah Portion
Vayakhel-Pekude (Shemot/Exodus 35:1-40:38)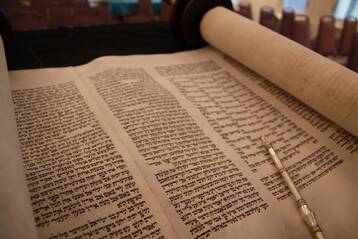 We read this week of both the mitzvah (the commandment) to not work on Shabbat and the work of building the mishkan (the holy tabernacle). Rather than looking at these two seemingly contrary endeavors as a separation of the sacred observance of Shabbat and the nonsacred weekday labor, we can see that there is a spiritual element in both Shabbat and building the mishkan — that the dignity associated with our labors has its own sense of the sacred.

Another way of seeing the distinction between the rest of Shabbat and our weekday labors is in the need for a work-rest balance. We need to live a life both of meaning and of purpose.

Upcoming Kol Ami Event

Jewish Cooking Series 
Ashkenazic vs Sephardic Passover Recipes

When: Wednesday, March 22 
Time: From 6 to 8 p.m. 
Where: All Souls Kitchen
Cost: $20 (includes a boxed dinner)

RSVP is required by March 19. 
To register, click here.

Have questions? For more information, email Brad Ordo at kehilahvp@kolamikc.org. 





Our mailing address is:
Congregation Kol Ami
4501 Walnut Street
℅ All Souls Unitarian Universalist Church
Kansas City, MO 64111
Mon, December 11 2023
28 Kislev 5784
Sign Up For Our Newsletter
Mon, December 11 2023 28 Kislev 5784