Newsletters
How We Frame Behavior - Kol Ami newsletter 3-21-2023
03/21/2023 05:40:07 PM
| | |
| --- | --- |
| Author | |
| Date Added | |
| Automatically create summary | |
| Summary | |
Kol Ami Newsletter: March 21, 2023


Click for Kol Ami Calendar of Events

Worship Event 
of the Week

Shabbat Blessings
We gather at 6:45 p.m. this Friday, March 24, via Zoom for Shabbat Blessings and a little bit of Torah. This is always a nice way to connect with one another and make Shabbos together. For everyone, this is an opportunity to gain greater comfort in performing the rituals of Shabbat. For the Zoom link, click here.

Congregant in
the News

Kol Ami Member Jenna Brofsky Files for Second Term on Fairway City Council
"Jenna Brofsky, local attorney and community volunteer, has filed for re-election to the Fairway City Council, representing Ward 4. This would be Brofsky's second term on the council." (Kansas City Jewish Chronicle, March 9, 2023). Click here to read the full article.

Community Event

Women's Heart
Health Program
Hadassah Greater Kansas City invites the community to a free Zoom program: "Taking Women's Health to Heart," with speaker Rachel Sosland, M.D., at 7 p.m. Tuesday, March 28. Register by this Friday, March 24, and receive the link by emailing mkhadassah@gmail.com.

We Wish
Mi Shebeirach
A Complete Healing of Mind, Body and Spirit to:

Robert Clinton
Kenneth Dantzler
Rev. Kendyl Gibbons
Amanda Goldstein
Frank Karr
LJ Karr
Sheryl Kretchmer
Marc Ordo
Rachel Perera
​​​​​Michah ben Sarah
Edi Shifrin
Carol Swartz

If you would like a name to continue to be listed or if you have a
new name to include, please send an email to  healing@kolamikc.org. 





Rabbi's Week in Review




Beginning the Book of Vayikra/Leviticus in our Written Torah, we are confronted with what is seemingly the least relevant discussion relative to our contemporary sensibility.  Although there are those within the Jewish world who look forward to the restoration of the Temple in Jerusalem and the return of the sacrificial cult, no one I know is lining up to bring back, much less perform, animal sacrifice. 

Questions do arise, however, that inform our present-day behavior. ... Click here to read the rest of Rabbi Doug's blog post.

This Week's Torah Portion
Parashat Vayikra (Vayikra/Leviticus 1:1-5:26)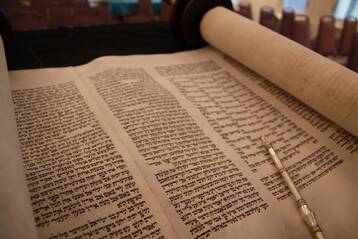 With this week's Torah portion, we begin the third of the Five Books of Moses. We read about the sacrificial cult and whether we see our prayers as a worthy substitute for the sacrificial cult — how we engage with G-d and with each other.

Upcoming Kol Ami Event

Kol Ami Passover Seder



Kol Ami gathers in person for a seder on the second night of Passover, Thursday, April 6. Doors open at 5:30 p.m., with the seder starting at 6 p.m.

Rabbi Doug is bringing new Haggadot for the service, compiled by his seminary colleague, Rabbi Ellen Bernstein. (Rabbi Bernstein is the founder of the Jewish ecological movement.) It comes with wonderful and easy-to-follow commentary on different parts of the Passover seder, along with beautiful illustrations. Lara Steinel, our music director, will provide musical accompaniment for the service.

The seder will be vegetarian (not vegan) and catered.
(Attendees are asked to bring their own wine or grape juice.)

The cost is $25 for those 12 and older, $15 for those aged 6-11, and free for children 5 and younger.
The seder takes place at Guadalupe Center, 1015 Avenida Cesar E Chavez, in Kansas City, Mo. (Guadalupe Center has free adjacent parking and is near KC's downtown Crossroads Arts District.)
Register by April 2 by clicking here.

To request financial help or to help subsidize, email  president@kolamikc.org.

 


Our mailing address is:
Congregation Kol Ami
4501 Walnut Street
℅ All Souls Unitarian Universalist Church
Kansas City, MO 64111
Tue, May 30 2023
10 Sivan 5783
Sign Up For Our Newsletter
Tue, May 30 2023 10 Sivan 5783