Newsletters
"Open and Free Discussion" - Kol Ami newsletter 4-4-2023
04/04/2023 05:30:17 PM
| | |
| --- | --- |
| Author | |
| Date Added | |
| Automatically create summary | |
| Summary | |
Kol Ami Newsletter: April 4, 2023


Click for Kol Ami Calendar of Events

Worship Event
of the Week

Zoom Shabbat Blessings
Following our annual Kol Ami Second-Night Passover Seder and celebrating together, we gather to make Shabbos on Zoom Friday, April 7, with Shabbat Blessings at 6:45 p.m. Join us with some matzah at hand as we celebrate this special Shabbat during Passover. Click here.

Congregant in
the News

The Soros Trope
Rabbi Doug speaks out in The Kansas City Star article "As MO Republicans blame Soros for Trump indictment, Jewish leaders warn of antisemitic tropes" (March 31, 2023). Click here to read the article.

Community Event

120th Birthday Party
Jewish Family Services celebrates 120 years of serving the KC community with a free, family-friendly event 10:30 a.m.-12:30 p.m. Sunday, April 23, at the Jewish Community Campus (5801 West 115th Street, in Overland Park). The event includes food and drink; kid-friendly activities; and an interactive performance with singer-songwriter Lisa Loeb, a Grammy Award winner for best children's album. Register by April 14 — click here.* (Children under the age of 13 must be accompanied by an adult.)

*Registration is required for every member of your party.

Yahrzeits This Week
April 2
Fan Weinstein Weisman – grandmother of Ellen Karp
April 9
Martha Stern – mother of Stanley Stern

We Wish
Mi Shebeirach
A Complete Healing of Mind, Body and Spirit to:

Robert Clinton
Kenneth Dantzler
Rev. Kendyl Gibbons
Amanda Goldstein
Frank Karr
LJ Karr
Marc Ordo
Rachel Perera
​​​​​Michah ben Sarah
Edi Shifrin
Carol Swartz

If you would like a name to continue to be listed or if you have a
new name to include, please send an email to  healing@kolamikc.org. 
Rabbi's Week in Review




It is probably no secret by now that Pesach, our Passover celebration, is a favorite of mine (notwithstanding that the dietary restrictions get a little old by the end). Yes, it is a holiday to celebrate our freedom from bondage, a statement that, in and of itself, raises all kinds of questions about the many forms of bondage we potentially face: bondage imposed upon us and bondage we impose on ourselves.

My favorite part of the chag, this special holiday, is how it opens us up to discussion ... Click here to read the rest of Rabbi Doug's blog post.

This Week's Torah Portion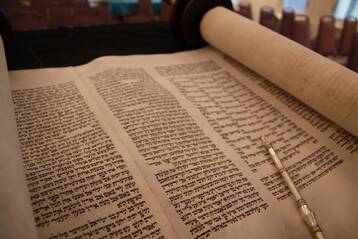 As we begin our Passover celebration this week, we step out of our regular weekly Torah portions, Parashat Hashavuah, and read special Torah portions for each day of the holiday. Let us take time during the holiday to cull from those Torah portions the meaning of Pesach. What does it mean to be free? What do we do when our freedoms are taken away? What are our obligations as Jews that go along with our freedom — our obligations as to how we treat the strangers in our midst?

Weekly Feature

What Time Is It?
Counting Time — or the 49 Days Between
​​​​​​​Passover and Shavuot
By Ellen Karp



Since the beginning of time, all living beings in our universe have had two celestial timepieces to count and measure time: the moon and the sun. 

The Jewish calendar relies on the waxing and the waning of the moon to announce a new month, within which our holidays are designated by their numerical position within that month. The rising and setting of the sun make for a timepiece to differentiate and count each day. 

The Counting of the Omer, which starts April 6 this year, is about counting time as well — but it's also something more. In ancient times, the period after Passover marked the beginning of the barley harvest when Jews took the first sheaves to the Temple to thank G-d. The word "omer" literally means "sheaf," and it refers to those early offerings.

The Omer period of 49 days thematically links Passover and Shavuot. The holiday of Shavuot was not just a celebration of agricultural bounty but also a commemoration of the giving of the Torah.

So while Passover celebrates the initial liberation of the Jewish people from slavery in Egypt, Shavuot marks the culmination of the process of liberation, when the Jews became an independent community with their own laws and standards. 

Counting up to Shavuot reminds us of the process of moving from a slave mentality to a more liberated one.

(Partially excerpted from "How to Count the Omer," by Rabbi Jill Jacobs, myjewishlearning.com)


 
Our mailing address is:
Congregation Kol Ami
4501 Walnut Street
℅ All Souls Unitarian Universalist Church
Kansas City, MO 64111
Mon, December 11 2023
28 Kislev 5784
Sign Up For Our Newsletter
Mon, December 11 2023 28 Kislev 5784