Newsletters
Expanding Our Bandwidth - Kol Ami Newsletter 4-18-2023
04/18/2023 05:45:07 PM
| | |
| --- | --- |
| Author | |
| Date Added | |
| Automatically create summary | |
| Summary | |
Kol Ami Newsletter: April 18, 2023


Click for Kol Ami Calendar of Events

Worship Event 
of the Week

Study, Service and Kiddush Brunch
This Saturday, April 22, we study, pray and eat together at the home of Fay and Rabbi Doug to celebrate Shabbat. Our study of Jewish mourning practice continues, followed by a Shabbat service and Kiddush brunch. Our morning together begins at 9:30 a.m. In addition to in-person participation, Zoom is an option. For those attending in person, you must RSVP to rabbidoug@kolamikc.org.
For Zoom, click here.

Upcoming
Kol Ami Events

Book Club April 25
Book Club meets on Zoom at 7 p.m. Tuesday, April 25, to discuss When the Angels Left the Old Country, by Sacha Lamb. Link to come.

Guest Speaker May 5
Kansas City Police Chief Stacey Graves speaks at our in-person Shabbat service Friday, May 5, at All Souls. The service begins at 6 p.m. Join us for our annual meeting immediately following the service — a brief gathering honoring our outgoing president, Wynne Begun, introducing our new president, Pat Clinton, and providing an update on how Kol Ami is doing. An Oneg Shabbat afterward is sponsored by the board of directors.

AIDS Walk May 6
Kol Ami and Ga'avah KC walk together Saturday, May 6, at the 35th annual AIDS Walk, in Theis Park (Emanuel Cleaver II Blvd. and Oak St.). Rabbi Doug will hold a brief Shabbat-morning service at 8:30 a.m. on the south lawn of the Nelson-Atkins near the glass labyrinth. Joining just the walk itself? We reconvene at 9:15 a.m. by the AIDS Walk registration tables for opening ceremonies and entertainment (beginning at 9 a.m.), and the short walk, starting at 10 a.m.

We Wish
Mi Shebeirach
A Complete Healing of Mind, Body and Spirit to:

Robert Clinton
Kenneth Dantzler
Rev. Kendyl Gibbons
Amanda Goldstein
Frank Karr
LJ Karr
Angela Kizlin
Marc Ordo
Rachel Perera
​​​​​Michah ben Sarah
Edi Shifrin
Carol Swartz
Joel Weeks

If you would like a name to continue to be listed or if you have a
new name to include, please send an email to  healing@kolamikc.org. 


Rabbi's Week in Review




As we have completed our Pesach celebration — a wonderful seder for Kol Ami and a particularly meaningful celebration for me personally — it is feeling like spring (notwithstanding that, as I write this on a Sunday morning, it is 37 degrees outside). As we begin to spend more time outside, it is a good time to consider the environment in which we live and hopefully enjoy.

This coming Shabbat is Earth Day, a day spent focusing on ... Click here to read the rest of Rabbi Doug's blog post.

This Week's Torah Portion
Parashat Tazria-Metzora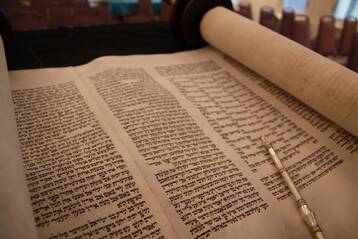 This week's Torah portion is one of the double portions. (During non-leap years on the Jewish calendar, without an extra month to spread out our Torah portions, we double up seven times during the year in order to get all of our Written Torah covered in a year.) We read this week about skin disease and how in Torah it connects to those who slander.  Notwithstanding that this may be a dubious notion from a scientific perspective, we are compelled to ask how our moral conduct may impact our physical well-being.

Kol Ami News

Who Wants to Play Mahjong?
By Alan Dietchman


Do you play or are you interested in learning mahjong? Kol Ami is starting a Mahjong Club, which will meet at a time to be determined by a majority of those interested in playing.  

All levels of play are invited. Games will be friendly and low-stress, with no betting. It's a great opportunity to schmooze with others while keeping that great Jewish "tradition" of mahjong alive. There will be classes, formal or informal, depending on how many people want them.

If you are interested in joining the club, email office@kolamkc.org and include convenient times to play and whether you also need to learn the game. Please respond by April 30.  

Community Events

Spring Fling at Manheim Gardens
Manheim Gardens (4229 Forest) holds its annual "Spring Fling" on Earth Day — Saturday, April 22 — from 11 a.m. to 3 p.m. Click here for more information. 

American Public Square —
Rabbi Doug Joins Panel Discussion
American Public Square sponsors a student-produced program on abortion with a panel that includes Rabbi Doug. The free event takes place Tuesday, April 25 — from 5:30 to 7:30 p.m. at the Kansas City Plaza Library (4801 Main) and virtually beginning at 6 p.m. Other panelists include Kris Kobach, Kansas attorney general; Jon Carney, retired CEO of the Center for Practical Bioethics; Gloria Purvis, a writer and commentator on issues of religious liberty; and David Slusky, economics professor at the University of Kansas. Missouri Statehouse reporter Meg Cunningham moderates. Registration is required. Click here.



Our mailing address is:
Congregation Kol Ami
4501 Walnut Street
℅ All Souls Unitarian Universalist Church
Kansas City, MO 64111
Mon, December 11 2023
28 Kislev 5784
Sign Up For Our Newsletter
Mon, December 11 2023 28 Kislev 5784