Newsletters
"Engaged and Concerned" - Kol Ami Newsletter 4-25-2023
04/25/2023 05:40:08 PM
| | |
| --- | --- |
| Author | |
| Date Added | |
| Automatically create summary | |
| Summary | |
Kol Ami Newsletter: April 25, 2023


Click for Kol Ami Calendar of Events

Worship Events 
of the Week

Shabbat Blessings
It is always nice to celebrate Shabbos at home and still gather together for Shabbat blessings and a little Torah study. At 6:45 p.m. Friday, April 28, we will be on Zoom for Shabbat blessings. Click here.

Morning Worship
A reminder that we are together on Zoom every weekday morning from 8 to 8:15 a.m. for a short morning service and study. It is a great way to begin the day. If you are observing a yahrzeit, let Rabbi Doug know, and we can honor memory as part of the service. Click here.

Upcoming
Kol Ami Events

April Book Club Rescheduled
Kol Ami book club has canceled its April meeting, which had been set for tonight, April 25. The discussion of When the Angels Left the Old Country, by Sacha Lamb, will take place in May.

Guest Speaker May 5
Kansas City Police Chief Stacey Graves speaks at our Shabbat service Friday, May 5, at All Souls. The service begins at 6 p.m. Immediately following the service is a brief annual meeting honoring our outgoing president, introducing our new president, and providing an update on how Kol Ami is doing. An Oneg Shabbat afterward is sponsored by the board of directors.

AIDS Walk May 6
Kol Ami and Ga'avah KC walk together Saturday, May 6, at the 35th annual AIDS Walk, in Theis Park (Emanuel Cleaver II Blvd. and Oak St.). Rabbi Doug will hold a brief Shabbat-morning service at 8:30 a.m. on the south lawn of the Nelson-Atkins near the glass labyrinth. Joining just the walk itself? We reconvene at 9:15-9:30 a.m. by the AIDS Walk registration tables for opening ceremonies, entertainment and the short walk.

Kol Ami News

Mahjong Club
Interested in playing mahjong? Kol Ami is starting a Mahjong Club. Email office@kolamikc.org if interested. Please include convenient times to play and whether you also need to learn the game. Please respond by April 30.
​​​​​​​
We Wish
Mi Shebeirach
A Complete Healing of Mind, Body and Spirit to:

Robert Clinton
Kenneth Dantzler
Rev. Kendyl Gibbons
Amanda Goldstein
Frank Karr
LJ Karr
Marc Ordo
Rachel Perera
​​​​​Michah ben Sarah
Edi Shifrin
Carol Swartz
Joel Weeks

If you would like a name to continue to be listed or if you have a
new name to include, please send an email to  healing@kolamikc.org. 






Rabbi's Week in Review




It's been a difficult couple of weeks for our city. There was the shooting of Ralph Yarl, a 16-year-old black kid who had the temerity to mistakenly go to the wrong house to pick up his siblings. This was one of a number of shootings that occurred when someone made a simple mistake — entering the wrong driveway, going to the wrong car — mistakes I have made and will probably make again.

There were a number of troubling events ... Click here to read the rest of Rabbi Doug's blog post.

This Week's Torah Portion
Parashat Acharei Mot-Kedoshim
(Vayikra/Leviticus 16:1-20:27)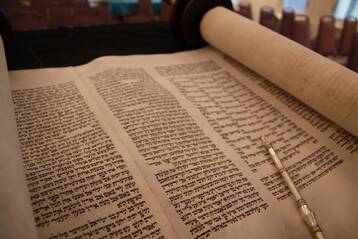 This week's Torah portion is another one of the double portions. As we have progressed through the Book of Leviticus, we have moved from the sacrificial cult to a discussion of health concerns for our bodies and our homes to this week's discussion of the most important moral precepts in Judaism. Each connects to an ongoing concern in Judaism — separating what is pure from what is considered impure.

In our modern world, it is framed as a persistent idea of what is or is not religious. One of the most persistent statements directed at me: "Rabbi, you know I am not very religious." My response is that I really don't know what it means to be a religious Jew. I know what people generally think it means — that they do not consider themselves observant of Jewish ritual practice.

Yet I do know Jews who are assiduous in observing Halakhah, Jewish law, when it comes to ritual observance but seem to view Halakhah regarding ethics as very much optional. I also know Jews who do not commit much time to ritual observance but treat others with honesty, kindness and compassion.

This is not to diminish the importance of ritual observance. Our ritual practice as Jews connects us as a community and instills a sense of acting intentionally that positively impacts how we treat others. Yet ritual observance should never be seen as a waiver from leading morally upright lives. Ultimately, our lives are measured not by what we do for ourselves but how we have bettered the lives of others and made our world better.

Congregant in the News

Concern About Security
Rabbi Doug reacts to recent action in the Missouri House in The Kansas City Star article "MO House passes bill allowing guns on buses, in churches and synagogues" (April 17, 2023). Click here to read more.

Weekly Feature

Israel Turns 75
By Wynne Begun
 
The evening of April 25 through the evening of April 26, 2023, marks Israel Independence Day. Much like our own July 4, this day commemorates the Israeli declaration of independence in 1948. As I think about this day, I do so with mixed feelings now 75 years on. I take comfort that Israel exists, but the Israel of the early years is gone. While I still believe in the dream, the reality of current Israeli politics casts a shadow. As Jews, how do we reconcile our feelings? I believe we can love a country and not the politics. I believe we can heartily support the existence of Israel but challenge how far the state has moved from the original dream. And I believe the money that once flowed to Israel from the United States to establish forests should now be used to establish understanding, peace and democratic principles. Leadership comes and goes. The dream must not. 

Community Event

Ga'avah KC Fundraiser
Ga'avah KC (KC's Jewish LGBTQ+ group) is raising funds in order to participate in the KC Pride Alliance weekend, with a screening of Hedwig and the Angry Inch Wednesday, May 10, at Screenland Armour (408 Armour Road, North Kansas City). Pre-movie entertainment, including live performances, begins at 6:30 p.m., followed by the film. Click here for tickets and more information.

Membership

Interested in membership at Kol Ami? Email membership@kolamikc.org.

​​​​​​​
Our mailing address is:
Congregation Kol Ami
4501 Walnut Street
℅ All Souls Unitarian Universalist Church
Kansas City, MO 64111
Mon, December 11 2023
28 Kislev 5784
Sign Up For Our Newsletter
Mon, December 11 2023 28 Kislev 5784