Newsletters
"One of Those Weeks" - Kol Ami Newsletter 5-16-2023
05/16/2023 05:59:06 PM
| | |
| --- | --- |
| Author | |
| Date Added | |
| Automatically create summary | |
| Summary | |
Kol Ami Newsletter: May 16, 2023


Click for Kol Ami Calendar of Events

Worship Event 
of the Week

Shabbat Study, Worship and Brunch
Beginning at 9:30 a.m. this Saturday, May 20, we celebrate Shabbat together with engaging study, services and a Seudah, a festive Shabbat meal. Join us either in person at the home of Fay and Rabbi Doug or via Zoom.
If attending in person, you must RSVP to rabbidoug@kolamikc.org.
If participating via Zoom, click here.

Upcoming
Kol Ami Event

Mahjong Club Meets Up
The Mahjong Club will hold an organizational meeting at 7 p.m. Wednesday, May 24, at All Souls' Conover Hall. On the agenda: an overview of the game and its "Jewish connection," where and when to meet going forward, and what options are available for instruction on how to play. Email  office@kolamikc.org if you can attend in person or prefer to meet via Zoom. 

Yahrzeit This Week
May 19
Irv Dietchman – father of Alan Dietchman

We Wish
Mi Shebeirach
A Complete Healing of Mind, Body and Spirit to:

Robert Clinton
Kenneth Dantzler
Sheila Denton
Rev. Kendyl Gibbons
Amanda Goldstein
Frank Karr
LJ Karr
Marc Ordo
Rachel Perera
​​​​​Michah ben Sarah
Edi Shifrin
Carol Swartz
Joel Weeks

If you would like a name to continue to be listed or if you have a
new name to include, please send an email to  healing@kolamikc.org. 

Membership
Interested in membership at Kol Ami? Email membership@kolamikc.org. .
Rabbi's Week in Review




In this, my weekly blog, my thoughts seem to move back and forth between being more positive and inspiring (at least, I hope they inspire) and pointing out injustices in order to fulfill our obligation as Jews to work for a more just community and world. I don't have it necessarily planned out that way. It is more a reflection of the state of the world in which we need to carve out moments of joy in order to confront the chaos.

When I do go negative, it often comes from events of the week that evoke ... Click here to read the rest of Rabbi Doug's blog post.

This Week's Torah Portion
Parashat Bamidbar (Bamidbar/Numbers 1:1-4:20)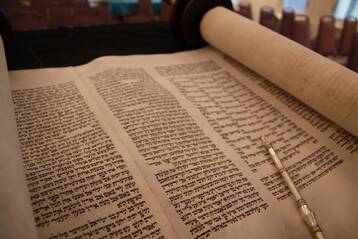 With this week's Torah portion, we begin the fourth book of the Written Torah. The Hebrew word Bamidbar does not translate as Numbers; rather, it means "in the wilderness." The book reflects our 40 years of wandering in the wilderness. It is a book filled with legislation and stories of rebellion. Ultimately, the wilderness becomes a place of learning, usually learning very hard lessons. Yet, notwithstanding the difficult times endured, it was in those challenges that the people made great progress.

Kol Ami News

Finding Family — and Good Food —
in a Kol Ami Cooking Class
By Barbara Gorodetzky

Passover — my favorite holiday, even with the exhausting preparation that my mother, a working woman, did each year. I was raised in Boston, with an extensive (mostly Sephardic) family, yet I raised four children in Kentucky with no family. Without thinking about it, my husband and I provided the absent spirit of family warmth by "adoption," a process of including close friends and total strangers as we celebrated meaningful holidays, somehow passing on the favorite-holiday concept to our children and, later, they to their families.

Kol Ami's Passover cooking class March 22, part of its new Jewish Cooking Series, was a lovely menu of both Sephardic and Ashkenazic dishes, which Brad Ordo and Fay Balk planned and partially cooked in advance (as some dishes needed additional cooking time), as well as dishes the 20-plus attendees prepared together.  We were surprised with wonderful falafel from the Mediterranean Market in Westport.  We feasted on appetizers, salad, mains and desserts, plus two styles of charoset. Fay explained many facets and traditions of Passover, as well as many changes to today's menus.



Sephardic and Ashkenazic charoset 



Kookoo sabzi, a Persian frittata-like dish of fresh greens, herbs and eggs

This program was perfect, not only for the food but also for the coming together of our Kol Ami friends/family. Reconnecting, meeting newer (and younger) KA family members and the joyous chatter that lasted way beyond the program time — it could have been Boston or Kentucky or here, where my husband and I have lived for 29 years. I believe strongly that there is a holiday-food tie and tradition. But without the addition of family, there is a disconnect. For us, Kol Ami has always provided the family tie, although we were once like those strangers at our table in Kentucky.

Thanks to Fay, Brad and Doug, who created the environment for this to occur. 
_________________________________________
The next cooking class — challah making — TBD late summer/early fall. Watch for details.

​​​​​​​
Our mailing address is:
Congregation Kol Ami
4501 Walnut Street
℅ All Souls Unitarian Universalist Church
Kansas City, MO 64111
Mon, December 11 2023
28 Kislev 5784
Sign Up For Our Newsletter
Mon, December 11 2023 28 Kislev 5784