Newsletters
"Our Thirst to Know More" - Kol Ami Newsletter 5-23-2023
05/23/2023 06:05:06 PM
| | |
| --- | --- |
| Author | |
| Date Added | |
| Automatically create summary | |
| Summary | |
Kol Ami Newsletter: May 23, 2023

​​​​​​​
Click for Kol Ami Calendar of Events

Worship Events 
of the Week

Shavuot This Thursday
Beginning at 6 p.m. Thursday, May 25, we gather at the home of Fay and Rabbi Doug to celebrate Shavuot. The evening will feature the traditions of engaging Torah and partaking of the traditional dairy meal, along with the special Pan de los Siete Cielos — a Greek bread specific to Shavuot.
Those attending in person must RSVP to rabbidoug@kolamikc.org. To attend via Zoom, click here.

Zoom Shavuot and
Shabbat Blessings
At 6:45 p.m. Friday, May 26, we wrap up our Shavuot celebration and celebrate Shabbat together with blessings and a short D'var Torah via Zoom. Click here. 

Upcoming
Kol Ami Event

Kol Ami Features Flutist Next Friday
Flutist Amber Underwood is the featured musician at the Friday-evening service June 2, at 6:45 p.m. at All Souls. A band director at a middle school, she also teaches flute privately, plays at local clubs, and recently represented KC and the United States at UNESCO's North American Creative Cities Forum in Querétaro, Mexico.

Community News

'Jews of the Wild West'
The feature-length documentary film Jews of the Wild West, with stories of historical Jewish figures who settled the West, can be seen on Kansas City's PBS station at 9 p.m. Thursday, May 25. 

Yahrzeit This Week
May 25
Sylvia Begun - mother of Wynne Begun

We Wish
Mi Shebeirach
A Complete Healing of Mind, Body and Spirit to:

Robert Clinton
Kenneth Dantzler
Sheila Denton
Rev. Kendyl Gibbons
Amanda Goldstein
LJ Karr
Marc Ordo
Rachel Perera
​​​​​Michah ben Sarah
Edi Shifrin
Carol Swartz
Joel Weeks

If you would like a name to continue to be listed or if you have a
new name to include, please send an email to  healing@kolamikc.org. 




Rabbi's Week in Review




This week we celebrate Shavuot, one of the Shalosh Regalim — the three pilgrimage festivals.  As Pesach (Passover) is the most popular of all Jewish holidays, and Sukkot has become increasingly popular recently, Shavuot is arguably the forgotten of these three Torah chagim/holidays. 

Yet Shavuot is central to our existence. In celebrating the receiving of Torah at Mt. Sinai, we are really celebrating our ongoing Jewish ... Click here to read the rest of Rabbi Doug's blog post.

This Week's Torah Portion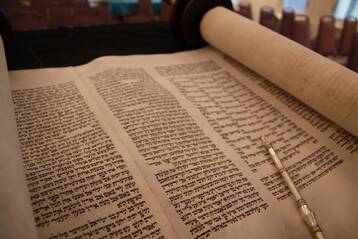 It's a big week for the Torah. On Shavuot, we read about receiving Torah and the prominent ten of our 613 commandments (Shemot/Exodus 19:1-20:22).

For Shabbat in Israel and for progressive Jews living in the diaspora, the Torah portion is Parashat Naso (Bamidbar/Numbers 4:21-7:89). Diaspora Conservative and Orthodox Jews, who observe a second day of Shavuot — which this year falls on Shabbat — will be reading from the Book of Devarim/Deuteronomy 14:22-16:17, which includes a description of the Shavuot holiday, along with Passover and Sukkot, together known as the pilgrimage festivals.

As part of our receiving the Torah, we learn of how we enter into relationship with G-d in the way we show compassion for one another. In Parashat Naso, we understand that, as imperfect human beings, we are given a means to seek forgiveness when we have wronged another. Our long journey with Torah is a gift we use to seek greater understanding of the human condition, and no one person has full understanding of G-d's Will.

Weekly Feature

On Shavuot, We Commemorate Torah — and Consume Dairy




Shavuot begins at sunset May 25 and marks the completion of the seven-week counting period from Passover. Shavuot combines two observances: a celebration of the spring harvest and the giving of the Torah at Mount Sinai. 

It is said the souls of all Jews from all times came together to hear the Ten Commandments from G-d. (The Ten Commandments are read during Shavuot services to commemorate this event.) 

There is also a kind of 11th commandment during Shavuot! For reasons unknown, it is customary to eat dairy foods during Shavuot. A favorite is noodle kugel. Here are a couple of kugel recipes to try — for sweet, click here; for savory, click here. 

Or perhaps you prefer blintzes. Or cheesecake. Or cake. Or maybe cheesy bread. Click here for a plethora of dairy recipes.

Membership

Interested in membership at Kol Ami? Email membership@kolamikc.org.





Our mailing address is:
Congregation Kol Ami
4501 Walnut Street
℅ All Souls Unitarian Universalist Church
Kansas City, MO 64111
Fri, September 22 2023
7 Tishrei 5784
Sign Up For Our Newsletter
Fri, September 22 2023 7 Tishrei 5784