Newsletters
"Meaning Beyond the Everyday" - Kol Ami Newsletter 5-30-2023
05/30/2023 05:32:08 PM
| | |
| --- | --- |
| Author | |
| Date Added | |
| Automatically create summary | |
| Summary | |
Kol Ami Newsletter: May 30, 2023


Click for Kol Ami Calendar of Events

Worship Events
of the Week

Friday Shabbat Service — Guest Musician
We welcome flutist Amber Underwood to our Shabbat celebration this Friday, June 2, at 6:45 p.m. at All Souls. A band director by day, she also plays at local clubs and recently represented Kansas City and the U.S. at UNESCO's Creative Cities Forum in Mexico. Join us for this very special Shabbat of music.
(And bring your saved paper grocery bags and drop them in a cardboard box by the siddurs. We donate them to Migrant Farmworkers Assistance Fund for food distribution to farmworkers and their families.)

Saturday Study Session
Join us this Saturday, June 3, at 9:30 a.m. for Shabbat study — great discussion and learning together at the home of Fay and Rabbi Doug or on Zoom. If attending in person, please RSVP to rabbidoug@kolamikc.org.
For Zoom, click here.

Kol Ami Event

Mah Jongg Classes
Mah Jongg Club begins classes this Wednesday, May 31, at 7 p.m. at All Souls. Classes run for four consecutive Wednesdays, through June 21, and each class is two hours long. The cost is $64 ($50 for the class, plus $14 for the 2023 National Mah Jongg League playing card). If you are interested, please email  kolami-mahjong@
googlegroups.com so we can plan and send you the materials.

Yahrzeit This Week
June 1
Jack Stern - father of
Stanley Stern

We Wish
Mi Shebeirach
A Complete Healing of Mind, Body and Spirit to:

Robert Clinton
Kenneth Dantzler
Sheila Denton
Mike Fincher
Rev. Kendyl Gibbons
Amanda Goldstein
Brian Guthrie
LJ Karr
Marc Ordo
Rachel Perera
​​​​​Michah ben Sarah
Edi Shifrin
Carol Swartz
Joel Weeks

If you would like a name
to continue to be listed or if you have a new name to include, please send an email to  healing@kolamikc.org. 

Membership
Interested in membership at Kol Ami? Email membership@kolamikc.org.



Rabbi's Week in Review




I have been under the weather for almost two weeks — certainly not life-threatening, and I don't mention it to elicit sympathy, notwithstanding a modicum of whining and wimpiness inflicted upon Fay at home. If I could characterize it in a slightly broader perspective, my body has become increasingly annoying with age.

It has been awhile since I have come down with an illness. (I had Covid with mild symptoms in January 2022.) Pondering my sense of frustration ... Click here to read the rest of Rabbi Doug's blog post.

This Week's Torah Portion
Parashat Beha'alotecha
(Bamidbar/Numbers 8:1-12:16)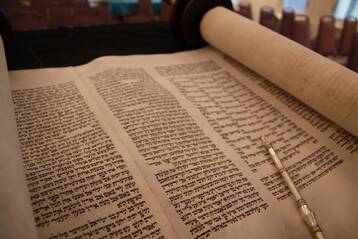 We read this week of Eldad and Medad, who "prophesied to the camp." Joshua perceived their conduct in acting as prophets as a threat to Moses' leadership. Rather than see them as a threat, Moses responds that all of G-d's people should be prophets. As a people, we Jews are small "d" democratic — each of us can be leaders in our own way. We must realize the potential in others to be leaders and create space for them to flourish.

Weekly Feature

Member Spotlight: Fay Balk
By Wynne Begun



Fay and Rabbi Doug, at the rabbi's 10th anniversary celebration in 2021 (photo by Lisa Alpert)

A transplant from the East Coast and a Hallmark alumna, Fay Balk is an enterprising member of the community (and our Kol Ami kehilah), not to mention a fab baker, a glass artist and the rabbi's wife.

Wynne Begun: How did you wind up in KC?
Fay Balk: In 1992, I graduated from grad school in upstate New York and moved to KC for a job with Hallmark Cards. I thought I would be here two years.
 
What path is your career taking now?
I left Hallmark in January 2020 and took up a new hobby: glasswork. I also started my own consulting practice. I consult with both for-profit and nonprofit businesses on organizational and talent issues. 

How did you and Rabbi Doug meet?
We were fixed up, by three different people over the course of 15 months. The first to try was the mother of an ex-boyfriend, and the last one was the husband of a childhood friend of Doug's.  
 
How have you been involved in the Jewish community in KC?
When I first moved here, I got involved in the Jewish Federation's Young Business and Professionals group and the Women's Division. I also participated in the two-year Helzberg Leadership Fellows program. (It culminated with a trip to Israel — that was when fixer-upper #3 asked me, "Do you know Doug Alpert? We [the busload of fellows] all think you two need to meet.")

I then joined the board of Jewish Family Services, serving on the executive committee and as board president. Last year, I joined the board of the Jewish Community Foundation.
 
What are your avocations?
My number one avocation is glass art, mostly jewelry but also small sculptures and homewares. And it is transitioning to vocation. I've had a couple of home shows, and I attended the Boulder Jewish Festival last summer and ArtsKC Winter Market in December. I am participating in my first "big art show," the Prairie Village Art Show, June 2-4. I'll be in booth 101 — I would love to see you there! I also will be in the Jewish Culture Fest October 15 at the JCC.

I have a passion for baking. I like to cook, but Doug loves that, too, so we divide and conquer — he usually does meals, and I do dessert. I also love to travel. My mom lives in Pennsylvania, and my siblings, nieces and nephews are spread out. We never lack for places or people to visit.



Our mailing address is:
Congregation Kol Ami
4501 Walnut Street
℅ All Souls Unitarian Universalist Church
Kansas City, MO 64111
Fri, September 22 2023
7 Tishrei 5784
Sign Up For Our Newsletter
Fri, September 22 2023 7 Tishrei 5784