Newsletters
"Where Everyone Feels Needed" - Kol Ami Newsletter 6-20-2023
06/20/2023 06:05:07 PM
| | |
| --- | --- |
| Author | |
| Date Added | |
| Automatically create summary | |
| Summary | |
Kol Ami Newsletter: June 20, 2023


Click for Kol Ami Calendar of Events

Worship Event 
of the Week

Shabbat Blessings
At 6:45 p.m. this coming Shabbat — Friday, June 23 — we gather together on Zoom for Shabbat blessings and a little bit of Torah. It is always a great opportunity to connect as a community while celebrating Shabbos in our own homes. For the Zoom link, click here.

Social Justice News

Workers Rally




Pat Clinton, Kol Ami president, and Brad Ordo, Kol Ami vice president-kehilah, attend a rally in support of fair wages for workers in downtown KCMO June 14.




And More on Fair Wages
From KCUR.org: "Kansas City Royals accused of 'stalling' deal that would secure worker benefits for new stadium."

We Wish
Mi Shebeirach
A Complete Healing of Mind, Body and Spirit to:

Robert Clinton
Kenneth Dantzler
Brian Guthrie
LJ Karr
Marc Ordo
Ben Rubin
Shefer Rudnick 
​​​​​Michah ben Sarah
Joel Weeks

If you would like a name to continue to be listed or if you have a
new name to include, please send an email to  healing@kolamikc.org. 

Membership
Interested in membership at Kol Ami? Email membership@kolamikc.org.
Rabbi's Week in Review




I spent the better part of last week at the Isabella Freedman Jewish Retreat Center in Falls Village, Connecticut, at the final/culminating retreat for my Clergy Leadership Incubator (CLI), a two-year rabbinic fellowship striving to promote significant transformation of synagogue life. (And I, the rabbi, consistently test as an introvert every time I take a Myers-Briggs personality test, resulting in an approach to retreats bordering on ... Click here to read the rest of Rabbi Doug's blog post.

This Week's Torah Portion
Parashat Chukat (Bamidbar/Numbers 19:1-22:1)​​​​​​​
​​​​​​​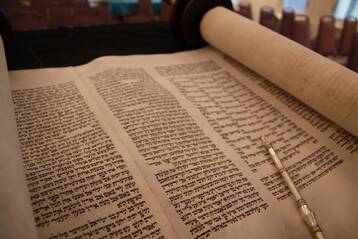 We read this week of one of the more mysterious rituals in Torah (and one of my favorite pieces of Torah) — the Parah Adumah, the ritual of the red heifer. The red heifer is sacrificed and burnt, and its ashes used to render a priest who has been rendered impure by touching a corpse ritually pure. Huh!

As we categorize our mitzvot, our commandments, as either rational or nonrational, this is about as nonrational as they come. So why would we ever perform the commandment or even read about it in our Torah?  

There are times when the people we love want us to do something for them that makes no sense to us. We may not understand it, but we do it anyway simply because they need us to do something for them. So it is in our relationship with G-d — to feel that we can give something back to G-d in the relationship and not just be takers. 

This is true for all of our relationships. We cannot be solely about getting our needs met; we all need to feel needed. It is in the opportunity to do for others that gives meaning to our lives.

Kol Ami News

The Newsletter Is Going on Vacation
By Pat Clinton




It's summertime, and our Kol Ami newsletter will be on a short hiatus so that our regular contributors can take a little time off. The newsletter returns July 25. 

In the meantime, watch for weekly announcements with news of events. Of special note: a Shabbat picnic at Loose Park July 7 and, especially, a joint Shabbat service with New Reform Temple and B'nai Jehudah at the Kemper Museum of Art July 14! And watch for notices of Shabbat blessings June 30, and study sessions at Rabbi Doug's July 8 and July 22.

Until then …





Our mailing address is:
Congregation Kol Ami
4501 Walnut Street
℅ All Souls Unitarian Universalist Church
Kansas City, MO 64111
Fri, September 22 2023
7 Tishrei 5784
Sign Up For Our Newsletter
Fri, September 22 2023 7 Tishrei 5784