Newsletters
Our "Circle of Life" — Kol Ami newsletter 8-1-2023
08/01/2023 05:45:06 PM
| | |
| --- | --- |
| Author | |
| Date Added | |
| Automatically create summary | |
| Summary | |
Kol Ami Newsletter: August 1, 2023


Click for Kol Ami Calendar of Events

Worship Event
of the Week

Shabbat Blessings, BYO Picnic, and Dessert Oneg on the Patio
Starting at 6 p.m. Friday, August 4, we are together on the patio at All Souls for a relaxed Shabbat — Shabbat blessings followed by a Seudah, festive Shabbat picnic dinner. We are asking those attending to bring your own Shabbat picnic. Our thanks go to our music director, Lara Steinel, who is providing an ice-cream sundae bar for Oneg Shabbat dessert.

Upcoming
Kol Ami Events

Mah Jongg Club
Kol Ami's mah jongg group gathers to play the game at 7 p.m. Monday, August 7, at All Souls. If you're interested or have questions, email office@kolamikc.org for more info. The group plans to meet the first and third Mondays of the month. 

Erev Shabbat Service August 11
At 6:45 p.m. Friday, August 11, at All Souls, we honor the 50th wedding anniversary of Lara and Dan Steinel, who will be sponsoring the Oneg afterward.

Kol Ami Cooking
Series Returns
Learn to make challah at the next cooking class, from 2 to 5 p.m. Sunday, August 27, at All Souls. More info to come.

Yahrzeits This Week
August 3
Nelson Romero – godbrother of Rachel Rilinger
August 4
Mary Kenneally – mother of Mark Kenneally

We Wish
Mi Shebeirach
A Complete Healing of Mind, Body and Spirit to:

Robert Clinton
Kenneth Dantzler
Brian Guthrie
LJ Karr
Marc Ordo
Shefer Rudnick 
​​​​​Michah ben Sarah

If you would like a name to continue to be listed or if you have a
new name to include, please send an email to healing@kolamikc.org. 

Membership
Interested in membership at Kol Ami? Email membership@kolamikc.org.



Rabbi's Week in Review




It is good to be back on with our Congregation Kol Ami newsletter after a summer hiatus. While summer is a time in which we expect to take a break, the Jewish calendar, with its particular logical rhythm, pushes us forward toward a continual process of self-reflection, self-improvement and living Torah in our daily lives. It is a balance of mourning/sadness and celebration/joy, contemplation/study and action/engagement. ... Click here to read the rest of Rabbi Doug's blog post.

This Week's Torah Portion
Parashat Ekev (Devarim/Deuteronomy 7:12-11:25)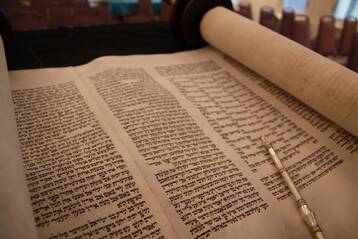 We are warned this week that when we enter the Land that G-d has given us, we should not arrogantly assume that we by ourselves can bring about whatever good comes into our lives. Living with gratitude awareness is what creates for us relationships of meaning.

Weekly Feature

Editor's Note: In celebration of their 50th anniversary, Lara and Dan Steinel are sponsoring the Oneg at Kol Ami's Erev Shabbat service August 11 at All Souls.

Celebrating 50 Years
By Lara and Dan Steinel
 


Lara and Dan 
 
If you ask us how our marriage has lasted 50 years, we'd say we view it as an ongoing project — the best we've ever worked on. 

As Rabbi Doug wrote June 20 in his d'var Torah on Parashat Chukat: "There are times when the people we love want us to do something for them that makes no sense to us. We may not understand it, but we do it anyway simply because they need us to." We hadn't thought of what we do for each other as Torah-based, but we realized that doing nonrational mitzvot in our relationship contributes to its success.

Kol Ami, too, has been an important part of our married lives. Prior to joining Kol Ami at its inception in 2003, we had not attended synagogue for 30 years, except for weddings and funerals. During our years living in KC and Washington, D.C., we never found a synagogue that warmly welcomed interfaith couples — until Kol Ami. Being able to lead Kol Ami's music program, blowing the shofar for High Holy Days, making latkes for the Chanukah service — these are just some of the ways we have felt welcomed and valued as a couple.

We are as courteous to each other as to friends and colleagues. We haven't forgotten the importance of practicing basic kindness in a marriage. We also find joy in being fluid in our roles. When Lara was recruited by USA Today in Washington, D.C., Dan managed the move, paid the bills and handled household chores. When we came back to KC for an opportunity for Dan at Sprint, Lara offloaded those chores for him.

We value both our togetherness and our independence. Our preferences and personalities are often polar opposites, yet we have found that our different skill sets and strengths have helped us tackle any challenge.




Our mailing address is:
Congregation Kol Ami
4501 Walnut Street
℅ All Souls Unitarian Universalist Church
Kansas City, MO 64111
Fri, September 22 2023
7 Tishrei 5784
Sign Up For Our Newsletter
Fri, September 22 2023 7 Tishrei 5784