Newsletters
"Let Us Find Ways to Engage" - Kol Ami Newsletter 8-15-2023
08/15/2023 05:48:07 PM
| | |
| --- | --- |
| Author | |
| Date Added | |
| Automatically create summary | |
| Summary | |
Kol Ami Newsletter: August 15, 2023

​​​​​​​
Click for Kol Ami Calendar of Events

Worship Event
of the Week

Shabbat Study, Service and Seudah
This Saturday, August 19, beginning at 9:30 a.m., we gather at the home of Fay and Rabbi Doug, or on Zoom, for study, informal prayer and a Seudah — a festive Shabbat brunch.  For our study this coming Shabbat, we explore sacred Jewish books, and what might be contained in a Jewish library. If attending in person, you must RSVP: rabbidoug@kolamikc.org. For Zoom, click here.

Upcoming
Kol Ami Events

Mah Jongg Club
The next meeting of Mah Jongg players is at 7 p.m. Monday, August 21, at All Souls. Email office@kolamikc.org for information. 

Kol Ami Cooking Series — Challah Class
Learn how to make challah from 2 to 5 p.m. Sunday, August 27, in the kitchen at All Souls. Fay will demo her basic challah techniques (including round challah for Rosh Hashanah), and Nancy Milgram will demo her alternative braiding technique and how to make challah in a bread machine. The event includes light food and drink. The cost is $10 per person. Please RSVP by Thursday, August 24, by  clicking here. Have questions? Email Brad Ordo at kehilahvp@kolamikc.org.

Yahrzeit This Week
August 18
Midi Christensen – mother of Renee Dietchman

We Wish
Mi Shebeirach
A Complete Healing of Mind, Body and Spirit to:

Robert Clinton
Kenneth Dantzler
Brian Guthrie
LJ Karr
Marc Ordo
Shefer Rudnick 
​​​​​Michah ben Sarah

If you would like a name to continue to be listed or if you have a
new name to include, please send an email to  healing@kolamikc.org. 

Membership
Interested in membership at Kol Ami? Email membership@kolamikc.org.




Rabbi's Week in Review




I am writing in regard to the Roeland Park City Council hearing held Monday, August 7, and specifically to the resolution on anti-Semitism. As I was out of town and could not attend the hearing, my response is actually to the article in the KC Jewish Chronicle covering the hearing. As such, I am assuming accuracy in how the article described the events of the evening, and that those quoted in the article were done so accurately.

I write this with some reticence. ... Click here to read the rest of Rabbi Doug's blog post.

This Week's Torah Portion
Parashat Shofetim
(Devarim/Deuteronomy 16:18-21:9)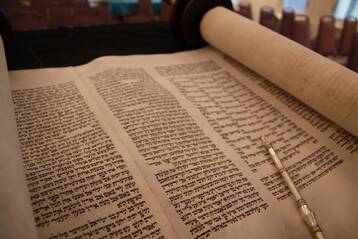 This is the Torah reading in which we read, "Tzedek, Tzedek, Tirdof," which I read as a commandment to pursue absolute justice. As there are those in our country who seek to engender distrust in our justice system, and there are judges within the system who flaunt the admonition to not even have the appearance of impropriety or conflict of interest, now more than ever we must fight for a system of justice that represents the highest Jewish ideals of justice as found in our Torah

Kol Ami News

The Joy of Shabbat Sharing
By Wynne Begun
 
This last Friday, we had the honor of celebrating the 50th anniversary of Lara and Dan Steinel's marriage. The simcha was especially sweet and shared by those who attended. Like all Jewish celebrations, food was involved. Lara and Dan prepared wonderful Oneg Shabbat treats for all of us.  
 
The Hebrew meaning of Oneg is "pleasure." The tradition of enhancing Shabbat worship through the sharing of food is a very old and honored custom. Throughout history, Jews have celebrated the arrival of Shabbat, and when they could, they prepared food items to share.  
 
Kol Ami is seeking sponsors for upcoming Onegs this fall at our more traditional Friday Shabbat worship services — Friday, October 6; Friday, November 3; Friday, December 1; and Friday, December 8. Sponsoring an Oneg could be in celebration of a birthday, anniversary or other special occasion — or just because you want to do so!  
 
Please email office@kolamikc.org and let us know that you would like to sponsor an Oneg.  

Social Justice News

MLK School Students Need
Clothing and Toiletries
By Sheryl Kretchmer

Pat Clinton and I recently met with Dana-Mae Abram, the principal of Martin Luther King Jr School, and her assistant, DeMarco Vaughn, along with several other partner organizations about the top needs of the students at the beginning of the school year. 

Our focus for August and September will be on socks and underwear for boys and girls in children's sizes small, medium and large, and boys up to men's size 36 and girls up to women's size 16. 

Toiletries are also greatly needed — deodorant, combs, shampoo, lotions. If donating lotion and/or skin cream, please try to get products with shea butter. 

We are collecting these items at our Rosh Hashanah and Yom Kippur services next month (September 15-16 and September 24-25). Please help.


  
Our mailing address is:
Congregation Kol Ami
4501 Walnut Street
℅ All Souls Unitarian Universalist Church
Kansas City, MO 64111
Fri, September 22 2023
7 Tishrei 5784
Sign Up For Our Newsletter
Fri, September 22 2023 7 Tishrei 5784