Newsletters
"An Obligation to Others" — Kol Ami Newsletter 8-22-2023
08/22/2023 05:50:07 PM
| | |
| --- | --- |
| Author | |
| Date Added | |
| Automatically create summary | |
| Summary | |
Kol Ami Newsletter: August 22, 2023


Click for Kol Ami Calendar of Events

Worship Events
of the Week

Shabbat Blessings
This Friday, August 25, at 6:45 p.m., we gather on Zoom to make Shabbos together with blessings and a bit of Torah. It has been a wonderful way to connect with one another as we celebrate Shabbat in our own homes. Click here.

Weekday-Morning
Prayer and Study
As we are in the month of Elul, a month of preparation for our Rosh Hashanah and Yom Kippur observance, this is a good time to provide a reminder about our weekday-morning prayer and study. From 8 to 8:15 a.m. M-F, we do a very short service with a bit of study. It has been a wonderful way to connect and start the day with some spiritual grounding. Click here.

Upcoming
Kol Ami Events

Kol Ami Cooking Series
Learn how to make challah. Fay Balk will demo her basic challah techniques from 2 to 5 p.m. Sunday, August 27, in the kitchen at All Souls. Nancy Milgram will demo her alternative braiding technique and how to make challah in a bread machine. The event includes light food and drink. Cost is $10 per person. Please RSVP by this Thursday, August 24, by clicking here. Have questions? Email Brad Ordo at kehilahvp@kolamikc.org.

High Holiday Services
Services are at All Souls, unless otherwise indicated, and will also be available via livestream.
Erev Rosh Hashanah
7:30 p.m. Friday, Sept. 15
Rosh Hashanah
10:30 a.m. Saturday, Sept. 16, with guest speaker Denise Lieberman, voting-rights attorney 
Rosh Hashanah — Second Day
10:30 a.m. Sunday, Sept. 17, informal service at Theis Park (47th and Oak)
Yom Kippur — Kol Nidre 
7:30 p.m. Sunday, Sept. 24
Yom Kippur
Morning Service
10:30 a.m. Monday, Sept. 25
Yom Kippur Afternoon
Study — 1 p.m.
Meditation — 2:15 p.m. 
Afternoon Service (including Yizkor) — 3:30 p.m.
Concluding Service (Neilah) — 5 p.m.

Yahrzeit This Week
August 23
Alfred Katz – father of Allan Katz 

We Wish
Mi Shebeirach
A Complete Healing of Mind, Body and Spirit to:

Robert Clinton
Kenneth Dantzler
Brian Guthrie
LJ Karr
Marc Ordo
Shefer Rudnick 
​​​​​Michah ben Sarah

If you would like a name to continue to be listed or if you have a
new name to include, please send an email to  healing@kolamikc.org. 




Rabbi's Week in Review




We at Congregation Kol Ami have always committed ourselves to be a most welcoming community. For us, this has meant welcoming those who may have felt unwelcome or somehow marginalized at other shuls. As we like to say, we want to welcome anyone who is somewhere on a Jewish journey or who supports anyone on that journey.

Probably the most challenging part of my work as rabbi of Congregation Kol Ami has come when we have welcomed ... Click here to read the rest of Rabbi Doug's blog post.

This Week's Torah Portion
Parashat Ki Tetze
(Devarim/Deuteronomy 21:10-25:19)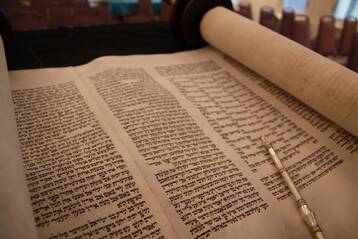 This week's Torah portion contains some 72 mitzvot/commandments, more than any other Torah portion. More than anything, it becomes a guidebook as to how we engage in our interpersonal relationships and how we engage with G-d's created world. In this way, how we as Jews engage with G-d is embedded in everyday life.

Social Justice News

A Busy Time for Migrant
Farmworkers Assistance
By Suzanne Gladney, director of MFAF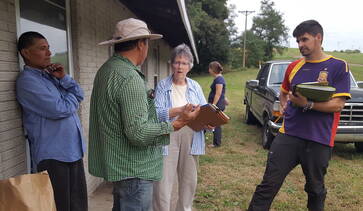 Gladney (center) and MFAF staff consult
with farmworkers.

Every year, the "off season" seems to get shorter, and the busy, busy apple season starts even earlier.  

Apple pickers arrived a few weeks ago and prepared for the season by clearing the rows between the trees, placing large wooden boxes among the rows, and cleaning the packing sheds. 

Migrant Farmworkers Assistance Fund began its "Monday nights" in Lexington, Mo., August 7, with food bags, frozen meats, hygiene supplies, clothes, backpacks, school supplies, books, toys and more. This event continues every Monday through October 30. We go out Thursday nights to the labor camps to deliver supplies and food bags to those workers who don't have vehicles to make it in on Mondays. We also have evening medical and dental clinics. 

The Migrant Head Start teachers put their classrooms together to start having the kiddos — from 6 weeks to 5 years old — in the same building where we also have our food and supplies pantry. We're also working on getting together school records from the last schools the older students attended and being sure the moms have vaccination records. School enrollments have started. 

Kol Ami plans a Monday-night service event in Lexington, Mo., October 23. More info to come. And save paper bags from the grocery store to donate to MFAF for food distribution. Email newsletter@kolamikc.org. 
____________________________________

Donation Drive for MLK School  
In September, Kol Ami is donating much-needed clothing and toiletry items to the students of Martin Luther King Jr School — socks and underwear for boys and girls in children's sizes small, medium and large; also, boys up to men's size 36 and girls up to women's size 16. 

Toiletries are also needed — deodorant, combs, shampoo and lotions. If donating lotion and/or skin cream, please try to get products with shea butter. 

We are collecting these items at High Holiday services (September 15-16 and September 24-25). 
— Sheryl Kretchmer
​​​​​​​

 
Our mailing address is:
Congregation Kol Ami
4501 Walnut Street
℅ All Souls Unitarian Universalist Church
Kansas City, MO 64111
Fri, September 22 2023
7 Tishrei 5784
Sign Up For Our Newsletter
Fri, September 22 2023 7 Tishrei 5784