Newsletters
"The Need to Be Uncomfortable" — Kol Ami Newsletter 8-29-2023
08/29/2023 05:52:07 PM
| | |
| --- | --- |
| Author | |
| Date Added | |
| Automatically create summary | |
| Summary | |
Kol Ami Newsletter: August 29, 2023


Click for Kol Ami Calendar of Events
Worship Event
of the Week

Bar Mitzvah
We are full of joy as we celebrate Gus Zitron becoming a bar mitzvah at 10:30 a.m. this Saturday, Sept. 2, at All Souls. As we welcome Gus into our Kol Ami community, committed to performing mitzvot/commandments to better our community and our world, we urge everyone to attend this milestone event. We wish the entire Zitron family mazel tov!
Upcoming
Kol Ami Events


Mah Jongg Club
Due to Labor Day, the Mah Jongg Club will not meet the first Monday of September. The club's next get-together is at 7 p.m. Monday, Sept. 18, at All Souls. For information, email
office@kolamikc.org
.
High Holiday Services
Services are at All Souls, unless otherwise indicated, and will also be available via livestream.
Erev Rosh Hashanah
7:30 p.m. Friday, Sept. 15
Rosh Hashanah
10:30 a.m. Saturday, Sept. 16, with guest speaker Denise Lieberman, voting-rights attorney 
Rosh Hashanah — Second Day
9:30 a.m. Sunday, Sept. 17, informal service at Theis Park (47th and Oak)
Yom Kippur
Friday, Sept. 24-Saturday, Sept. 25

See
kolamikc.org
for the full worship schedule.
Social Justice News
​​​​​​​
Donation Drive
for MLK School 
In September, Kol Ami is donating much-needed clothing and toiletry items to the students of Martin Luther King Jr School — socks and underwear for boys  and girls in children's sizes small, medium and large; also, boys up to men's size 36 and girls up to women's size 16.  Toiletries are also greatly needed — deodorant, combs, shampoo and lotions. If donating lotion
and/or skin cream, please try to get products with shea butter. 

These items will be collected at the Rosh Hashanah and Yom Kippur services (Sept. 15-16 and Sept. 24-25). 
Community News
'Jewish Life Television'
Spectrum has added JLTV (Jewish Life Television) to its channel lineup in Greater Kansas City via its "Entertainment View" package. JLTV — "more cultural than religious" — offers Jewish-themed
programming over a wide range of genres.


Yahrzeit This Week
August 30
Sara Reissig – niece of Rick and Marion Breinin
We Wish
Mi Shebeirach
A Complete Healing of Mind, Body and Spirit to:

Robert Clinton
Kenneth Dantzler
Brian Guthrie
Marc Ordo 
​​​​​Michah ben Sarah

If you would like a name to continue to be listed or if you have a
new name to include, please send an email to 
healing@kolamikc.org

.
​​​​​​​
Rabbi's Week in Review




A cohort of national multifaith leaders, put together by Faith in Action, attended a conference in Kansas City last week. (I'm not sure why they chose KC.) As a member of the Faith in Action Clergy Organizers Advisory Board, I was made aware of the conference, and Fay and I hosted a dinner for the cohort at our home. During the dinner, I conducted a panel discussion on the intersection of justice work and multifaith relationship. I was ... Click here to read the rest of Rabbi Doug's blog post.

This Week's Torah Portion
Parashat Ki Tavo
(Devarim/Deuteronomy 26:1-29:8)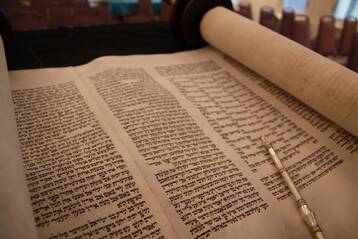 Five verses toward the beginning of the Torah portion relate our history — the story of how we came to be in Egypt and ultimately slaves, leading to our exodus from Egypt and G-d's power to redeem us from slavery. Bookending those verses is the ceremony of the first fruits. We bring offerings to G-d in thanks for the food we have and a G-d of compassion who does redeem us.  

Before the recounting of our history, we hand our first fruits over to the Kohein, the priest who, as our proxy, makes the offering on our behalf. However, after we understand our story and our history, we no longer need the Kohein. Each of us will make our offerings ourselves; we are small "d" democratic, with our own voice.

Weekly Feature

Bread and Roses
By Pat Clinton 




Labor Day signals the end of summer and, for us, the soon-to-be beginning of a new year. How does Labor Day connect to our Jewish culture?

A little research took me to the U.S. Department of Labor Blog and the Cultural and Secular Jewish Organization website for a dive into the rich history of Jewish involvement in the labor movement.
 
Labor leader and organizer Rose Schneiderman coined the phrase "bread and roses" from the poem "Bread and Roses" by James Oppenheim that has become the anthem of organized labor — "The woman worker needs bread," Schneiderman said, "but she must have roses, too."
 
Bread is essential to sustain life, but one must also have human dignity. 

In 1909, the International Ladies Garment Workers Union and the New York Women's Trade Union partnered to lead a strike known as the Uprising of the 20,000, which lasted 11 weeks. Yet the tragic Triangle Shirtwaist Factory fire followed, in March 1911. In demanding better pay, working conditions, and health and safety regulations, workers-rights activist Clara Lemlich Shavelson set the tone for the continued fight for a safer, more equitable work environment. Other examples of Jews involved in the labor movement include Frank Tannenbaum and Samuel Gompers in the early 20th century and today's leaders such as Stuart Appelbaum, president of the Jewish Labor Committee, and Randi Weingarten, president of the American Federation of Teachers, to name a few.

Now, this summer, with unrelenting heat in many parts of the country, workers in San Antonio and Dallas — laying fiber-optic cable and delivering mail — have died from heat exhaustion. And sadly, here in Kansas City this past July, a construction worker (employed by a company previously cited by OSHA for health and safety violations) fell to his death down an elevator shaft during renovation of the AT&T Building. People continue to suffer the consequences of working conditions that are dangerous.

This Labor Day, September 4, we can reflect on why we honor workers and what we can do to support with "bread and roses" all those who are in the labor force.



​​​​​​​
 
Our mailing address is:
Congregation Kol Ami
4501 Walnut Street
℅ All Souls Unitarian Universalist Church
Kansas City, MO 64111
Fri, September 22 2023
7 Tishrei 5784
Sign Up For Our Newsletter
Fri, September 22 2023 7 Tishrei 5784