Newsletters
"Enormous Disparity" — Kol Ami Newsletter 9-5-2023
09/05/2023 06:03:07 PM
| | |
| --- | --- |
| Author | |
| Date Added | |
| Automatically create summary | |
| Summary | |
Kol Ami Newsletter: September 5, 2023

​​​​​​​
Click for Kol Ami Calendar of Events

Worship Event
of the Week

Shabbat Shulchan
This Friday, September 8, beginning at 6 p.m., we gather on the patio at All Souls for Shabbat Shulchan — an informal service followed by our Seudah, our festive Shabbat dinner. If attending, you need to RSVP to  rabbidoug@kolamikc.org.  (In case of inclement weather, we will be inside the foyer at All Souls.) 

Community Event

Selichot
Led by clergy and musicians from area congregations, the community Selichot service — which helps us spiritually prepare for the High Holy Days — is at 10:10 p.m. Saturday, Sept. 9, at B'nai Jehudah, this year's host congregation. The evening begins at 8 p.m. with a dessert reception and havdalah, followed by speaker Rabbi Josh Feigelson, president and CEO of the Institute for Jewish Spirituality, who will discuss "The Breath of Life: A Jewish Mindfulness Practice of Teshuva." Advance registration is required for both online and in-person attendance — click here.

Social Justice News

Donation Drive for MLK School Students 
Kol Ami is donating much-needed clothing and toiletry items this month to the students of Martin Luther King Jr School — socks and underwear for boys  and girls in children's sizes small, medium and large; also, boys up to men's size 36 and girls up to women's size 16. 

Toiletries are also needed — deodorant, combs, shampoo and lotions. If donating lotion and/or skin cream, please try to get products with shea butter. 

We are collecting these items at the Rosh Hashanah and Yom Kippur services (Sept. 15-16 and Sept. 24-25). 

Yahrzeits This Week
September 10
Stan Sutkin – father of Gary Sutkin
September 11
Edith Compton – mother of Marion Breinin
Rosalie Rosin – mother of Elizabeth Rosin

We Wish
Mi Shebeirach
A Complete Healing of Mind, Body and Spirit to:

Robert Clinton
Kenneth Dantzler
Brian Guthrie
Marc Ordo 
​​​​​Michah ben Sarah

If you would like a name to continue to be listed or if you have a
new name to include, please send an email to  healing@kolamikc.org. 

Membership
Interested in membership at Kol Ami? Email membership@kolamikc.org.





Rabbi's Week in Review




As I write this on Labor Day, I am not thinking about the usual Labor Day stuff — transitioning into the school year (although that starts earlier every year), grilling outside (although in 90-plus heat, no one seems to be doing it this year), and not heading out to my mailbox for the mail that is not there. This year on Labor Day, I am actually thinking about those who labor — the workers.

A few thoughts on workers on this ... Click here to read the rest of Rabbi Doug's blog post.

This Week's Torah Portion
Parashat Nitzavim-Vayelech
(Devarim/Deuteronomy 29:9-31:30)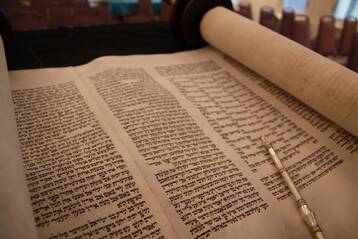 This week's Torah portion is a double portion. We read of the importance of transmitting Torah to all of the people. It is not relegated to an elite few. It is not simply what we take from Torah, but our voices and each of our perspectives and life experiences contributing to the ongoing Torah — the Oral Torah that is in addition to the Written Torah, the Five Books of Moses, that is still being created.

Kol Ami Events

Turning the Page to a New Year
By Pat Clinton




Before you know it, we will gather at All Souls to observe the High Holidays. I look forward to hearing our special guest speaker, Denise Lieberman, director and general counsel of the Missouri Voter Protection Coalition, on Rosh Hashanah morning. The timing couldn't be more important. 

Lara Steinel has put together a truly wonderful music program, with some amazing musicians. This year, there will be the largest ever group of singers on the bimah. Many of you will remember Patrick Buckley, former music director of Kol Ami, who is returning this year for our services. Jazz flutist Amber Underwood will play Rosh Hashanah morning; Matt Beckmann will play his cello for Kol Nidre; and Stan Kessler, jazz trumpeter, will enhance the Yom Kippur morning service. 

As you know, we don't require tickets or other fees for the services, but we do depend on financial gifts to cover the expenses associated with the High Holy Day services. Please consider a donation to help defray these costs. Your contribution in any amount is greatly appreciated.

To donate, you can click on the yellow donate button at the top of our webpage — kolamikc.org. You can also send a check to Congregation Kol Ami, c/o All Souls UU Church, 4501 Walnut, Kansas City, MO 64111. Thank you.

High Holiday Schedule
Services are at All Souls, unless otherwise indicated, and many will also be available via livestream (links to come). 

Erev Rosh Hashanah 
7:30 p.m. Friday, Sept. 15
Rosh Hashanah
10:30 a.m. Saturday, Sept. 16, with guest speaker Denise Lieberman, voting-rights attorney 
Rosh Hashanah — Second Day
9:30 a.m. Sunday, Sept. 17, informal service at Theis Park (47th and Oak)

Erev Yom Kippur — Sunday, Sept. 24
Kol Nidre service — 7:30 p.m. 
Yom Kippur — Monday, Sept. 25
Morning service — 10:30 a.m. 
Study session — 1 p.m.
Meditation — 2:15 p.m.
Afternoon service — 3:30 p.m.
Yizkor service — 4:15 p.m.
Neilah (closing) service — 5 p.m. 

 
  


Our mailing address is:
Congregation Kol Ami
4501 Walnut Street
℅ All Souls Unitarian Universalist Church
Kansas City, MO 64111
Fri, September 22 2023
7 Tishrei 5784
Sign Up For Our Newsletter
Fri, September 22 2023 7 Tishrei 5784