Newsletters
"A Good and Sweet Year" — Kol Ami Newsletter 9-12-2023
09/12/2023 05:55:07 PM
| | |
| --- | --- |
| Author | |
| Date Added | |
| Automatically create summary | |
| Summary | |
Kol Ami Newsletter: September 12, 2023


Click for Kol Ami Calendar of Events

Worship Events
of the Week

Tashlich
The schedule for Rosh Hashanah/Yom Kippur is included elsewhere in this newsletter, so a special mention and instruction for tashlich this Saturday, Sept. 16. In past years for tashlich — casting our sins in the waters of Brush Creek — we have brought bread crumbs. This year, we are requesting — rather, requiring — a change. Bread crumbs are harmful to the surrounding birds and other animals, so please bring instead: pebbles, bird seed or twigs. Thank you for doing this mitzvah for the animals.

Kol Ami Event

Mah Jongg Club
Mah Jongg players meet up at 7 p.m. Monday, Sept. 18, at All Souls. For information, email office@kolamikc.org.

Social Justice

Donation Drive for MLK School Students 
At Rosh Hashanah and Yom Kippur services (Sept. 15-16 and Sept. 24-25), Kol Ami is collecting the following clothing and toiletry items for students of Martin Luther King Jr School: socks and underwear for boys and girls in children's sizes small, medium and large; also, boys up to men's size 36 and girls up to women's size 16. Toiletries are also greatly needed — deodorant, combs, shampoo and lotions. If donating lotion and/or skin cream, please try to get products with shea butter. Thank you.

Community Event

Photography Exhibit
and Author Talk
Photojournalist B.A. Van Sise, whose work is part of the permanent collection of the Smithsonian's National Portrait Gallery, spent four years traveling the United States to document the lives of Holocaust survivors. An exhibition of his black-and-white portraits, from his book Invited to Life: Finding Hope After the Holocaust, is at Kansas City's Central Library (14 West 10th Street) through Saturday, Oct. 21. He is also the author of Children of Grass: A Portrait of American Poetry. He discusses his work at 6 p.m. Wednesday, Sept. 27, at the Central Library. To attend the talk, RSVP by clicking here.

Yahrzeit This Week
Sept. 18
Daniel Karp – father of Ellen Karp

We Wish
Mi Shebeirach
A Complete Healing of Mind, Body and Spirit to:

Robert Clinton
Kenneth Dantzler
Brian Guthrie
Marc Ordo 
​​​​​Michah ben Sarah

If you would like a name to continue to be listed or if you have a
new name to include, please send an email to  healing@kolamikc.org. 

Membership
Interested in membership at Kol Ami? Email membership@kolamikc.org.



Rabbi's Week in Review




In the new year of 5784:

Shanah tovah u'metukah — a good and sweet year

L'shanah tovah tikateivu v'teichteimu — a good year and may you be inscribed and sealed [in the Book of Life].

May we all look forward to the New Year 5784 as a year of goodness, and a year of meaning and ... Click here to read the rest of Rabbi Doug's blog post.

This Week's Torah Portion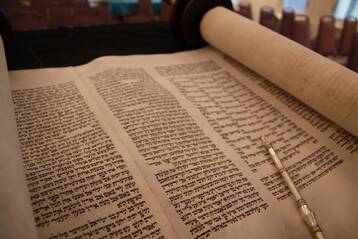 With Rosh Hashanah, we read a special Torah portion from the book of Bereishit/Genesis. In addition to the binding of Isaac, we read that Ishmael, Avraham's son from Hagar, will also have a special place in G-d's world. As we continue on our Jewish journey, let us also connect with those who have taken different paths but are also seeking to bring justice, light and peace into the world.

Weekly Features

Producing Honey, Not Hate
By Lara Steinel




The Overland Park Farmers Market suspended a vendor last month who posted virulent antisemitic content on his social media account (Shawnee Mission Post, August 28). That vendor's products had been sold in Mike and Patti Raether's roadside farm store, in DeSoto. The Raethers, owners of Happy Valley Farm, decided to immediately throw out the $600 worth of product they had in stock and take the loss, no longer wanting to carry that vendor's product. I emailed them and thanked them for taking a stand against hate.

When I told Rabbi Doug about my email exchange and my plan to go to the Raethers' stand the next day to buy honey (they are producers of honey) and maybe help them recoup their loss, Rabbi Doug and Fay asked if I would pick up enough for the dozens of honey cakes Fay bakes for Rosh Hashanah. 

After making my purchases, I thanked the Raethers again for their actions. Mike Raether very quietly said, "I just did what anyone would do."
 
As we eat those honey cakes this year, may our New Year be all the sweeter for knowing that a stranger in our midst stood up against hate.

High Holiday Schedule
Services are at All Souls, unless otherwise indicated, and many will also be available via livestream (see below). Patrick Buckley, former music director of Kol Ami, returns this year for our services. 

Erev Rosh Hashanah 
7:30 p.m. Friday, Sept. 15
Lara sings a world premiere of "Hin'ni," written for Lara by former B'nai Jehudah music director Coleen Dieker. For livestream, click here.

Rosh Hashanah
10:30 a.m. Saturday, Sept. 16, with jazz flutist Amber Underwood and guest speaker Denise Lieberman, director and general counsel of the Missouri Voter Protection Coalition. For livestream, click here.

Tashlich at Theis Park, approximately 30 minutes after the service.

Rosh Hashanah — Second Day
9:30 a.m. Sunday, Sept. 17, informal service at Theis Park (Emanuel Cleaver II Blvd. and Oak)

Erev Yom Kippur — Sunday, Sept. 24
Kol Nidre service — 7:30 p.m. with cellist Matt Beckmann. For livestream, click here.

Yom Kippur — Monday, Sept. 25
Morning service — 10:30 a.m. with jazz trumpeter Stan Kessler. For livestream, click here.
Study session — 1 p.m.
Meditation — 2:15 p.m.
Afternoon service — 3:30 p.m. For livestream, click here.
Yizkor service — 4:15 p.m. For livestream, click here.
Neilah (closing) service — 5 p.m. For livestream, click here.

We don't require tickets or other fees for services, but please consider a donation. A contribution in any amount is greatly appreciated. You can click on the yellow donate button at the top of our webpage — kolamikc.org — or send a check to Congregation Kol Ami, c/o All Souls UU Church, 4501 Walnut, Kansas City, MO 64111. Thank you.





Our mailing address is:
Congregation Kol Ami
4501 Walnut Street
℅ All Souls Unitarian Universalist Church
Kansas City, MO 64111
Fri, September 22 2023
7 Tishrei 5784
Sign Up For Our Newsletter
Fri, September 22 2023 7 Tishrei 5784