Newsletters
"To Begin Again" — Kol Ami Newsletter 10-4-2023
10/04/2023 05:02:13 PM
| | |
| --- | --- |
| Author | |
| Date Added | |
| Automatically create summary | |
| Summary | |
Kol Ami Newsletter: October 4, 2023

​​​​​​​
Click for Kol Ami Calendar of Events

Worship Event
of the Week

Shabbat and Shemini Atzeret/Simchat Torah
At 6:45 p.m. this Friday, Oct. 6, at All Souls, we observe Shabbat-Shemini Atzeret/Simchat Torah. We celebrate our Torah, the completion of our readings, only to start again. Join us for this joyous celebration.

Upcoming Social Justice Event

Trip to Lexington
Kol Ami returns to Lexington, Mo., Monday, Oct. 23, to help pack and organize meal kits for migrant farmworkers. We will also provide to-go desserts (cookies, cookie bars). We'll be in Lexington from 4:30 until about 7 p.m. If you're interested in volunteering or if you have questions, email Brad Ordo at kehilahvp@kolamikc.org.

We Wish
Mi Shebeirach
A Complete Healing of Mind, Body and Spirit to:

Robert Clinton
Kenneth Dantzler
Beth Greenwald
Josh Greenwald
Brian Guthrie 
Butch Murphy
​​​​​Michah ben Sarah

If you would like a name to continue to be listed or if you have a
new name to include, please send an email to  healing@kolamikc.org. 

Membership

Interested in membership at Kol Ami? Email membership@kolamikc.org.
Rabbi's Week in Review




As I and we head toward the last of our run of holiday celebrations, finishing up Sukkot and our celebration of Shemini Atzeret/Simchat Torah this Friday evening, we can look back with gratitude for a spiritually meaningful observance in our very special Kol Ami community. Simply put, while I will admit to running on fumes as we arrive at this time of year, I am looking forward to all the good things to come.

Chag Sameach — A Joyous Holiday and all good things for 5784.

This Week's Torah Portion
Parashat Vezot HaBerachah
(Devarim/Deuteronomy 33:1-34:12)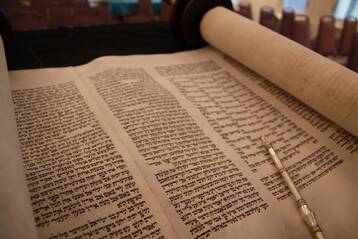 This week we arrive at the last of our Torah readings, only to begin again. We read of Moses' death and that never again would there be a prophet like Moses. In his death, we learn that, for all of his greatness, Moses was very human, and even he would not rise to the status of deity. In each generation, we must carry on the legacy of our ancestors.

A Note From Our President 

With Gratitude
Over the past two weeks, I've said "thank you" many times. But those two words can't begin to express my gratitude for what you have done for Kol Ami — both in supporting the High Holy Day services and in bringing supplies for Martin Luther King Jr. School. It far exceeded what I thought was possible. So please let me say, one more time: Thank you. You have my deepest appreciation. 
— Pat Clinton

Upcoming Event

Help Us Spread the Word
About Kol Ami
By Pat Clinton

Come join the fun at the Kansas City ​Jewish Culture Fest — Sunday, Oct. 15, from 11 a.m. to 6:30 p.m. — featuring music, food, art, wine tastings, children's activities, and information booths. The Kol Ami info booth at the festival needs two volunteers per two-hour shifts throughout the day. (There will be a board member for each shift as well.) Help us let everyone know why Kol Ami is the all-inclusive kehilah (community), offering vibrant worship and modern Jewish experiences in and for the urban core. To sign up, click here. We  will do everything we can to accommodate your preferences. Thank you!





Our mailing address is:
Congregation Kol Ami
4501 Walnut Street
℅ All Souls Unitarian Universalist Church
Kansas City, MO 64111
Mon, December 11 2023
28 Kislev 5784
Sign Up For Our Newsletter
Mon, December 11 2023 28 Kislev 5784