Newsletters
"We Are in a Moment" — Kol Ami Newsletter 10-10-2023
10/10/2023 05:50:07 PM
| | |
| --- | --- |
| Author | |
| Date Added | |
| Automatically create summary | |
| Summary | |
Kol Ami Newsletter: October 10, 2023

​​​​​​​
Click for Kol Ami Calendar of Events

Worship Event 
of the Week

Shabbat Shulchan
As we put our major holidays in the rearview mirror until Chanukah, we look forward to putting Shabbat back front and center where it belongs. At 6 p.m. Friday, Oct. 13 (yes, Friday the 13th), on the patio at All Souls, we celebrate the return of Shabbat Shulchan, our Shabbos table. It's a very informal Erev Shabbat service followed by a Seudah, a festive Shabbat dinner.

RSVPs are required to rabbidoug@kolamikc.org so we know how much food to have on hand.

Upcoming
Kol Ami Event

Mah Jongg Club
The next game night for Mah Jongg Club is 7 p.m. Monday, Oct. 16, at All Souls. Interested in playing or have questions? Email  office@kolamikc.org.

Yahrzeit This Week
October 17
Richard Esten – husband of Ellen Karp

We Wish
Mi Shebeirach
A Complete Healing of Mind, Body and Spirit to:

Robert Clinton
John Cottrell
Kenneth Dantzler
Beth Greenwald
Josh Greenwald
Kay Grossman
Brian Guthrie 
Butch Murphy
Michah ben Sarah
Paul Scholz

If you would like a name to continue to be listed or if you have a
new name to include, please send an email to  healing@kolamikc.org. 


​​​​​​​Membership
Interested in membership at Kol Ami? Email membership@kolamikc.org.





Rabbi's Week in Review




As I write this, my heart aches for what is occurring in Israel and Gaza. In my Erev Yom Kippur sermon, I spoke critically of the present Netanyahu government. I also spoke critically of Hamas and Hezbollah — their singular goal of driving Israel into the sea with little regard for Pikuach Nefesh, the sanctity of human life. 
 
What Hamas started on Shabbat/Shemini Atzeret-Simchat Torah (with Hezbollah beginning to join in ... Click here to read the rest of Rabbi Doug's blog post.

This Week's Torah Portion
Bereishit/Genesis 1:1-6:8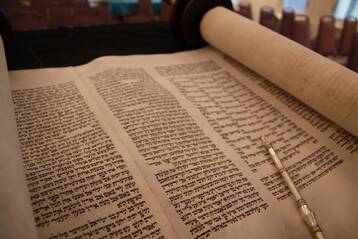 We again begin our Written Torah, the Torah scroll containing the Five Books of Moses, with Parashat Bereishit (Bereishit/Genesis 1:1-6:8). As we read of creation, we consider our role in G-d's created world — in the continuing story of creation, how we can be creators for good.

Community Event

Volunteer With Kol Ami at the
Kansas City Jewish Culture Fest
By Pat Clinton

Come and help out at the Kol Ami booth at KC's Jewish Culture Fest this Sunday, Oct. 15. We need six more volunteers, for two-hour shifts. (There will be a board member for each shift as well.) The festival runs from 11 a.m. to 6:30 p.m. Help us let everyone know why Kol Ami is the all-inclusive kehilah (community), offering vibrant worship and a modern Jewish experience in midtown. To sign up to volunteer, click here. We  will do everything we can to accommodate your preferences. Thank you!

​​​Social Justice Event



Last year in Lexington

An Evening in Lexington
Kol Ami heads to Lexington, Mo., Monday, Oct. 23, to help pack and organize meal kits for migrant farmworkers. We will also provide to-go desserts (cookies, cookie bars). We'll be in Lexington from 4:30 until about 7 p.m. If you're interested in participating or have questions, please email Brad Ordo at kehilahvp@kolamikc.org.





Our mailing address is:
Congregation Kol Ami
4501 Walnut Street
℅ All Souls Unitarian Universalist Church
Kansas City, MO 64111
Mon, December 11 2023
28 Kislev 5784
Sign Up For Our Newsletter
Mon, December 11 2023 28 Kislev 5784