Newsletters
"Multiple Truths" — Kol Ami Newsletter 10-31-2023
10/31/2023 06:01:07 PM
| | |
| --- | --- |
| Author | |
| Date Added | |
| Automatically create summary | |
| Summary | |
Kol Ami Newsletter: October 31, 2023
Worship Event
of the Week

Erev Shabbat Service and Guest Speaker
We gather at 6:45 p.m. Friday, November 3, at All Souls for prayerful music and to hear featured speaker Brian Weinberg, who addresses his work in regeneration/ environmental concerns and social entrepreneurship. As a synagogue focused on social justice, we add environmental degradation to our issues of concern. We know Brian will offer information on how we can increase our impact in the community.  

We also welcome Zora Watts, a young violinist, to the bimah to play a prayer with us. She and her dad, Shawn Watts, regularly attend our services.

And Bring Your
Paper Bags
When you come to All Souls, bring along your gently used paper grocery bags. We donate them to Migrant Farmworkers Assistance Fund for food distribution to farmworkers and their families. Thank you!

Upcoming
Kol Ami Event

Mah Jongg Club
The next game night for Mah Jongg Club is 7 p.m. Monday, November 6, at All Souls. Interested in playing or have questions? Email office@kolamikc.org.

Yahrzeit This Week
November 4
Charlene Fleischer – friend of Brad Ordo

We Wish 
Mi Shebeirach
A Complete Healing of Mind, Body and Spirit to:

Robert Clinton
John Cottrell
Kenneth Dantzler
Beth Greenwald
Josh Greenwald
Kay Grossman
Brian Guthrie 
Butch Murphy
Michah ben Sarah
Paul Scholz
Gerry Trilling

If you would like a name to continue to be listed or if you have a
new name to include, please send an email to  healing@kolamikc.org.

Rabbi's Week in Review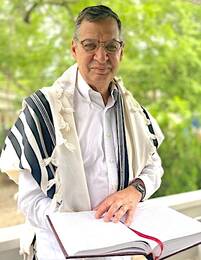 Since Hamas' barbaric attack on innocent Israelis October 7 and the subsequent response from Israel, I have been inundated with online requests to sign on to letters with different asks — from demanding a full cease-fire from Israel to full-throated support for whatever military action the IDF takes against Hamas in Gaza, and a number of options in between. How do we prioritize release of the hostages in the most difficult of ... Click here to read the rest of Rabbi Doug's blog post.

This Week's Torah Portion
Parashat Vayera (Bereishit/Genesis 18:1-22:24)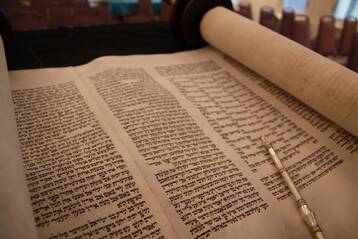 We read this week of the Sodom-Gomorrah narrative. Avraham bargains with G-d to save the cities if only a few good people remained amongst the evil, inhospitable behavior of its inhabitants. This is one of a number of troubling and confusing questions we face as Israel continues to fight Hamas in Gaza. Can such evil be eradicated, and at what cost to Israeli soldiers, Israeli (and other) hostages and innocent Palestinians? 

Social Justice News and Events

Service Night in Lexington


Kol Ami congregants show up in support of our justice partner MFAF in Lexington, Mo., October 23. (In the foreground, bags of beans and rice they assembled.)

"Focus on Abortion" at All Souls 
As part of All Souls' Sunday Forum, Brian Silva, vice president of Outreach and Education for Americans United for Separation of Church and State, speaks at 9:30 a.m. Sunday, November 5, on the connection between abortion rights and the attack on those rights by white Christian nationalists. Also, the opening reception for the "Focus on Abortion" photography exhibit takes place 4-6 p.m. Sunday, November 5. To register for these or other events held in conjunction with the exhibit, or for more information, click here.

Community Event

Blintz Brunch in Lawrence
The Lawrence Jewish Community Congregation (LJCC) hosts its 60th Annual Blintz Brunch & Bake Sale 10 a.m.-3 p.m. Sunday, November 5, at the Lawrence Jewish Community Center (917 Highland Drive, in Lawrence). It's too late to place a pickup order, but the LJCC gift shop will be open, and a "Blintz Brunch Cafe" will offer coffee and member-baked goods for sale. The Blintz Brunch is an opportunity to support the Jewish community of Lawrence. See blintzbrunch.org.







Our mailing address is:
Congregation Kol Ami
4501 Walnut Street
℅ All Souls Unitarian Universalist Church
Kansas City, MO 64111
Mon, December 11 2023
28 Kislev 5784
Sign Up For Our Newsletter
Mon, December 11 2023 28 Kislev 5784