Newsletters
"A Different Kind of Synagogue Experience" - Kol Ami newsletter 5-17-2022
05/17/2022 07:01:21 PM
| | |
| --- | --- |
| Author | |
| Date Added | |
| Automatically create summary | |
| Summary | |
Kol Ami Newsletter: May 17, 2022
Rabbi's Week in Review




We had a truly wonderful Shabbat celebration this past Friday night with our kids, supported by our adult members. Thanks to Erica Clinton, for planning a joyous family experience; to our featured musician, Brendan Howard; and to our music director, Lara Steinel.

Having so many of our kids present gave us so ... Click here to read the rest of Rabbi Doug's blog post.

This Week's Torah Portion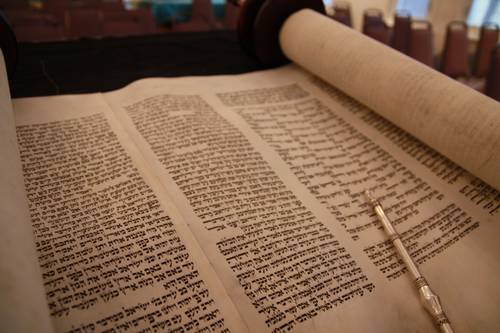 This week's Torah portion is Parashat Bechukotai (Vayikra/Leviticus 26:3-27:34). This is one of a number of times in which the Torah delineates rewards for fulfilling the mitzvot/commandments and punishment for transgression. For us, this poses the question of what incentives are needed to compel us to do good in the world and avoid doing harm.

Kol Ami Events of the Week

Social Shabbat
Join us for our first Social Shabbat, 6 p.m. Friday, May 20, at Gaels Public House, 5424 Troost, where we'll get into Shabbat with a casual get-together. The Social Shabbat gatherings are part of our "Open Tent Initiative" — another way to welcome anyone with a curiosity and interest about Jewish life, or anyone who supports someone on their Jewish journey.

Shabbat Morning Together
We get together this Saturday, May 21, for study, worship and food at the home of Fay and Rabbi Doug. We continue our fascinating discussion of prayer, followed by informal Shabbat prayer and a Kiddush brunch. This is always a wonderful way to connect with one another, particularly over great food, and to celebrate Shabbat. Study begins at 9:30 a.m., with a service at 10:30 a.m. Vaccines are required, along with an RSVP by Thursday evening, May 19, to rabbidoug@kolamikc.org. A Zoom option is also available by clicking here.

Family Experience at the Garden
Join Family Experience for its end-of-the-year celebration at 1 p.m. Sunday, May 22, at Manheim Garden (4229 Forest). Attendees are encouraged to bring vegetarian snacks or treats. 

Upcoming Kol Ami Event

Jazz Shabbat 
Jazz trumpeter Stan Kessler is our musical guest for our erev Shabbat service at All Souls, 6:45 p.m. Friday, June 3. An oneg follows the service.

Weekly Feature

Clergy Leadership Incubator Taking Off
By Rabbi Doug Alpert

Clergy Leadership Incubator (CLI) is a national two-year rabbinic fellowship program for synagogue transformation. It gives us, at Kol Ami, a process to plan for our future, to improve and be more effective. We also get access to Rabbi Sid Schwarz, the leading voice in the country on synagogue-transformation work. 

We will be trying out new, innovative programming and getting feedback from you on how you feel about those programs. Ultimately, we are driven by our feelings, in how we choose to engage (or not engage) in the life of Kol Ami.

This coming Friday's Social Shabbat is just the first of the new programs to come. The idea for Social Shabbat came from Design Team member Jessica Stamey and was based on feedback from members of our Kol Ami family that we needed more social programming, more opportunities just to be together and get to know one another better.

Look for other programs to come, including a Jewish food series and, as is the case with this Friday's Social Shabbat at Gaels Public House, finding alternative spaces out in the community to be together. 
  
We want your feedback and your voice. Design Team members will be reaching out to congregants. However, you do not have to wait to be contacted. We want you to have a voice in the life of our wonderful Kol Ami community. Contact me at any time with ideas you may have. 

This is an exciting time for Kol Ami, and we need you to be a part of our future vision! Where else but Kol Ami could you actually have a voice in creating a different kind of synagogue experience.

Feedback

What Do You Think?
We would like to know what you think about Kol Ami's weekly newsletter. Please click here and take our super-short survey. Thank you.
Yahrzeit This Week
May 19
Irv Dietchman, father of Alan Dietchman

We Wish Mi Shebeirach
A Complete Healing of Mind, Body and Spirit to:

Tim Bruning
Sarah Curry
Robert Clinton
Jennifer Dake
Barb Dalton
Dennis Dalton
Robert Dalton
Renee Dietchman
Marzena Hanek
Michah ben Sarah
Dan Steinel
Eddie Yeong

If you would like a name to continue to be listed or if you have a
new name to include, please send an email to healing@kolamikc.org.  



{{shulcloud_footer_left}}
{{shulcloud_footer_right}}
Tue, March 21 2023
28 Adar 5783
Sign Up For Our Newsletter
Tue, March 21 2023 28 Adar 5783