Newsletters
Visualizing an Idyllic World - Kol Ami newsletter 2-7-2023
02/07/2023 06:05:16 PM
| | |
| --- | --- |
| Author | |
| Date Added | |
| Automatically create summary | |
| Summary | |
Kol Ami Newsletter: February 7, 2023


Click for Kol Ami Calendar of Events

Worship Event 
of the Week

This Friday, February 10, beginning at 6 p.m. in the lobby at All Souls, we make Shabbos together with our monthly Shabbat Shulchan, our Shabbat table. An informal Erev Shabbat service is followed by a Seudah, a festive Shabbat meal. So we know how much food to buy, RSVP to  rabbidoug@kolamikc.org.

Upcoming
Kol Ami Event

February Book Club
Kol Ami's book club convenes at 7 p.m. Tuesday, February 28, on Zoom to discuss Etty Hillesum: An Interrupted Life, The Diaries of 1941-1943. Zoom link to come.

Kol Ami News

Oneg Hosts
A big thanks to Dr. Paul Rosenthal and Zora Watts for providing our festive Oneg Shabbat spread following services Friday, February 3.

Save Paper
Grocery Bags
Kol Ami donates gently used paper grocery bags to Migrant Farmworkers Assistance Fund for food distribution. This is an ongoing project. If you have paper bags to donate, email newsletter@kolamikc.org to arrange dropoff or pickup. Thank you.

Yahrzeit This Week
February 11
Robert Rosin, Reuven ben Elisha v'Chana – father of Elizabeth Rosin

We Wish
Mi Shebeirach
A Complete Healing of Mind, Body and Spirit to:

Diane Alexander 
Robert Clinton
Wayne Courtois-Seligman
Rev. Kendyl Gibbons
Amanda Goldstein
Harriet Greenwald
Marc Ordo
​​​​​Michah ben Sarah
Edi Shifrin

If you would like a name to continue to be listed or if you have a
new name to include, please send an email to  healing@kolamikc.org. 
Rabbi's Week in Review




A short blog this week with a simple message — really a message and a reminder, as much for me as for anyone else. Among the mitzvot we read about this week in our Torah's recitation of the Ten Commandments is our instruction to remember and keep Shabbat.

My message is not so much an admonition to be strict in observing the halakhically prohibited acts on Shabbat. More than that, it's the simple idea of ... Click here to read the rest of Rabbi Doug's blog post.

This Week's Torah Portion
Parashat Yitro (Shemot/Exodus 18:1-20:23)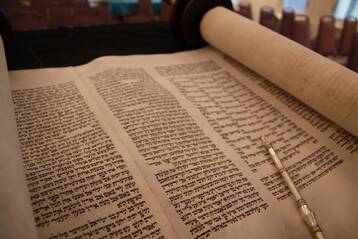 This week is the first time we read of the Aseret HaDibbrot, the Ten Commandments. In a time when we (unlike any other modern nation) are faced with the ongoing plague of gun violence and death and, amid the most recent mass shootings, we see people in our U.S. Congress sporting AR-15 lapel pins, we must wonder if these ancient rules for an orderly and compassionate society still have meaning.

Weekly Feature

Kol Ami's First Tu B'Shvat Seder Raises $3,500 for MFAF 
By Ellen Karp



Ceremonial "four fruits" on the Tu B'Shvat seder tables
 
Kol Ami celebrated Tu B'Shvat, the Jewish "birthday of the trees," Sunday — a deeply memorable occasion in that the event honored Migrant Farmworkers Assistance Fund, one of Kol Ami's social-justice partners. 

The Tu B'Shvat seder mirrors the Passover seder. It involves eating four different fruits native to Israel and drinking four cups of wine (in varying shades of red) to correspond to the four seasons and the four aspects of creation according to the Kabbalah. The most common fruits eaten are olives, dates, grapes, figs and pomegranates.* 

We had the privilege at our seder of hearing from MFAF founder and director Suzanne Gladney, and her husband, Alan Lubert, as well as Miriam Fabian, a nursing student at Rockhurst University who was born into and grew up within the migrant-worker community. Suzanne Gladney and MFAF have made a huge impact and difference in her life and in the lives of her parents and siblings.

Thank you to Brian Greenwald, who genially emceed the event; Rabbi Doug Alpert, who led a beautiful service; and the planning team of Wynne Begun, Pat Clinton and Brad Ordo. Last but not least, a heartfelt todah rabah to congregant Jerry White, who underwrote the event so we could pass the proceeds on to MFAF. Thank you to all who came and contributed.

*MyJewishLearning.com

     


Our mailing address is:
Congregation Kol Ami
4501 Walnut Street
℅ All Souls Unitarian Universalist Church
Kansas City, MO 64111
Mon, March 20 2023
27 Adar 5783
Sign Up For Our Newsletter
Mon, March 20 2023 27 Adar 5783